School Management System Software is an integrated solution specially designed to simplify school management's working process. The school management system software has turned into a powerful online community to bring teachers, parents and students together on a common interactive platform.
School Management Software Development
Develop a robust school management software that provides you with high-class features that can easily help school management a smooth process.
From managing online admissions, daily Attendance, assigning homework, assessments, examination management, timetable management, finance and payroll management, and library management. The school management software offers various modules for complete campus administration while enabling educators to make quick & thoughtful decisions that enhance student & faculty performance & drive institutional growth.
School Management Software Development Company
BR Softech school management software development company is a complete one stop solution for those who want a perfect blend of top-notch features with high-end user friendly services.
Our school management system software is specially designed to automate a school's diverse operations.
Get an advanced school management system software that reduc es the overall functionality of administration, students and teachers, while offering them a robust school management platform for monitoring, reporting, uploading while enhancing productivity and bringing an effective management process.
We are a perfect combination of developers and programmers. We have designed various kinds of web or desktop-based school ERP software, which is quite beneficial for the students, teachers, and admin. To get the best possible result while making it unique and robust, Hire a school management software developer by covering all the factors from start to end.
We develop a quality oriented school management module that is related to Finance, Administration, School Management, Parent Portal, Certificate, Time Table or any other ERP School management modules too.
We offer you an effective school management software system while keeping all the requirements in mind. These robust platforms with open-source code that give users a smooth management process including the comprehensive details in a more profound way.
What Seeks You To Invest in School Management Software
School management systems require effective ERP software for good functioning and improve the overall efficacy of schools rapidly. The school's complete management is taken to the new level through this software; the education system gets improved to the core. It also eliminates the long tasks of data generation through administration as such.
Our school management software developers aim is to provide the best functionality with unique school management software for the students, parents, and teachers to simplify the daily routine task and exclude repetitive tasks.
Core Functionality of School Management System Software
School Management System Software is a new way to turn the schools into modern schools. It helps to enhance productivity and brings effective management. As a school management software development company we offer an advanced management system software that smoothens communication and allows teachers and parents to keep track of their kid's performance.
Complete tracking of Students
Our School Management Software Development Process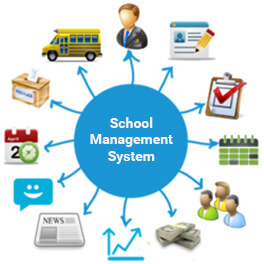 Analyse the needs and future approach of the client
Create a Roadmap from start to end
Integration of Third Party Payments
Develop high-class school management software with high-quality techno-advanced solutions
Testing of software to ensure the functioning of the software
Deploying software with maintenance services
Core Module of School Management Software Development Services
With a dedicated team of BR Softech, we offer highly functional and rich-featured school management App development services to our clients while catering to their needs. Our bunch of professional coders work vigorously to uplift your business and to meet the expectations of the customers.
School Administration
Managing a school day today is a delicate task, and it consumes a lot of time. Our software helps in maintaining the school data, managing confidential information, and protecting passwords.
A comprehensive profile with photos
Parents and guardian details
Facility to upload reports
Records import & Mass uploading ease
Auto roll number creation
Inbuilt ID card Generation
Fully intended reports
Custom search reports
Fee Collection
Gone are the days, when parents had to stand in line to deposit the fees. With our school management software, users can deposit the fees directly and get the receipt via mail, Halfarly/Annual fees deposition.
Advanced fee setup for multiple fee category
Student wise Admission/Addition
Multi receipt book arrangement
Auto fee slip generation
Auto SMS alert on payment
Mapping with Statement
Complete reports
Account Management
Maintaining any school's finances is a difficult task as an accountant has to keep the update for every single penny. We help you with fully secure school management software with an Up to Date account report.
Day-to-day Work Analysis
Employee Details
Monthly Payroll of Employees
Configurable Fee Heads
Admission Procedure
Our school software makes the entire admission process much simpler and effective. It is helpful for the parents to know the admission process, Date and Timing of admission schedules, follow-ups, and automatically generate numbers.
Admission Inquiry
Admission Form
Reform request into confirmation
Direct Link to student management
Configurable with the website for online admission
Certificate Management
Our school management software system is enabled to manage the performance of the students.
Issuing certificate
Bonafide certificate
First trial certificate
Transfer certificate
Record
Character certificate
Custom Design Template
Student Details
Managing student data is a challenging task for any educational institute . Getting a school software can help school and students to manage students' personal information, performance and records.
Student ID Number
Student Parent Contact Number
Student Pass Records
Student Educational Background
Employee Details
While handling all the data in a more precise way, a top-notch school software will ease all the processes of employees in both personal and professional ways.
Manage employees from recruitment to retirement
Store basic , personal, job, statutory & communication detail
Bulk data upload facility
Inbuilt employee ID card
Comprehensive employee report
Custom employee search
Time Table design
Preparing the school time table is a challenging task, time table plays a significant role for the schools, and it should be proper as well as this software prepares a schedule time table.
Alert on exceeding subject limits
Alert for teacher occupancy
Timetable for students
Timetable for teachers
Proxy settings
Parent Portal
Nowadays, the internet is rapidly used, and for parents also, it is essential to have the update of their children. Parents are enabled to view the academic and Attendance report.
Academic reports
Attendance Details
Timing to reach the office
Student Strength
Attendance Status
School Transport
Tracking of the School Transport while enabling and maintaining the vehicles data, students, en route, arrival and departure with school transportation management system. It keeps school and parents updated about the live location of the respective transport.
No of strengths of Passenger
Route taken by Bus
Bus Driver and their Allotted Bus Number
Number of Students Allotted to Bus
Attendance Management
Mostly the time teachers consume to take the daily Attendance and to calculate it at the end of the year. The software is attached to the biometric machine, and they get Daily/Monthly and yearly attendance reports.
Subject wise Attendance
Day wise/Repeat attendance
Quick Attendance
Daily/Monthly/yearly attendance reports
Cumulative Attendance
Percentage attendance
SMS alert for absentees
Library Management
The librarian has to put a lot of effort into managing the book and the record with the school management system; it results in more of an organised school library management.
No. of Books Issued
Inventory Management of Books
Allotment of Book with Registered Number
Notification to Submit Books Before Deadline
Perks of Using School Management System Software
Easy to Use
An online school management software is easy to use while operating all the management tasks. People of any age group can easily use the app without any complexities.
Secure Software
We offer a fully secure and encrypted platform of an app. No third party interference can be made without proper credentials.
Low Cost
Get the best in class school management software while assuring a competitive edge at affordable costs while keeping all the requirements and latest trends in mind.
Better Communication
Our School Management Software has made communication much more reliable and reduces the gap between parents and teachers.
Backup Facility
School management system software offers a backup facility to schools; now they don't fear losing their data. The school management can recover all the data from the cloud.
Bulk SMS Facility
Our software provides the facility to exchange information through SMS or Email to school's employees, teachers, guardians about recent or upcoming events, reports, or examinations.
Payroll System
Now management doesn't have to spend most of the time calculating the number of hours and how many hours an employee works. The system itself calculates the work and fetches the amount directly without hustling the whole day.
Attendance
The school management system software manages the attendance of students and teachers itself. Now teachers and management can utilise their time in enhancing their student's skills.
Multiple Languages
Anyone can use this software, as it is available in multiple languages. It enables users with more quick and thoughtful decisions that lead to driving institutional growth.
Multiple Management
The software manages multiple campus management from online classroom management to an online examination management portal . We strive to deliver impeccable features while performing various tasks with impressive and exciting management solutions.
Our Incorporated Features of School Management Software Development
Our top-tier school management software developers address the needs of the market. We deliver the optimum combination of stunning graphics and the latest techniques that allow our customers to experience impeccable experience while using school management software. To make your project successful, we use creative methods and custom school management software development.
Student App
Live Classes
Doubts
Scoreboard
Educational Resources
Recorded Lectures for Students
Assessment
Test Analysis
Parents App
Proper Communication
Student Exam Results
Attendance Notification
Homework Updation of Users
Holiday/ Vacation Update
Push Notification
Exam Schedule
Fee Registration
Teacher App
Mark Attendance
Assign Homework
Schedule Exam
Manage Leave
Notify Students
Admin App
Attendance Management
Staff Management
Leave Management
Alert Notification
Overall Expense Report
Income Report
Make an Announcement
Why Choose BR Softech for School Management Software Development?
BR Softech is a one-stop solution for those who want to enhance their overall business while maximising the returns with school management system software. We strive to deliver a wide range of school management software solutions while focusing on quality and satisfaction to meet the current trends and patterns. Our expert developers provide a handful of services while maintaining quality and security in mind.
Secure Data Management

By securing all school data, BR Softech analyses all security threats or guiding the data from any unauthorised access to school management software. We follow the best platform that safeguards all other confidential data of student, teacher and school other important business data.

Robust and Scalable Platform

Our expert developers are designed with impeccable features while analysing the design and scalability in mind. BR Softech software development services offer a fully customised scalable platform that makes the work look efficient and much smoother.
Customised Solutions

Our Skilled developer will provide you with customised solutions while ensuring all the single point contact details. We ensure timely delivery, clarity of thought and high quality service from start to end.

Smart Solutions

As a skilled developer, we strive to provide smart service solutions at the time of cutting edge technology. Our cost-effective solutions help in saving time and effort.
Let's Talk with Our Expert?
If you are looking for a demo and have more demands so contact us.
Request for Demo

Tom
(United Kingdom)
BR Softech is among one of the best School management software development company. The expertise team put their high efforts to meet our desire. Their experience was really beneficial for us as it helps us to develop a software according to the market and we were not having the knowledge of the features, in that they helped us a lot.

Denial Forest
(Australia)
BR Softech read our mind and bring the imaginary image into reality. They deliver us the school management software as we thought for our operations. Their well versed experience helps us to sort out from the last minute challenges.

Curtis
(United State)
Hello, I really want to share my experience with BR Softech. I have taken the service of school management system software from them, i tried different moodle but nothing works some have quality work but price was too high some were not able to satisfy me with the features and some were giving excuses add plugins for the functionality then finally I reach to BR Softech and their highly professional team provided me my dream software in my budget. Truly recommend this company as they are so supportive and takes the project as theirs.