It doesn't matter whether you want to develop a virtual betting app for an Android or iOS device - our seasoned professionals can turn your vision into reality according to your specifications. Our virtual betting app development is the key to success for you. Let's work together and see success coming your way.
Virtual sports App providers give you the virtual betting platform where you can bet from anywhere and anytime in the world. On this platform, you will be able to feel that you are dealing with real matches as the graphics used in this platform will make you feel like a real betting.
BR Softech is a professional virtual betting app development company that holds more than 12+ years in the development industry and is employed by more than 250+ full-time in-house professionals who can translate your idea into a billion-dollar reality.
Virtual Sports Betting Software Solutions
There are three types of virtual sports betting software solutions offered by BR Softech.
White Label
We offer a cost-effective, comprehensive solution to launch your business in the shortest amount of time. With the White Label solution, you can support an unlimited number of currencies and languages. As far as payment options are concerned, this solution by BR Softech's supports as well as credit cards such as Visa and MasterCard, which are available across all other sportsbooks.
Turnkey
Self-owned multifunctional sportsbook with unlimited customization options. Our Turnkey solution is an ideal choice for you if you want a sportsbook solution that you can customize for your needs. With our Turnkey solution, operators get access to over 370,000 pre-match events and over 200,000 live events, as well as all the perks that come with it.
Self-Service
Scripts and technical documentations are provided. Self-Service sportsbook is an ideal choice for those who wish to start a sportsbook platform and want the freedom to customize it.
Virtual Sports API Integration
Streaming of games, live data, and other features are necessary in the sports betting industry. Software agility and scalability can be improved faster and easier with APIs. The sports betting market relies heavily on third-party data providers, since it is more about real data & odds. Virtual sports are gaining popularity, giving your customers something fun to gamble on at any time.
Betting Odds Integration

It is directly related to betting that betting odds play an important role for any sports betting website. Through betting odds integration, users can access live odds for a variety of sports events using exclusive mathematical models. Other sports betting exchanges can be accessed via a betting odds API.

Online Casino Integration

As businesses seek to increase revenue generation, online casino integration is in high demand these days. A live casino or an online casino can be integrated into a betting platform or can be operated separately. In addition to white label solutions, we also offer crypto casinos, telegram casinos, and customized virtual casinos.

Payment Gateway Integration

In the financial category, there are already over 1000 APIs, and many more are being developed. In order to comply with regulatory requirements, sports betting software integrates payment APIs. Alternatively, it is more about gamblers' financial safety.
KYC API Integration

It's very important to know your customer. Due to the amount of money involved in betting, you need to know your customers' identities. When a user creates a new account, a KYC (Know Your Customer) API integration verifies the identity of the user. This will prevent fraudsters from accessing your platform.

Email & SMS API Integration

Today, almost all businesses communicate with their customers via SMS and email. Your customers can receive business emails & SMS via an email & SMS API. In order to enhance your customer relationship, your business needs an email & SMS API integration, regardless of how big or small it is. To help you choose the best provider for API Integration quick connect BR Softech
Virtual Betting App Development Services
As part of our virtual betting game development services, you'll get stunning graphics and an interesting user interface that can hook gamblers to your game betting platform.
Virtual Betting App Design Services

Enhance the visual appearance of your betting platform with our virtual betting game design services.

Virtual Betting App Animation

Thanks to our 3D game animations, we manage to offer realistic betting game development.

Virtual Betting UI & UX

BR Softech delivers amazing UI/UX design services to our global clientele.
Virtual Betting Website Development Services

Leverage our great virtual betting website development services to take your business to the next level.

Virtual Betting API Integration

BR Softech offers a wide range of virtual betting API integration services.

Virtual Betting Software Development Services

We also build virtual betting software development services for both Windows and macOS.
Panels Supported by Virtual Betting Software Provider
BR Softech is a leading virtual betting software provider. We provide high-end betting software with maximum features .Our virtual betting software supports three types of panels.
Player Panel
Personal account
Free navigation
Live feed
Fraudless System
Betting tips & tricks
Digital payments
Bookie Panel
Personal account
Gambler management
Calendar
Live feed
Customer support
Admin Panel
Payment management
Player & bookie management
Game management
Live feed management
Marketing management
Customer Support management
Features of Virtual Sports Betting Application
We strive to create virtual sports betting applications with the following trending features.
Live N Play

We have integrated the Live N Play feature in our virtual betting application which makes it easy for bettors to view match updates and allow them to place bets on the match in real-time.

Matches from Across the World

With this application, you are able to bet on every game that is played anywhere in the world, regardless of its location. Thousands of sports games are available in this application, so you can bet on the ones that interest you.

Live Scoret

It provides you with the live score which allows placing the bet in an easier way at every step of the game.
Security

Since beating applications involves financial activities, we keep security at the forefront to protect your users from potential frauds.

Social Sharing and messaging

From this application you can share your perspectives with other users related to betting, it could be via chat message or social sharing.

Payment Getway Process

We have also integrated a payment gateway with your sports betting application to let you deposit and withdraw the money in multiple and secure ways.
Types of Virtual Sports Betting
Our virtual sports betting app development services cover a wide range of sports as the following.
Cricket Virtual Sports Betting
Our cricket betting app development solutions let you bet on the major cricket events held all around the world on their preferred handheld device bet int Android, iOS. The application also provides the users with the real-time state of the cricket match to make it easy for players to place bets on the cricket match.
Football Virtual Sports Betting
If you are looking for the next level of Football virtual sport betting mobile application development, then BR Softech is the go-to company you can trust on. Our betting solution offers support for all major football leagues including the Premier League, FIFA, La Liga, and so forth. It is possible to place live bets on football matches, which enhances the user's experience.
Soccer Virtual Sports Betting
BR Softech's highly experienced team of designers and developers develops the fully interactive and personalised Soccer virtual sports betting application that matches your required features and budget equations. Furthermore, by blending innovative technologies with us, we aim to bring betting software that goes beyond expectations.
Hockey Virtual Sports Betting
We aim to deploy advanced Hockey betting software development solutions that bring an unparalleled betting experience to the gamblers. Gaming solutions we provide cover all major hockey leagues, such as the AHL, NHL, CHL, and UHL.
Tennis Virtual Sports Betting
Invest in professionally developed Tennis virtual sports betting software or mobile applications that can provide an unmatched user experience. Our Tennis sports betting app covers all the most popular sports betting leagues and tournaments i.e. World Team Tennis, Australian Open, the US Open, and so forth.
Table Tennis Virtual Sports Betting
A well-known Table Tennis virtual sports betting mobile app development company, BR Softech aims to advance every aspect of the business with its Table Tennis virtual sports betting mobile app. Players can enjoy the live Table Tennis games alongside allowing gamblers to place bets on the Tennis matches.
Process of Virtual Betting Game App Development
Our highly efficient virtual betting game app development services are the fruit of our sheer dedication and the proven development process we follow. Our development process starts with the design of a virtual betting app and goes through to post-maintenance support.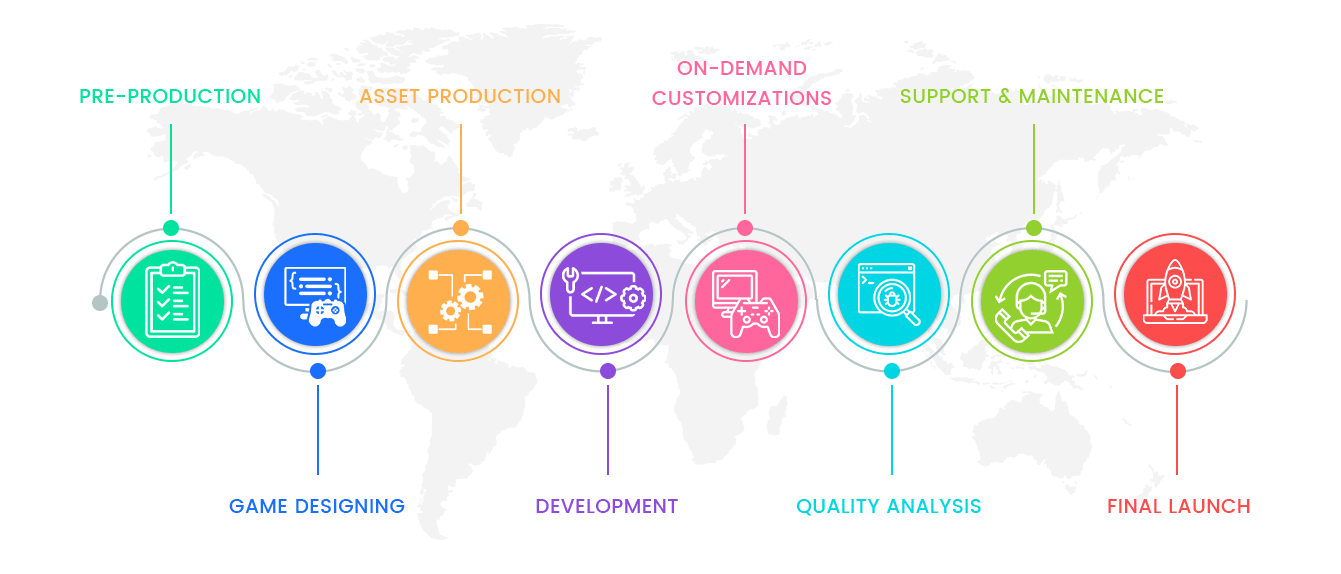 Have more ideas for a virtual sports betting app development?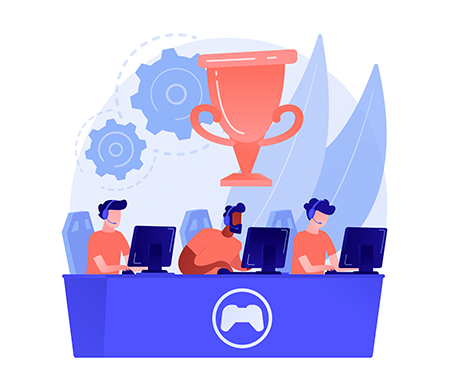 Hire Virtual Betting Software Developer
At BR Softech, you can hire a virtual betting software developer to create the most interactive and attractive virtual games. We offer a flexible hiring model to make it easy for you to work with us. You can either hire full-time betting developers, part-time or on an hourly-basis. Our developers are well-versed in working on operating systems like Android and iOS. Their expertise is also applicable to hybrid or cross-platform virtual betting software development. To hire betting software developers from us, all you have to do is share your requirement with us and rest leave it to us.
Hire Professional Team
24*7 Service
12+ Years of experience
Confidentiality & Quality Assurance
If you take one step, our developers will take thousands to make digital fantasies a reality for you.
Hire Now
Would you like to add more features to your virtual reality betting app?
Together, let's connect and customize.
Why Choose BR Softech For Virtual Sports Betting Game Development
Since 2010, BR Softech has been proving its credibility as the professional virtual sports betting software development company. Our more than 12+ years of experience helps us to understand the up and down of the sector which helps us to bring solutions that are admirable by all ages of people. Our client-centric approach helps us to generate the maximum ROI for our business solutions. You might also be inspired to work with BR Softech for the following reasons.
Fiat and Cryptocurrency Supported Payment Gateway Integration
User-Friendly and Interactive UI/UX Design.
Adaptable and Customized Sports Betting Solutions
24x7 Responsive Customer Support
Our Game Services
Our highly competitive and skilled team of game developers offers advanced game development services which are compatible with operating Systems like, Android, iOS, Windows, and more.