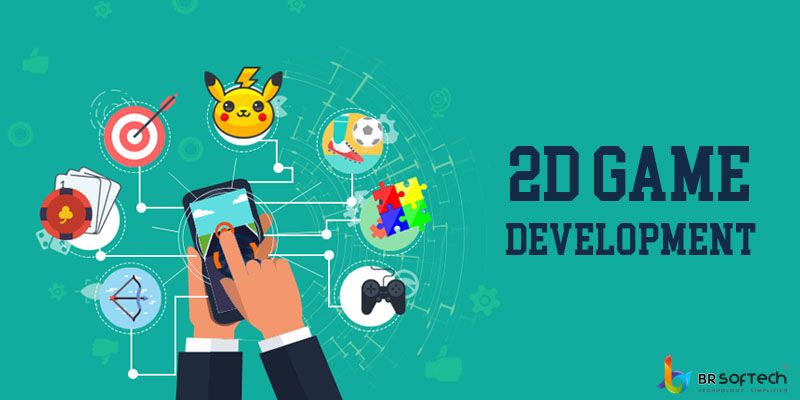 What is 2D Game Development ?
2D games always come up with engaging elements. Gaming is always about entertaining the audiences. The obsession of mobile games has increased immensely and 2D game development does complete justice with it.
Recently, there was a huge hit of some 2D games like Stardew Valley and Undertale.
At BR Softech, one of the top mobile game development companies in India, our experienced game developers are creating stunning 2D games across all the platforms including mobile devices, PCs, and tablets and converting your ideas into perfect 2D games.

At the business front, we offer you the liberty of marketing your company's games on various media.

Besides that, we offer quality assurance and timely delivery.
The journey of 2D games so far
Games are always synonymous with entertainment. When it comes to 2D games, it is lightweight and can work on any lower end hardware. Many gamers love to play 2D games just because of this reason. Additionally, the price and processing power considerations are another two things, which boost 2D game development.
Genre of Games
2D puzzle games

2D sports & racing games

2D word & strategy games

2D educational games

2D kids & family games

2D board games
What Tools & Technologies We Use in 2D or 3D game Development ?
Unity: Unity is one of the most powerful engine for 3D game development. With set of tools, game developers can build interactive 2D and 3D games content and animation.

COCOS2D: Cocos2D 3.0 is the latest version of one of the most popular open source iOS framework for developing 2D games, including thousands of App Store games and many top 10 hits. It can be said that programming iOS games is made simpler by Cocos2D while it still requires truly excellent programming skills first and foremost.
OpenGL: OpenGL has immense ability to execute its API entirely in either software or hardware. GPU vendors may provide additional functionality in the form of extensions. OpenGL is a cross- platform application programming interface that allows the programmer to create 2D and 3D graphics images. OpenGL API achieve smooth and efficient rendering as it directly interacts with Graphics unit.
WebGL: Web browsers can use hardware accelerated 3D graphics with the introduction of WebGL which opened up the possibility of creating a wide. WebGL (Web Graphics Library) comprises of JavaScript API for interactive 3D and 2D graphics with amazing compatibility with any web browser without the use of plug-ins.
ADOBE AIR: Adobe AIR covers a large area as far as native Client extensions are concerned and consists of flexible data layers, which include local files, SQLite database or a database server through Web Services. It is a cross-operating-system runtime that allows developers to incorporate HTML, JavaScript, and Adobe Flash and Flex technologies. It uses ActionScript 3 to deploy Rich Internet Applications (RIAs) on a broad range of devices.
ADOBE FLASH: Flash used for authoring of vector graphics, animation, games and RIAs that can be viewed, played and executed in Adobe Flash Player. For creating enticing and unique websites flash is considered to be an effective tool. Flash game development services can help to create interactive and highly engaging games. We develop the best flash games thus making use of the latest tools and technologies. The use of animation to showcase products or your company's objectives is an excellent way to bring extra attention to your specific business objectives.
Best 2D game Development Company
What sets us apart as a 2D game development company
The 2D game developers we have is highly experienced in for Unity 2D game development.

Our programmers are members of many big forums like Unity, Cocos2d and so many. This helps them to get updates about any changes and new technologies which reflect in our game development process.

As a leading game development company in India, we offer an agile methodology to our clients from USA, UK and Canada to plan or to guide any project. This interaction during research phase includes the analysis for feasibility and resolving specific platform restrains.

Our game developers possess many years of experience and have already developed many online and offline 2D games using many game development frameworks for various platforms. The platforms are: Android, IOS, Windows and Online.
Closing up:
We Create flawless & extraordinary business strategies with our highly dedicated & Highly skilled experienced developers for your business requirements. At BR Softech, We can customized services for a wide range of industries by exceeding our client's expectations. You can even interact directly with our development team regarding your project. We can work for you suiting your needs on hourly/Weekly/Monthly basis.
At BR Softech, you will get 100% success that is because of our efforts, hard work, customer- centric approach and organized team effort.