NFTs have set a new benchmark in the gaming market by introducing the ability to buy, develop and sell gaming tokens within the virtual world. Our certified team of NFT game developers work day in and day out to design and develop a wide range of NFT game genres, including role-based games, P2E games, crypto-earning games, move-to-earn games, web3 games, etc.
Being a top-class NFT game development company, we have helped clients from across the globe to develop cutting-edge, feature-rich NFT-based games, increasing user reach, retention, monetization and engagement. We focus on quality and customer satisfaction by catering to the needs and expectations of all the game development requirements. Take your gaming platform to the next level by leveraging our end-to-end NFT gaming platform development services.
A Wide Range of NFT Game Development Services
With our cutting-edge gaming strategies and guidance laid by professional developers, you can make a great difference in the NFT marketplace. Integrate our NFT game development services to make your gaming platform cut above the rest.
Play-to-earn Game Development
Launch your own P2E game like Sorare and Axie Infinity. We offer high-end P2E game development services, allowing users to earn real cash rewards by playing.
Crypto Breeding Game Development
Unlock the potential of crypto breeding games by launching platforms like CrytoKitties, penetrating the gaming market in a manner like none other.
Player Vs Player Game Development
Our expert team of NFT developers are specialized in building creative and unique PVP games on different themes like racing, cards, etc.
Move to Earn Game Development
With our thought-out services, we can help you capture the NFT marketplace by launching your own move-to-earn gaming platform like StepN.
Strategy-Based Game Development
From ideation to development of your NFTs and immersive gameplay experience, we can help you launch your strategy-based game applications.
Customizable NFT Games
We can help you create your customizable NFT games where users can establish their own universe while modifying many built-in assets.
Various NFT Game Development Genres
Being a leading P2E game development company, we have developed a wide range of NFT game applications for iOS, Android and Windows Mobile platforms. We offer 100% authentic, reliable, and glitch-free NFT gaming platform development services for different NFT gaming genres.
NFT for Fantasy Sports

Fantasy sports are known for incorporating real-life sports into virtual space. Leverage NFT in your fantasy sports platform to make enormous profits.

NFT for Action Games

We offer outstanding transformation of in-game assets like armour, vehicles, and equipment into NFTs for great returns.

NFT for Card Games

We offer great personalization when it comes to integrating NFTs into card games. Take help from our experts to make a fortune through NFT card game development.

NFT for Simulation Games

Simulation games brought forth virtual adoption in the gaming world. As a leading NFT gaming platform development company, we can integrate NFT into your gaming platform.

NFT for Casino Games

We offer end-to-end NFT-based casino game development services, offering great advantages to both punters and gamblers.
NFT for Adventure Games

We can help you transform all the assets of your adventure game into NFTs. Leverage our NFT gaming platform to convert maps, routes and environments of an adventure game.

NFT for Car Racing Games

Many people play racing games for a fun and immersive gameplay experience. Leverage our NFT gaming strategies to convert the assets of your racing games.

NFT for PVP Battle Games

Tokenize all the elements of PVP battle games into NFTs to earn great profits. These elements include in-game weapons, outfits, superpowers, skills, and objects.

NFT for Sports Games

We design and develop top-notch sports games with advanced features and in-game assets all tokenized as NFTs.
Exclusive Benefits of our NFT Gaming Platform Development
From inception to the launch of your gaming platform, our team of designers and developers ensure quality and safety through every stage of the NFT game development process. Choose us to get: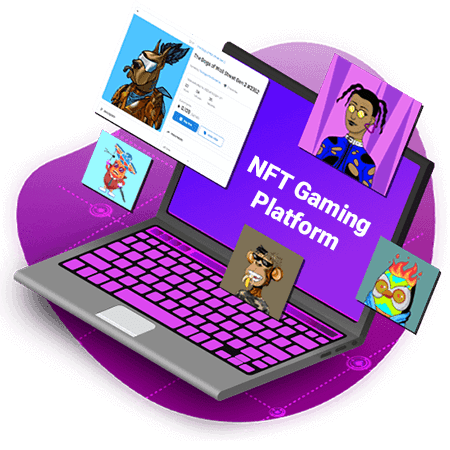 High Security

As a leading NFT game development company, we focus on the security and protection of user information. We ensure authentic and reliable configuration implementation.

Multi-platform

We ensure to provide the same immersive gaming experience across multiple platforms with high-performance features and security.

Interoperable

Irrespective of the game type or features, we offer great interoperability which means that assets integrated into one game can be used in another game.

Advanced Expertise

We combine well-thought game development strategies, next-gen technologies and innovative tactics to create exceptional custom NFT game development solutions.
High-end NFT Game Development Process
We follow a predefined set of stages to develop cutting-edge, feature-rich NFT game applications. These steps include:
Market Research and Concept Creation

The first thing we do before developing the NFT gaming platform is market research. After research, we frame the game concept, including features, ideas and technicalities.

Art and Design

In this phase, we translate ideas on digital screens. Our efficient game designers work round the clock to design in-game assets and characters. .

Game Development

Our NFT game developers are highly efficient and skilled in incorporating next-level technology stack to develop cutting-edge game applications.
Blockchain Integration

As a leading NFT game development company, we ensure to implement the blockchain of your choice such as Tezos, Solana, Binance, and Ethereum.

Testing and Deployment

In order to cater to the requirements of pre-defined security standards, we follow testing and de-bugging procedures to do smooth game app deployment.

Maintenance and Support

We provide regular server monitoring and tech support to ensure the long life cycle of the NFT mobile game applications.
Hire Our NFT Game Developers
With years of experience and expertise in P2E game and blockchain-based game development, we have helped 'N' number of clients convert their dream projects into reality. Our certified NFT game developers are highly skilled in delivering excellence through well-thought game strategies and advanced tech integration. Leverage our strategic NFT game development strategies to make your gaming platform stand out from the crowd.
Hire NFT Game Developer
Why Choose BR Softech for P2E Game Development?
By partnering with BR Softech, you can trust our certified P2E game developers, experienced in designing and developing the best P2E NFT gaming platforms, offering seamless gameplay experiences to users worldwide. We incorporate top-notch technologies, tools and game strategies to develop high-end NFT gaming platforms. Customer satisfaction is our utmost priority and we believe in delivering the same via our end-to-end P2E game development services. Choose us to get:
Technical Prowess
Full-fledged Support
Effective NFT Token Development
Economic and Transparent Pricing
Unique Development Approach
Creative Game Design
FAQs
NFT Gaming allows users to make fortune by tokenizing different gameplay elements, including vehicles, virtual landscapes, characters, objects and other in-game assets.
The play-to-earn games are games that have NFTs and cryptocurrency as an integral part of gameplay. P2e games cover a wide range of game genres from simple puzzle games to fantasy sports, arcades and other complex games.
On average, NFT game development costs around $50,000 to $60,000. The mentioned cost is for game applications with fewer features, technologies and less complexity. The p2e development cost may shoot up depending on the factors affecting the cost, including the location of the developers, the complexity of the features, the tech stack, and animation.
From characters to environments; You are free to tokenize all sorts of elements in your gaming platform. The most popular types of NFTs in gaming platforms include vehicles, characters, trading cards, virtual
NFT-based games are in high demand in today's gaming world. These games offer massive opportunities to users by providing a platform to buy, sell and trade unique digital assets.
Latest Blog
Intensify your knowledge to navigate your digital transformation with us.
USA Office
21 Overlook Ridge Terrace
#523 Revere, Boston,
MA 02151 USA
+1-650-727-6690
India Office
90, 10 B Scheme, Usha Vihar,
Triveni Nagar, Gopalpura Bypass,
Jaipur- 302018, Rajasthan INDIA
+91-7821055537 , +91-9982201414
Australia Office
11 parklands place,
Morwell, Vic-3840
Australia
+61 425 630 321
Canada Office
1193 Main St #3301,
Vancouver, BC V6A 4B6,
Canada
+1-604-360-4433