BR Softech provides certified mobile game app developers and designers in India & the USA. Being a well-known and prominent mobile game development company, we ensure to deliver all kinds of game solutions from 2D to Multiplayer 3D mobile game development. Our provided different gaming concepts and services make us different from others as these are compatible with all devices.
Our in-depth industry experience and access to the latest technologies such as AR/VR, AI, ML, etc enable us to deliver outstanding mobile game applications that have the potential to reach millions of devices.
Since our inception in 2010, here is what we have accomplished.
5510+
Mobile Apps Developed
Mobile Game Development
Hire mobile game developers from our company to get comprehensive mobile-game solutions from top mobile game developers in India & the USA. Nowadays, most mobile game development companies try to provide game development services by using Unity's modular mobile game development tools for iOS & Android mobile game platforms. We also use this approach and deliver highly engaged and exciting 2D and 3D games to players across the globe.
Our mobile game development services start by developing a deep understanding of the client project. We affirm that no one knows the project better than our client does, hence we keep ourselves engaged in communication with the client to understand their mobile game development requirements. Afterward, we come with mobile game development solutions that are well-accepted across the world on millions of screens.
The following is a list of just a few of our well-recognized Android & iOS game development services.
2D/3D mobile game
AR/VR mobile game
AI-powered games
Native mobile game
Hybrid mobile game
HTML5 mobile game
Mobile Game Design
We have the highest number of certified mobile game designers and developers who use appropriate mobile game platforms to offer users robust live-ops and monetization app solutions. Along with attractive and responsive mobile app UI/UX Design, these mobile game solutions have smooth performance, high visibility, and fast revenue growth.
Here is a list of the well-versed mobile game design services we offer to our clients.
Mobile game UI/UX design
Mobile game art creation
Spectacular animation integration
Mobile Game Development Technologies
When it comes to cross-platform mobile game development, we have the best game developers who provide amazing solutions with advanced mobile game development technologies. In our decade-long journey, we have used various ultra-modern technologies and mobile game development engines for AR and VR Game Development.
Unity
Our Unity game solutions provide support for a lot of platforms with next-level excitement via speeding up the Mobile game development solutions.
SmartFox Server
These multiple level gaming servers deliver mobile simulation multiplayer game apps to get profit and benefits at a reasonable cost.
HTML 5
Whether it is a mobile game design app or anything else, it is one of the generally used technologies for Android & iOS mobile game platforms.
Unreal Engine
This mobile game engine has a broad range of factors for creating high-level games. Mostly it is used by artist gamers for mobile game art asset creation.
Cocos2Dx
Cocos2D-X Game Development Platform is used for working on different platforms via programming in various languages. It is also used to give advanced services to clients.
Photon
This mobile game engine is utilized for launching real-time multiplayer games worldwide. It is an independent and trustworthy networking engine for providing support to game launch.
Custom Mobile Game Development Platform
Our experienced team provides custom mobile game development platforms for iOS and Android to generate different kinds of games. Being a top mobile game development service provider in India & the USA, we assure to deliver a suitable blend of creativity and technical expertise, where you can have solutions as per your choice and preferences. Our offered personalized mobile game development services include-
Narrative and game concept
Custom Game scripts and storyboards
Game environment, characters, and other aspect designing
Custom 2D & 3D modeling & animation
Custom Game Art Designing
Mobile Game Development Engines
To speed-up the mobile game development software and its performance, our expert team of developers use Unreal, Unity, and other top mobile game engines for both 2D & 3D game development for cross-platform. Hire mobile game app developers from us who use premade assets to acquire photo-realistic rendering pictures for the game.
Mobile Game Development Solutions
If you hire a designing and developing team from BR Softech, you will get high-quality gaming solutions. Our team will assist you to create game designs and artwork for mobile game development solutions that can be developed for a variety of mobile platforms like iOS, Android or cross-platform.
AR and VR Mobile Game Development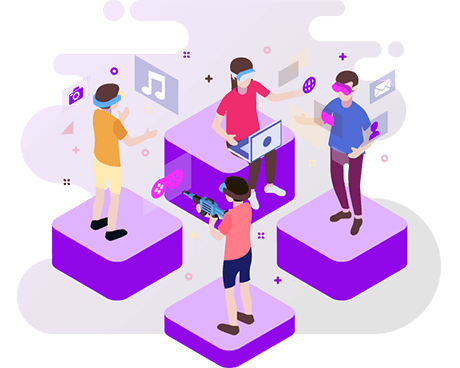 Our team offers amazing and high-quality Augmented Reality and Virtual Reality mobile game app development services with attractive and full-fledged designs and AR/VR Softwares. We have experts to provide the latest AR/VR development tools to craft game software with ultra-modern features.

From us, you can hire skilled game developers to create customised AR/VR games as per your specifications and enjoy the following benefits.

- Tailored user experience

- Enhanced customer retention

- 3D Vision

- Easy visualization
Hire Mobile Game Developers
We have experienced Android & iOS mobile game developers, so you can hire mobile game developers in India & the USA to develop any kind of mobile game solutions. Our services are of premium quality and created with the help of the latest technologies, tools and gaming engines. Our mobile game development team will show you the right path exactly from the game conceptualization to the development procedure to create a next-level gaming experience through new ideas.
Mobile Game Development Solutions
To offer different mobile game development services, it needs some specific skills that our hired developers have! We provide the right product by combining ultimate and attractive design, creative efforts, and program code with no error. As a top mobile game development company, we provide-
HTML5 Mobile Game App Development
We provide HTML5 mobile game development services by our experienced and skilled developers by using modern technologies at an affordable cost.
Social media games offered by us are efficient to attract the audience's base. These consume less space in mobile devices and you can refer them to your friends.
Cross-platform Mobile Game Development
Opt for a responsive and supportive mobile game development for iOS, Android, etc. Have a feature-rich cross-platform game development solution for better engagement.
2D and 3D mobile Games Development
Go for an advanced mobile app framework to experience more thrill and new ways of envisaging 2D & 3D game development.
Get the AR, VR, MR Mobile Game Application development services with the ultimate 2D & 3D technologies and mobile game engines. You can hire 2D 3D game designers and developers from us on a low budget.
Through iPad game development, our developers create mobile simulation multiplayer games and change your thoughts into impressive development.
Be it Multiplayer, Single And Multilevel Games, we develop everything with the help of Unity. Mobile Game Development with Unity will provide you with an amazing gaming experience.
Get all kinds of action and educational multiplayer mobile app games for cross-platforms developed by our efficient developers.
We develop full-motion and HD-quality 2D & 3D mobile video games and full-power video game animation software solutions by certified video game developers.
Our Different Versions of In-game Development
BR Softech offers coverage for a diverse range of business verticals as follows.
Mobile Game
Here at BR Softech, we ensure the deployment of highly feature-rich games with a user-friendly gameplay environment that keeps gaming enthusiasts hooked for hours.
Desktop Game
With our Desktop Game, we create an unparalleled 3D Dimensional adventure that captivates game lovers.
Windows Game Software
The desktop game software we offer empowers players to unleash their imaginations and provides them with a captivating gaming experience.
Specification in Mobile Game Development
BR Softech offers you different game categories to meet the market demands of iPhone and Android game development.
Casino Games
Our live casino gaming provider team delivers innovative and high-quality gaming casino solutions. Our casino games are fun, real and combining all the skills development features.
Racing and Shooting Games
While keeping the latest trends in mind, we develop racing and shooting games that can easily blow everyone's mind with amazing graphics and appealing design.
Sports Betting Games
Sports betting games are the talk of the town, and as a prominent game development company, we cater to all your business needs. We provide a wide range of gaming facilities to our sports lover.
Action Games
We proffer a perfect blend of excitement and thrill with action games that help users get dealt with hand-eye coordination and fast reaction times.
Board Games
Our Board Game provides a multi-feature game; we create 2D and 3D board games while covering all the needs with the utmost flexibility.
Educational Games
To increase interest in learning, we develop educational games that help students learn and upgrade their skills.
Our Game Design & Development Process
All our high-quality mobile game apps and software are the result of the following proven and tested game design & development processes.
Our Game Development Platforms
Irrespective of what technology or development engine you prefer, we are entirely committed to bringing your vision to life.
Unreal Engine Game Development
Our team of professional Unreal Engine developers excels at providing valuable features for game applications on iOS, Android, and other platforms. The best tools and latest technologies are used to help you create Unreal Engine games.
Unity Game Development
We are a well-known Unity game development company that specializes in creating a mesmerizing and memorable gaming experience from scratch using the Unity game development engine.
Cryengine Game Development
In our game development agency, developers are trained on CryEngine well enough to craft intuitive gaming experiences rendering smooth UI transactions.
HTML5 Game App Development
We develop unusual game app development solutions by skillful and talented HTML5 developers with user-friendly features.
AI Game Development
We have a good knack for developing artificial intelligence gaming experiences that can easily give users a seamless gaming experience. We put AI characters in video games that make the game look more realistic.
Windows Game Development
We have a laudable team of programmers, developers for developing Windows platform compatible games. Our team is competent at turning your ideas into realities with awesome graphics for the gaming app.
Arcade Game Development
With our team of dedicated game designers & programmers, we can deliver highly functional games that can attract the maximum number of users.
2D/3D Game Development
You can hire our 2D/3D game developers for the development of highly entertaining and robust 2D & 3D game apps and software.
Snooker Game Development
A tailor-made snooker game developed by BR Softech is known to give the exact land-based feel of the snooker game.
Education Game Development
Make the learning experience an enjoyable ride with our education game development services.
Features of Mobile Game Application Development
Following are the best features that must be included in mobile game app development. Take a look-
Refer & Earn

Refer & earn feature motivates users to share the game with their friends and family members and earn some rewards or game points that they can redeem further in the game.

Payment Integration

Mobile game app development provides safety to the money transactions of users throughout the game via offering multiple payment modes like direct payment mode, server integration mode, etc. with security codes and passwords.

ChatBot Feature

Chatbot provides support to players, they can ask any query or put their problems related to the game to get it solved.

Stunning Graphics

Stunning and attractive HD quality mobile game graphics can gain high-user traffic as players enjoy playing these kinds of games.

Time-to-time Updates

Mobile gaming software & Application needs timely updates so that there can be added to provide the latest version as per the user's demand.
Social Platform's Connectivity

Connection of sports mobile game development with various social platforms promotes the game app among a large base of audiences without any strategy.

Monetization Strategy

The reason behind mobile game development is to always make money and gain high revenue, so the game app must have a proper monetization strategy like 'motivating larger spend' to get profit.

Hardware-driven Games

Nowadays, there is an expansion of game-relevant hardware, whether it is a console, arcade, PC or something else.

Impressive UI Designs

If the game app or website has a stunning design, users will automatically want to try it and like it due to its appearance.

Different Game Modes

Different game modes are added in video game development to enable users to play with friends, family and even with the computer and it can't let them get bored.
Our Game Development Technology Stack
Our Game Development Specialization
Our expert team of designers and developers have brought variously animated and astonishing mobile game solutions for users to date. But we don't only specialize in developing mobile game apps. We are known as a leading mobile app development company, hence we offer varied game development services to users.
Ludo Mobile game Development
With astounding game design and to provide users with an immersive experience, our developers create ludo mobile games with whole dedication.
Casino Mobile Game Development
Our company offers casino game development in India & the USA for both land-based and online casinos so that users can have a lot of fun with these safe games.
Poker Mobile Game Development
Being a top-notch poker game development company, we create world-class poker game apps and websites with high security and more benefits.
Card Mobile Game Development
At BR Softech, we deliver premium-quality card mobile games with the help of expert developers who have a specialization in game designing and development.
Board Mobile Game Development
By using the latest tools and technologies, professionals at our company deliver the latest board mobile game apps with rich features.
Sports betting Mobile Game Development
Creating secure and smoothly performed sports betting mobile game apps are a speciality of our dedicated team of developers.
Recognized as a Top Mobile Game Development Service Provider
BR Softech is a reputed and well-known name in the mobile game app development industry. We provide a highly qualitative and reliable mobile game development service to provide immense fun and thrill to users. Our offered game development solutions have ultra-modern app features and swift performing operation with lots of bonus and rewards.
As a leading mobile game development company, we offer an appropriate combination of creativity and skills, hence we are known as a top game development firm with trustworthy game solutions.

Having more than a decade of experience in every category of game development, we use the best technologies and current market trends to provide users with engaging and suitable mobile games as per their needs.
You will experience the technology evolution at its best along with astonishing graphics and app design for 2D & 3D games.

Our dedicated and knowledgeable team strives to deliver smart game service solutions at an affordable price with cutting-edge technologies.
Latest Blog
Intensify your knowledge to navigate your digital transformation with us.
Our Game Services
Our highly competitive and skilled team of game developers offers advanced game development services which are compatible with operating Systems like, Android, iOS, Windows, and more.
Why Choose BR Softech as a Game Development Company
BR Softech is the one-stop shop for all types of game development services you need to make your fantasy a reality. Our team of video game software engineers, designers, and artists has over a decade of experience developing games. Moreover, our team is well versed in the latest technologies and current industry trends to provide clients with the best possible solutions.
Transparency & communication at the highest level
The agile game development process
Adherence to best security practices
100% bug-free code guaranteed


Ryan Bryon
It was my first time collaborating with BR Softech, but now I think there is a long way to go with their fabulous team. They pay very much attention to the statement of customers and deliver such a fab game, which is said to them. They ensure that the product matches all the requirements. Thanks for the wonderful services.


Jofer Kriss
BR Softech is a company that gives full attention to their valuable customers, and I had an amazing experience with them too. I came into contact regarding game development and they provided me with a great feature game. They know how to work and deal with customers.


Oscar Puker
BR Softech has hired a professional and dedicated team for accomplishing the requirements and desires of the customers. They delivered us a magnificent game that covers all the features that I asked for. I would love to work with them again and have such amazing services from them.
USA Office
21 Overlook Ridge Terrace
#523 Revere, Boston,
MA 02151 USA
+1-650-727-6690
India Office
90, 10 B Scheme, Usha Vihar,
Triveni Nagar, Gopalpura Bypass,
Jaipur- 302018, Rajasthan INDIA
+91-7821055537 , +91-9982201414
Australia Office
11 parklands place,
Morwell, Vic-3840
Australia
+61 425 630 321
Canada Office
1193 Main St #3301,
Vancouver, BC V6A 4B6,
Canada
+1-604-360-4433
Delhi Office
First Floor, Plot No. 73,
Sector-20, Dwarka, Delhi,
South West Delhi, Delhi, 110077

HONG KONG OFFICE
Unit 701, 7/F, Silvercord Tower 2,
30 Canton Road
Tsim Sha Tsui, Hong Kong
PHILIPPINES OFFICE
14 Floor, Apple One -
Equicom Tower, Cebu Business Park, Mindanao Avenue cor. Biliran
St.Cebu City6000 Cebu, Philippines
Pune Office
Shop No. 7 A Square,
Nigdi, Pradhikaran
Pune, Maharashtra 411033
Frequently Asked Question?
Q1. How much does it cost to develop a Mobile Game Development Application?
The development cost of a mobile game app depends upon varied factors like mobile app platform, features, developer's location, etc. But, you can get it under $30,000.
Q2. Which technologies do you use in Mobile Game Development?
TAlthough there are several technologies for mobile game development, these are some main technologies to use-
Q3. Python, Java, Swift, Kotlin, React Native, R programming, etc.
Will You Provide a Dedicated Team for my Mobile Game Application Project?
Yes, of course! Our whole team is full of certified, skilled and experienced professionals who have rich knowledge in the mobile app development field and provide full support to our clients.
Q4. How to Hire skilled Mobile Game Developers in India & USA?
You can hire mobile game developers in India & the USA through somebody's reference and connecting to social media groups or freelance networks like Upwork. But firstly check their previous work samples and portfolio, and also, if they can be trusted or not?
Q5. What is the Expected Project Delivery Time?
However, we try to submit the mobile game app to our client as soon as possible but overall it takes 2-4 months usually to develop a mobile game app.