BR Softech is an award-winning mobile game development company in the USA that excels in delivering cutting-edge mobile game apps that are compatible with multiple platforms including Android, iOS, and Windows. Our skilled team of developers have years of industry experience and expertise in working with modern technologies like Metaverse, NFT, Blockchain, Artificial Intelligence, and full-cycle mobile gaming app development.
From assisting you in mobile app game development to keeping up with your requirements, our mobile game developers strive to create customer-centric applications that are scalable and reliable. Our top developers are driven by innovation and will help you transform your unique game idea into a fully-functioning mobile game app.
Mobile Game Design and Animation
Our Mobile Game Development Solutions are incorporated with eye-catchy designs and stunning visuals that capture the user's attention. We at BR Softech strive for innovation and leave no stone unturned in creating stellar and aesthetic designs. Our team of top mobile game developers and designers utilise the latest technologies and tools to create highly interactive and immersive game designs that enhance the appeal of the mobile gaming app. Our Mobile Game Designing Services include-
Designing 3D and 2D games
Single Player and Multiplayer Game
UI/UX with best-in-class Graphics
Outstanding Animation Integration
Eye-catching Art Creation
Unique Character Design
Appealing Theme and Concept Art Design
Multiple Application Revisions
Cutting-Edge Mobile Game Development Services
At BR Softech, we offer cutting-edge Mobile Game Development Services to Startups and Fortune 500 companies all across the globe. We utilise an advanced tech stack and work on the latest mobile game engines to develop high-quality 2D and 3D Mobile game apps for platforms like Android, iOS, and Windows.
Full Cycle Mobile Game Development

BR Softech is one of the best mobile game development companies that offer robust full-cycle development. Our team of mobile game app developers will assist you through all stages of game development from ideation to mobile game testing to post-deployment support. Transform your game idea into reality with our full-cycle mobile gaming app development services.

Future-Proof Development

Our mobile app game developers excel in creating a future-proof architecture by conducting thorough post-launch analytics and timely updation of the mobile game app. We strive to provide regular game updates to keep up with the latest industry trends and to ensure the updation of game content in order to keep players engaged for a long time.

Mobile Game Art Creation

BR Softech follows a well-thought-out and out-of-the-box development approach to create stunning game designs, seamless animations, and engaging game assets that capture the user's attention and hooks them to the game screen. We optimise all game elements for an immersive and unprecedented gaming experience.
Mobile Game Testing

Being one of the best Mobile Game Development Companies in India, BR Softech also provides cutting-edge Mobile Game Testing services to ensure that the game app is free of bugs and glitches. Our mobile game testers provide cutting-edge and accurate quality assurance and ensure that the game app is up to date with the highest industry standards.

Post-Deployment Support

We track the game's performance and provide support after the game's release. We review user feedback and fix bugs and elements that hamper gameplay and don't suit player requirements. Our customer support team also works round-the-clock to assist players.
Exclusive Features of Mobile Game Development
As a leading Mobile Game Development Company in India, BR Softech integrates the latest features in our Mobile Game Development Solutions that greatly enhance the gameplay experience.
Safe & Secure Payment Gateways
Highly Immersive Graphics
Our Mobile Game Development Technologies
Our top mobile game developers are well-versed in working with a wide range of Mobile Game Development Technologies that facilitate mobile gaming app development.
Unity3D
Unity is a cutting-edge mobile gaming app development engine with features like API Integration, seamless animations and support for a wide range of platforms like Android, iOS, and Windows.
Unreal Engine
A state-of-the-art game engine that features photorealistic rendering, and smooth animations, and supports the development of AAA games.
CRY Engine
It is a popular mobile game development engine that facilitates the development of AAA mobile games and also provides a lot of interactive features.
Python
One of the most popular mobile game engines for game development. Python is a high-level programming language that features a built-in library that facilitates mobile gaming app development.
C++
It is widely used in game development and is a suitable programming language that is beneficial for AAA Game Development.
C#
A powerful and easy-to-use programming language that allows the easy creation of mobile games on game engines like Unity and CryEngine.
Hire Mobile Game Developers
Hire Mobile Game Developers and elevate your business to the next level. BR Softech also offers experienced and skilled mobile game app developers that aid in transforming your unique game idea into reality. Our skilled mobile app game developers are adept at developing feature-packed and responsive mobile game app development solutions that run flawlessly on platforms like Android and iOS.
Hire Mobile game developer
Numerous Versions of In-game Development
The following business verticals are covered by BR Softech.
Android Mobile Game Developers
Our Android Game Developers have years of experience in working with technologies like Kotling and Unity3D and excel in developing 2D and 3D mobile games that offer an immersive user experience.
iOS Mobile Game Developers
Using technologies like Flutter, SpriteKit, and XCode, our iOS mobile game developers are veterans in the industry and streamline the game development process.
Cross-platform Game Developers
Our mobile game app developers are adept at working with the latest technologies and facilitating cross-platform game development by using the game engines like Unity and Unreal Engine.
Hire Experienced Mobile Game App Developers
HIRE NOW
Our Comprehensive Mobile Game Development & Designing Process
Our mobile game app developers follow a stringent and strategic development approach that streamlines the development process and enables the creation of highly sophisticated and scalable mobile game applications.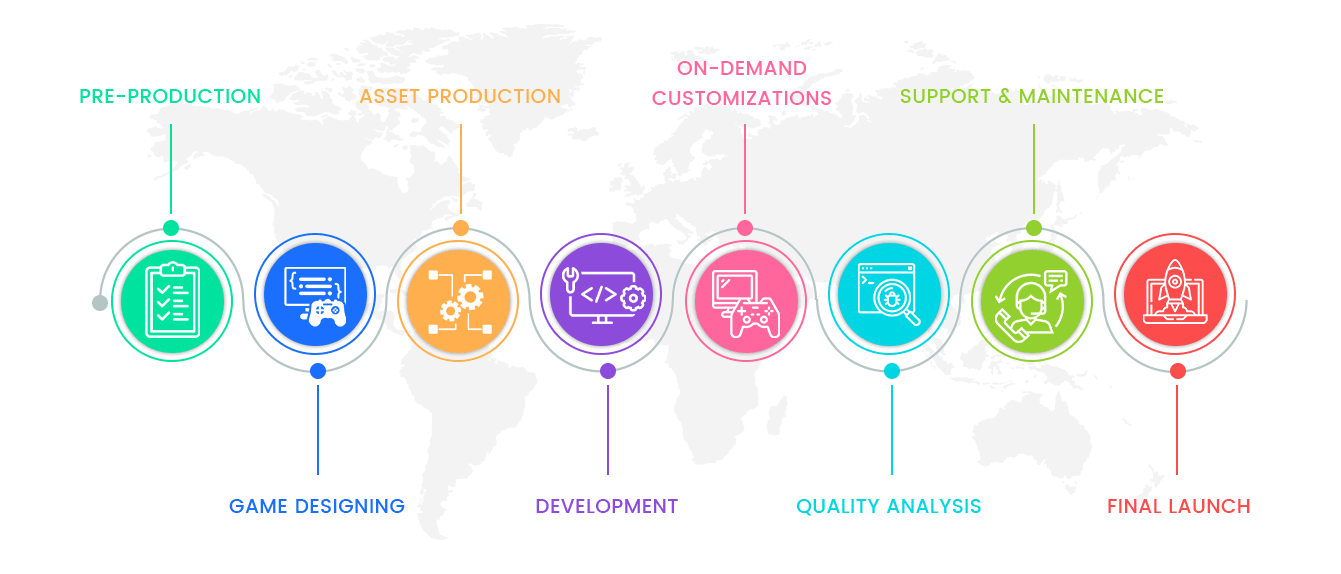 Types of Mobile Games We Develop
As the top Mobile Game App Development Company in the USA, we are adept at building a wide variety of mobile games in different genres.
RPG Games
Adventure Games
Racing and Shooting Games
Why Choose BR Softech as a Mobile Game Development Company?
BR Softech is a leading Mobile Game Development Company in the USA & India that is recognized globally and excels in developing cutting-edge and highly realistic mobile game apps. We have a team of highly skilled mobile game app developers who are industry experts and utilise their in-depth knowledge and skills to facilitate the mobile gaming app development process. Our mobile app game developers have years of experience and are experts in developing various types of games including RPG, Adventure, Casino, Metaverse, Action, and more. Partner with BR Softech and get-
Integration of the Latest Technologies
Frequently Asked Questions(FAQs)
Ans The Mobile Game Development Cost is not fixed and is influenced by a number of factors. On average, it costs around $30,000 to $40,000 to develop a mobile game with basic features. Moreover, the type of mobile game also greatly affects the overall cost of mobile game development.
Ans. The mobile gaming app development process can be classified into three stages-
Pre-production: Game Ideation, Market Research, Requirement Analysis
Production: Prototyping, Game Development, API Integration, Designing
Post-production: Testing & Q/A, Deployment, Marketing Strategies
Ans. Our developers are adept at using a wide range of tools and technologies that facilitate mobile app game development like Unity, Unreal Engine, CryEngine, C#, C++, etc.
Ans. Outsourcing mobile game App development has plenty of benefits as Mobile game development companies have expert designers and programmers that can help you build highly sophisticated gaming apps that stand out in the competitive market and ensure a high ROI.
Ans. BR Softech provides experienced and skilled Mobile game developers for hire to facilitate the development process of your project. If you want to hire Mobile Game App Developers, you can contact BR Softech.
Latest Blog
Intensify your knowledge to navigate your digital transformation with us.
Our Game Services
Our highly competitive and skilled team of game developers offers advanced game development services which are compatible with operating Systems like, Android, iOS, Windows, and more.
USA Office
21 Overlook Ridge Terrace
#523 Revere, Boston,
MA 02151 USA
+1-650-727-6690
India Office
90, 10 B Scheme, Usha Vihar,
Triveni Nagar, Gopalpura Bypass,
Jaipur- 302018, Rajasthan INDIA
+91-7821055537 , +91-9982201414
Australia Office
11 parklands place,
Morwell, Vic-3840
Australia
+61 425 630 321
Canada Office
1193 Main St #3301,
Vancouver, BC V6A 4B6,
Canada
+1-604-360-4433
Dubai Office
1901 musallah tower
Khalid Bin Al Waleed Rd
- bur Dubai - United Arab Emirates, +971 52-731-3556