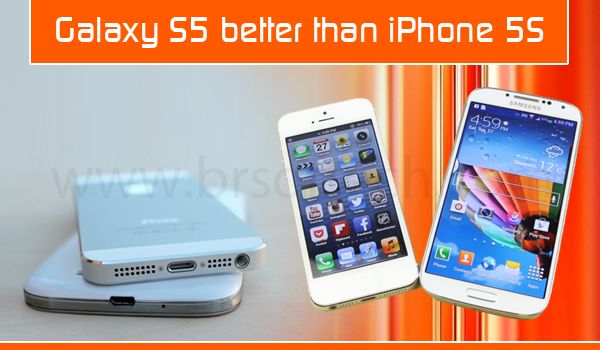 As we know that Samsung has launched the Galaxy S5 and if we ask someone who never uses either Galaxy S5 or iPhone 5S that 'Is Galaxy S5 better than iPhone 5S?' the person most probably say 'of course not '. So here we are exploring those features of Galaxy S5 which has advantage over iPhone 5S that is how Galaxy S5 is better than iPhone 5S:-

1. Water resistance: On dropping inside water Galaxy S5 never damage for few minutes.
2. Heart rate sensor: The rear camera flash has heart rate measuring sensor inside, so you can check pulse rate while clicking photos.
3. 16MP Camera: It is better than 8MP camera of iPhone 5S even when clicking moving objects.
4. Expandable storage: iPhone 5S has 16/32/64 GB fixed memory size available but Galaxy S5 memory can expend up to 128GB.
5. Live HDR preview: We can see how picture will look before clicking it through camera.
6. 4K video recording: We can shoot video with four time's higher resolution than a HD quality recording.
7. Power saving mode: When battery becomes low then it activates the monochrome power-saving mode which doubles the remaining battery life.
8. Use it as a remote control: Galaxy S5 has infrared blaster at its head so it can be used as remote control.
Save