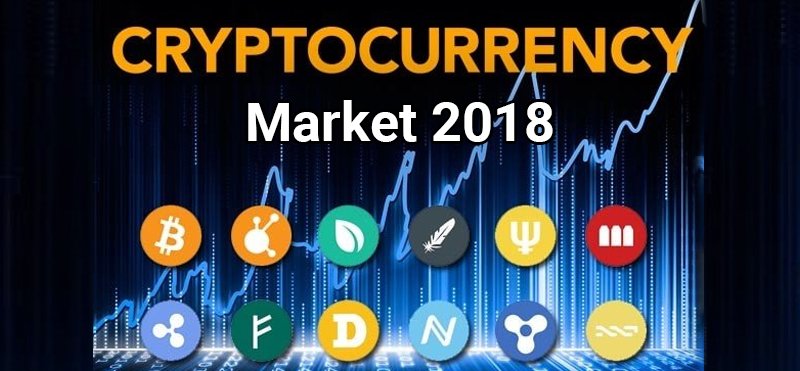 It would be not wrong to say that the market of cryptocurrencies, Blockchain, and ICO's is mysterious, no one even experts can also not predict what will happen. It is only the market which has left people with assumptions and they use to wonder about crypto streets.
It has been noticed that the profit made in 2017 with $2 bln invested into the ICOs have left people in shocked and in a belief that it is a  quantum leap, but people can't assure that 2017 development will be on 2018. We can expect that in 2018, there can be $20 billion to $25 billion invested in ICOs and it won't cease there as the big cards start to fall into place as the big plot unrolls.
Trillion Dollar Market in 2018 :

So if the market cap of crypto erupts and passes  $500 million and start heading to $1 trillion only through traditional money, which is fixed and willing as well as able to attain, so can you imagine what will the result of cryptocurrencies  so there could be three situations they can get double, triple or more than that and it can happen in a night. On the other side, The crypto indexes will be restricted to only one direction of security tokenize assets as well as equities plus those that don't, with app tokens that our products or services.
The only point which needs to be considered to maintain the uprise of the market price is to build the conditions which are favorable for the surge in the crypto prices. The work is already in progress to meet a new approach of ICO's starts from the perspective of regulation as well as the compliance where it is capable to meet the needs of institutional investors, which will open the floodgates.
Also Read: Top 10 Cryptocurrency Alternative to Bitcoin
Points to Keep in Mind:
Now there could be a twist the countries which are supporting cryptos plus like Russia, Japan and the other sovereign nations they could have a problem as full Central-backed cryptocurrency that will be fungible against BTC and the leading cryptos.
Now investors can get an opportunity to a new range of Blockchain and crypto funds can offer to buy the market and decrease the underlying volatility.  crypto market actors attract investors to be a part of crypto, where even a small strip will give a boost to any portfolio's performance. The shift may come soon even that much sooner than we haven't expected it.
Don't Miss : Ways to Create Your Own Cryptocurrency