Cryptocurrency wallets are rapidly becoming popular all over the world. These wallets store crypto assets and can also transfer them. They are built over blockchain technology and thus, are considered the safest medium for digital currencies.
BR Softech is one of the leading cryptocurrency wallet development companies that provide a complete crypto wallet development solutions & services.
BR Softech not only makes secure, fast, & feature-loaded wallets but also deploys & launches its client's cryptocurrency wallet application & software.
Following are some advanced features BR Softech offers:
Keyless Wallets Go key-free.
Facial Recognition To unlock the crypto wallet using a face.
Multi-Coin Support To store multiple crypto tokens.
QR Scanner To scan the crypto wallet via a QR code.
Cross-Platform Compatibility To be used on various platforms.
Automatic Conversion Rates Help you manage & trade your cryptocurrencies.
Our Crypto Wallet Development Solutions
Cryptocurrency wallets, just like any wallet, are used to keep digital assets like crypto coins, NFTs, etc. They come in various forms - paper wallets, hardware wallets, and software wallets.
With the growth of cryptocurrency, cryptocurrency wallets are becoming popular. These wallets store the crypto & keep them safe & secure.
Cryptocurrency wallets have become a necessity today for crypto holders, traders, and users.
Crypto Wallet Development Services
We are a well-known cryptocurrency wallet service provider. Our user-oriented services can be customized as per the user's requirement. To name a few, check the below list of wallets.
Binance Trust Wallet Development

A decentralized crypto wallet that allows its users to store, buy, sell, & exchange cryptocurrency assets. BR Softech specializes in crypto Binance Trust Wallet Development.

NFT Wallet Development

NFT wallets are used to store & exchange NFTs and BR Softech's highly secure NFT wallet development helps its clients conduct worry-free trading.

DeFi Wallet Development

DeFi or Decentralized Finance wallets are good for businesses and entrepreneurs as they process high-end transactions with ease.

Tron Wallet Development

Tron wallet is used to conduct large-scale cryptographic transactions. Most industry experts recommend Tron wallets.

Web Wallet Development

Unlike DeFi or Tron wallets, web wallets are more for individuals. They are known for their security factors in terms of small-scale crypto transactions.

Mobile Wallet Development

As its name suggests, mobile wallets are for mobile devices. Those users who want to trade or store crypto on the go - can go for mobile waller development.
Desktop Wallet Development

The desktop wallet uses software to be stored on computer devices. This crypto wallet is very helpful when it comes to cryptoanalysis & research. It also gives you fair insights into all your transactions.

Bitcoin Wallet Development

These wallets are used to store and trade Bitcoins safely & simply. BR Softech's Bitcoin wallet developments have been highly successful.

Ethereum Wallet Development

Ethereum wallet is for Ethereum cryptocurrency - the second most valuable crypto after Bitcoin. These crypto tokens need high-level security.

Multi-Currency Wallet Development

Multi-currency wallets are advanced-level wallets - they give you the privilege to store or trade multiple cryptocurrencies.

Centralized Wallet Development

Centralized wallets are very useful when:

You want full control of your digital assets.

When you conduct large-scale crypto transactions.

Coin-Specific Wallet Development

Coin-specific wallets are customized wallets used to focus on a particular crypto token.
Hire Cryptocurrency Wallet Developers
BR Softech is one of the industry's leading names in the crypto wallet development segment. Having been actively working for over 7 years now, BR's dedicated team smartly crafts the project with an in-depth approach, planning, and execution.
The team of experts and advanced tools further boost the crypto wallet development to be a highly secure & fast system.
Types of Cryptocurrency Wallets
There are two types of cryptocurrency wallets - Hot Wallets & Cold Wallets.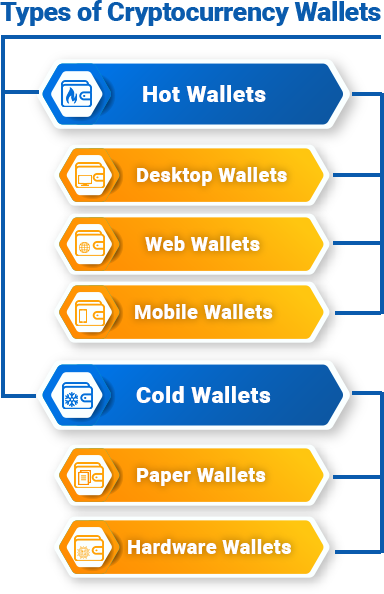 Hot Wallets

These are online crypto wallets for instant crypto transactions.

Desktop Wallets

Require an application/software to be installed on your PC/laptop.

Hot Wallets are of three types;

Web Wallets

Require a web browser to access your crypto assets.

Mobile Wallets

Require a mobile app to be downloaded to carry crypto transactions.

Cold Wallets

These are offline cryptocurrency wallets for higher crypto security.

Cold Wallets are of two types:

Paper Wallets

Physical documents have the information and the keys.

Hardware Wallets

They provide you with a USB-like hardware device. It has the keys considered - the safest form of wallet - among all other crypto wallets.
Whenever there is crypto ownership, there are two keys generated:

Public Key

Private Key

The public key is publicly available. Everyone can see it. Whereas the private key is private, and only you can see it. Both the keys are required to complete cryptocurrency transactions.

Wallets do nothing but store these keys safe & sound.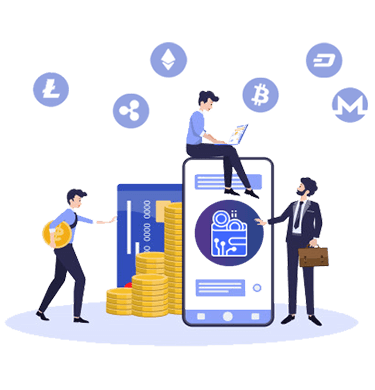 White Label Cryptocurrency Wallet Development
With the White Label cryptocurrency wallet, the owners can keep their digital assets under their own complete control. There is no authority entitled to interfere in their businesses.
The following attributes make White Label crypto wallets special:
White Label wallets can be customized.
Instant transfers can be merged with White Label wallets.
Extra security can be added.
Wallet integration can easily be done.
BR Softech is known as one of the best White Label crypto wallet developers.
Features of White Label Cryptocurrency Wallet App
Our advanced features can meet all user needs to provide a smooth user experience.
In-chat Transactions

Enables easy & instant crypto transactions of crypto assets.

API Connection to Crypto Exchanges

Enables multi-tasking & trading within the system.

Buy Crypto with Credit Card

Cryptos can be bought using credit cards.

Sell Crypto

Crypto selling can be done right away.

Enhanced Privacy

More secure due to private key optimization.

NFC (Near Field Communication) Support

Enables the owner to conduct fast transactions with other owners.

Multi-Layer Security

White Label crypto wallet offers added security.
Auto Denial of Duplicate Payments

Save chargebacks by automatically denying duplicate payments.

User-friendly Interface

Makes the digital wallet easy to use.

Easy Portfolio Management

Multiple tabs provide easy management.

Home Screen Customization

Set the home screen as per your preferences.

KYC Verification

Enhanced legalization & authentication.

OTC Trading

Over-the-Counter enables direct trading between two users.

Security

End-to-end encryption & distributed ledger take care of privacy & optimal security.
Technology Stacks in Decentralized Crypto Wallet Development
Crypto wallet development company BR Softech uses the following languages, frameworks, & blockchain protocols:
Crypto Wallet Development Process
As the leading crypto wallet developer, we make sure the cryptocurrency wallet development process remains transparent and uncluttered at all stages of development. The intelligible flow goes through the following:
Business & Technical Analysis

A thorough case study is done before diving into the implementation.

Architecture Design

The blueprint is made to get the work done.

Wallet Interface Design

The wallet appearance will be worked out here.

Wallet Smart Contracts Development

Smart contracts are predetermined computational programs that get active when predefined conditions occur.
Backend Services Development

The development of the backend services.

Frontend Development

The development of the frontend services.

Deployment

The deployment is done and made live.
Why Choose BR Softech Crypto Wallet Development?
Our step-by-step, smooth, fast, and transparent working methods have helped us become the top crypto wallet development company.
We always place our clients first and serve them with the following amenities.
Fast & Low-Cost Wallet Development
Crypto Exchange Platforms
If these reasons are insufficient, get in touch with us to know some more personalized benefits of working with BR Softech. We promise you will not be disappointed.
Latest Blog
Intensify your knowledge to navigate your digital transformation with us.
Our Game Services
Our highly competitive and skilled team of game developers offers advanced game development services which are compatible with operating Systems like, Android, iOS, Windows, and more.
USA Office
21 Overlook Ridge Terrace
#523 Revere, Boston,
MA 02151 USA
+1-650-727-6690
India Office
90, 10 B Scheme, Usha Vihar,
Triveni Nagar, Gopalpura Bypass,
Jaipur- 302018, Rajasthan INDIA
+91-7821055537 , +91-9982201414
Australia Office
11 parklands place,
Morwell, Vic-3840
Australia
+61 425 630 321
Canada Office
1193 Main St #3301,
Vancouver, BC V6A 4B6,
Canada
+1-604-360-4433
Dubai Office
1901 musallah tower
Khalid Bin Al Waleed Rd
- bur Dubai - United Arab Emirates, +971 52-731-3556