India is celebrating it's 71st Republic Day. This day 26 January is honoring the date as in 1950 the Constitution of India came into effect replacing the Government of India Act (1935). It was written by BR Ambedkar, He was known as the father of the Indian constitution. Each year this day is marked with grand ceremonies parade held in New Delhi, India, In the presence of the honorable President of Republic India. It's a tribute to India, which represents our unity in diversity and our rich cultural heritage.
It's one of the most prideful and patriotic celebrations for all the Indians. Nine to twelve different regiments of the Indian army in addition to Navy and Air force with their bands march past in all their finery official decorations. It's a three-day-long celebration, which showcases India's defense capabilities, culture, and social heritage.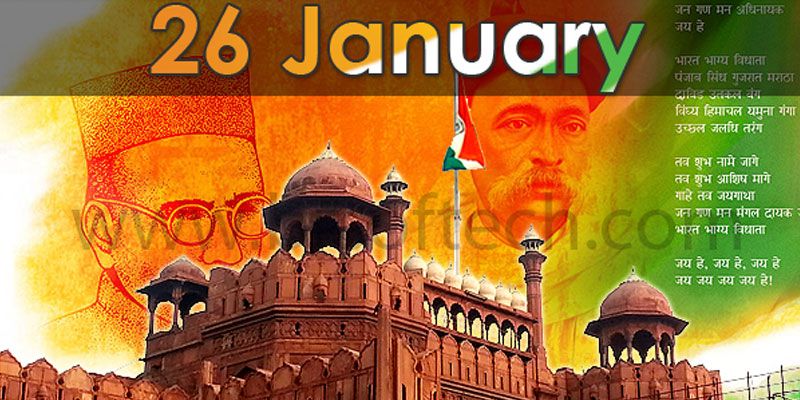 Beating Retreat
This three-day-long Republic Day celebration ends with Beating Retreat held on the evening of 29th January wherein three wings of military The Indian Army, Indian Navy, and Indian Air Force performs. They Play the popular tunes at the end like "Saare Jahan Se Achcha / सारे जहाँ से अच्छा ". This formal closure fills the surroundings with patriotic feeling and crowd cheers in full enthusiasm "Vande Mataram / वन्दे मातरम" and "Bharat Mata Ki Jai / भारत माता की जय ".
National Festival
This Day is celebrated all over the country with full enthusiasm and declared as a National Holiday. This celebration is a true reflection of unity in diversity. It shows the strength and growth of the nation and the stability of the country. Every state all over India, Organizes the National Flag hoisting ceremony wherein all the people take part and celebrate this special day in their own way.
Be a Soldier Without Border, let's Take a Pledge
Every Indian should take a pledge on the occasion of the Republic Day and make our country "सोनें की चिडिया" again. Let's be a better person today.
Be a better citizen
Say no to injustice
Humanity is our greatest religion
Safeguard country interest- In economical, social or environmental
Say no to corruption
Be a Part of this Celebration with Digital India
Digital India's campaign launched by the government of India ensures and empowers the citizens. It helps in connecting people by providing high-speed data connectivity. All you need a network connection to be a part of this grand ceremony celebration. Digital India initiative aims to transform India and empower people to connect. With Live streaming of Republic Day Celebration, you can experience and enjoy the parade in the comfort of your home. Digital India is a new Vision of our Indian Government which will support us in making India Incredible.

BR Softech, Wishing the True Spirit of Republic Day
Celebrate the spirit of freedom and rejoice the glory of the nation with BR Softech. We hope to make your today and tomorrow cheerful. Lets spread the peace, humanity, and prosperity among the people. Happy Republic Day!
Save
Save