The festival of colors indicates the victory of good over the evil. It has a specific significance in some cities wherein, In other cities, it's celebrated to give love and joy with each other. This big Indian festival is celebrated in almost every part of India with the pure joy of welcoming the harvest season for farmers. These vibrant colors bring a lot of positivity and allow people to rejoice the memory of this day for long. The enthusiasm of people reaches its peak and matches with the festive spirit of Holi. Find your hidden crazy self, dance to the rhythm of music and make other lives colorful and your brightest.
This fun-filled festival is being celebrated for two consecutive days. The zeal to celebrate this day is incredible. The first day is considered as the Holika Dahan and the second one is Dhulandi, Dhulivandan. This festival starts with the Holika Dahan and ends in the most dignified manner by visiting friends and family. In spite of being such a colorful festival, people exchange sweets and convey warm wishes to each other by fulfilling various aspects of Holi. It not only brings the Society together and also strengthens our core values.
Tradition of Holi
India is a country of diverse culture. Traditions and cultures define our cultural heritage. Holi is also one of the ancient religious festivals which is highly-favored among the people. Holi is being celebrated at the Phalguna Purnima (Full Moon). The festival date is perpetually decided as per the Hindu calendar. It may differ from year to year as per the Gregorian calendar, mostly coming in the March month. In recent years this festival has also spread among the parts of Europe and also in North America as the spring celebration of the love, colors, and frolic.
The Holi festivities begin on the night before Holi through the Holika bonfire. It's the moment when people perform some religious rituals and gather for the celebration. They pray that the evil which lies in them must get destroyed as the bonfire begins. The next day is being dedicated to rangwali Holi.
This is the most engaging, colorful festival where numerous people love to play, chase and then color friends and family using the natural or other vibrant colors. This wondrous festival is being played in public places or parks by people and relish painting each other on this celebration day. The different groups can be seen carrying drums with them and also the musical instruments too, and they opt for going places to places. People go for visiting their family, friends, relatives. People enjoy the delicious delicacy of Holi by forgetting about their diet to a lot of extents. Even the customary drinks are being taken by people who like the bhang.
Celebrate Eco-Friendly Holi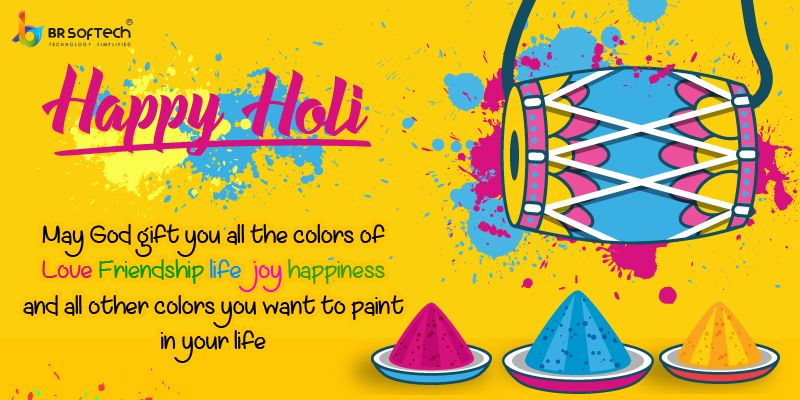 Celebrate the arrival of spring with natural colors. Harmful colors can make this joyful festival ruthless moreover, it can have various health effects. Wet colors are produced using gentian violet which, can cause skin discoloration and dermatitis. Purchase natural colors this Holi and do not waste water as India is facing acute water scarcity. Wasteful use of water may give you the joy of a few minutes but in urban areas, it can save the life of many. Think about it, and motivate other people to play dry Holi and save water. Bring environment consciousness in people and choose to turn this joyful festival in a more natural and less wasteful way of playing Holi. Encourage people to celebrate an eco-friendly Holi and purchase natural Holi colors.
BR Softech wishes you a very happy and wonderful Holi. May your life always be filled with the colors of joy and happiness.
Save