The Fantasy Sports App is making a buzz around the world as the most significant digital platforms. It is a kind of virtual world where fantasy sports apps are making every youth to put their finger on the keypad to win rewards and cash prizes along with the enchanting experiences. An app like dream11 is becoming one of the most popular and trending apps in India. Fantasy app development allows game enthusiasts to participate in an online game with an imaginary team of players who are actually playing in real-time.
The users created the team based on performance and their ratings. Users can choose the players according to their suitability and preferences. From cricket to football, an app like my team11 is coming up with great features that niche the excitement of sports lovers.
In the US, the industry is worth over $15 billion, with 32 million playing Americans. More than 3.5 million people play on the Premier League Fantasy Football app, and these statistics alone show the hunger for these apps. (Source)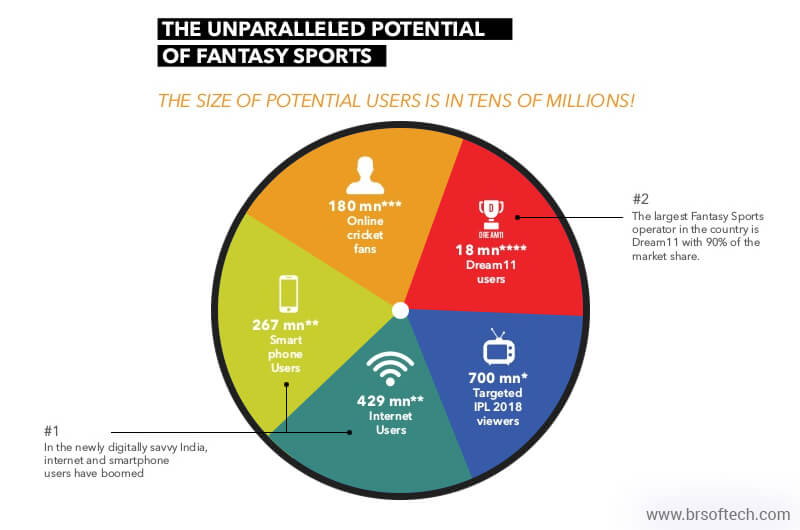 Rise of Fantasy Football Apps in the Digital World
Based on the user's area of expertise, the user can play significantly with multiple popular games like football. Football is the game that holds an enormous fanbase around the world, especially in European countries, although in Asian countries youth are attracting online football fantasy games.
Read more : – Get Immense Popularity with Fantasy Sports like Dream11
People these days are wandering from cricket to other games as well; hence most of the fantasy football application is one of the boons granted by this welcoming generation. Most fantasy football app development companies need to keep in kind the little nitty-gritty of the digital world to enhance their overall productivity and achieve considerable growth prospectus.
It has become the best source to earn money while enjoying the game; those who wish to develop a fantasy football application are have certainly made a great fortune. Over time, several apps like Dream11 clone have emerged as the most testified and convenient flexibility option these days.
Best Fantasy Football Apps 2019-2020:
1. NFL Fantasy Football
2. ESPN Fantasy Sports
3.CBS Sports Fantasy
4.Yahoo Fantasy Sports
5.DraftKings
Must-Have Features in Fantasy Football App
Ability to socialise
Fantasy football app is setting a new perspective where the user in the fantasy contest is able to play against each other virtually. These platforms are the best way to socialise with their achievements or interact with each other.
Other than this, it also helps you to improve the knowledge and skills of the game; therefore it's worth spending on fantasy platforms and attracts a large number of audiences while connecting with the outside social world.
Be Clear About Your Target Audience
Depending on your prime motive, it is extraordinarily essential for the target audience to build a successful fantasy sports app. Everybody has a choice in today's techno-savvy world when it comes to the sports they want to participate in something of interest. In order to capture the correct audience and market, extensive research must be carried out, and your company can develop and create its app.
Player Info
An app like team11, provides its user with necessary details of the players which help them to choose after analysing and selecting the best. Users can get the best possible decision with accurate data knowledge.
Join Leagues
Users can join various available leagues like public leagues, private leagues or football pro leagues to participate in the ongoing competition. Also, information related to already joined leagues can also be obtained from this feature.
>>>Essential Features & Cost to Create a Fantasy Cricket App Like Dream11<<<
Best Things About the Fantasy football App
Fantasy football app development company are coming up as one-step solutions for those who want to take a deep dive into this business or want to convert their billion-dollar interest in the business. Here are some emerging steps about fantasy app like dream11 that attracts the attention of millions of game enthusiasts. These best things can help you to increase your customer base.
Opportunity to Make Money
The best thing about fantasy football app is. It allows users to make unlimited money as it becomes the best source of entertainment and also helps them to enhance their skills and knowledge while making money out of it. It is the best form of entertainment that lets the lucky one live consistently. It allows you to bet on your favourite sports, and to improve your ability to be a professional bettor.
Live Coverage
Get easy access to your favourite sport at any time using the fantasy sports app. Stay updated with the scores and performances of the players that give the user a versatile option to stay updated regarding their favourite game live score. To get the instant live coverage option all they need is a good internet connection. You can get all the required information from your personal player information about your favourite game, and bet on your favourite player to win the maximum amount.
Entertainment Value
Sports fantasy websites such as William Hill, Dream 11, Betfair, Bovada, and many more are becoming famous because of its entertainment value. It offers the fun of watching a live game and enables you to place a wager that doubles the entertainment.
Convenience
Get the opportunity to have endless fun with a sports betting software device in the comfort of your home. It gives you lucrative offers and also helps you to place your money on the utmost comfort and convenience.
24/7* Accessibility
6The best thing about the fantasy sports app is accessibility 24/7*. It gives users a fair chance to access it anytime, anywhere. It allows enthusiasts of games to take some time out of their busy routines and play their favourite games.
Reliable Source
For any company, the app functionality is the most reliable source. Developing a fantasy sports app leads to improve your company's brand image and also aid in marking the online presence. For a better response, get allow the user to share their favourite team on online platforms.
Top-notch Security
The best online sports betting websites such as BetOnline, Xbet, Bovada and many others that can be trusted without any doubt. Using these betting sites, one need not worry whether their debit/credit card details are safe or not.
Why Should One Invest in Fantasy Football App?
As believed in statistics, people are going crazy about fantasy football apps. Somewhere we are all witnessing how these fantasy apps have transformed the gaming industry. Football lovers are very much passionate to watch and play this game.
It gives an opportunity for those who want to earn revenue or make some money out of it. Seeing the craze of fantasy apps, most of the leading companies are coming up with great ideas and innovative features to outshine their competitor's app during this favourable time period.
Around 11 billion was said to flow toward football. Ad revenues associated with fantasy hosting sites are not counted in the above figure. Fantasy sports is said to be around €23 billion industry in the United States, with around 57 million fantasy sports players in the US and Canada. It can be said that there would be only a few numbers of traditional players that play fantasy sports on a daily basis. (Source)
In the end.
The fantasy football app development is accelerating its growth in online marketing. We all agree that fantasy football app is filled with numerous opportunities due to a much larger fan base. It is obvious that fantasy football apps have a bright prospectus in the coming days and there are high chances that the fantasy software development company process will go to be rise by 30 per cent in the next five years.
With the rise of smartphone users, there is a significant rise in people using fantasy gaming apps in India. This billion-dollar football industry is rapidly growing with fantasy sports and allowing users to play fantasy sports virtually. For those who want to develop a Fantasy Football app, hire Fantasy football app developer, BR Softech is one step solution for an innovative app with best in class features.