The gaming industry is getting immense popularity in India and abroad. It's grabbing the attention of millions worldwide with regular events like Indian Premier League (IPL), Indian Super League (ISL) and now Worldcup. This billion dollar industry is rapidly growing with fantasy sports and allowing users to play fantasy sports like Cricket, Basketball, Kabaddi, and Football games virtually.
With tremendous growth today, it has become the business of fortune. All the popular brands are coming together to support fantasy sports with celebrities, league tournaments (ICL, IPL, etc.) and billions of fans.
Dream 11 is India's leading fantasy sports platform. Its dynamic growth of fantasy gaming in India is incredible. Its phenomenal growth track-record, dominant leadership in daily fantasy gaming, and compelling engagement metrics attract a lot of entrepreneurs towards fantasy sports.
Read More About: Dream11 Introducing New Dimensions: Dynamic Growth of Fantasy Gaming in India
Dallas, United States – January 28, 2019
According to this study, over the next five years, the Fantasy Sports market will register a 13.24% CAGR in terms of revenue, the global market size will reach US$ 33199.64 million by 2025, from US$ 13906.77 million in 2018. (Source)
The rise in numbers clearly shows the rapid growth of fantasy sports like dream 11. The dynamic of fantasy sports keep changing as per the key players, key regions, and countries.
Segments of Fantasy Sports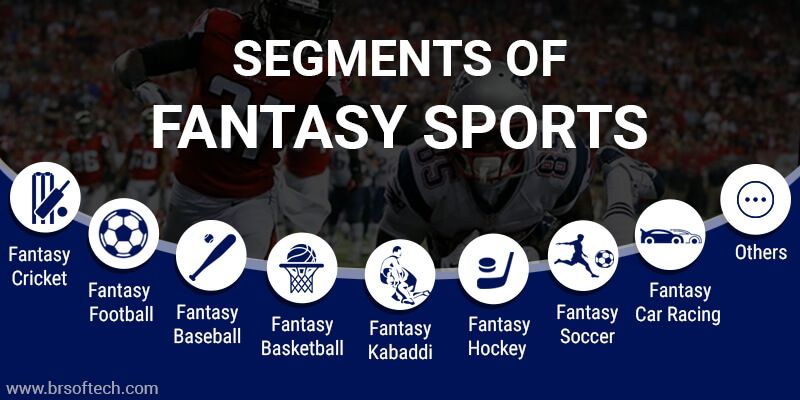 The global fantasy sports market is divided into many lucrative segments. These segments are popular around the world and loved by fans worldwide. With time the trend of fantasy sport will only grow, and all these segments will have a huge fan base.
Fantasy Cricket

Fantasy Football

Fantasy Baseball

Fantasy Basketball

Fantasy Kabaddi

Fantasy Hockey

Fantasy Soccer

Fantasy Car Racing

Others
Fantasy Sports Market By Region
Fantasy sports is one of the most promising platforms which allow users to pursue their dream to build their own team. The actual market of fantasy report can be seen by market region.
The United States & Canada

Mexico

India

China

Europe

Japan

Others
The changing landscape of fantasy sports shows the actual competition and enable users to enjoy the game with unlimited fun.
The Rapid Growth of Fantasy Sports In India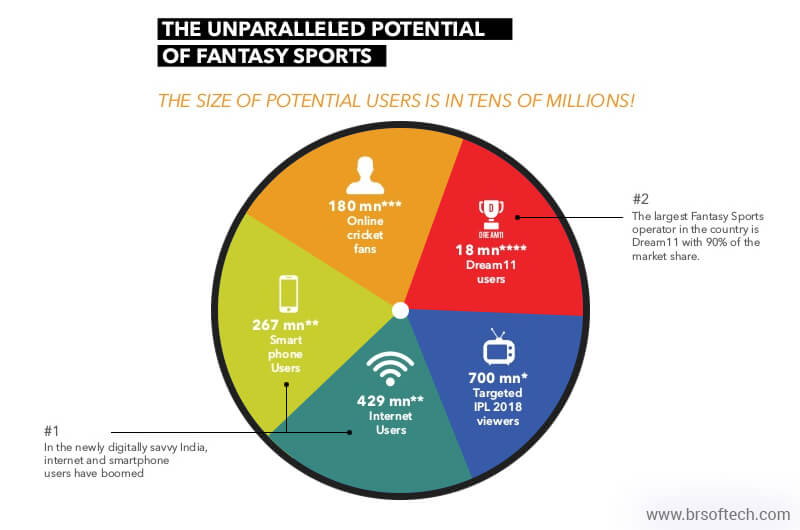 Fantasy Sports like Dream 11 is breaking all the records and becoming increasingly popular. The explosion of technological advancement is bringing convenience for people and providing them with the most engaging experience. The contribution of smartphones and fast internet can't be neglected, it enables users to participate in fantasy sports game anytime, anywhere.
If you are willing to build a fantasy sports mobile app like Dream 11 and not sure how? Well, let us help you with that.
Prepare a business model

Add features and functionality

Add Tournament Listing

Payment Gateway Integration

User Dashbord
Invest your time and efforts on this and for more details read our detailed blog.
How to Build a Fantasy Sports Mobile App like Dream11?
The incredible growth of fantasy sports apps and increasing popularity is inspiring a lot of people to come up with exceptions ideas of fantasy sports platform and take users experience to a whole new level.
Fantasy sports are measured around 23 Billion industry with 59 million fantasy players in the US and Canada.
Increasing Popularity of Fantasy Cricket in India
With the rise of smartphone users, there is a significant rise in people using fantasy gaming apps in India. It has grown from a hobby to a billion dollar industry. The number of internet users in the country was 560 million as of January 2019, which clearly makes India a huge market for fantasy gaming apps.
Majority of people in India loves to play cricket and enjoys playing it virtually. Cricket isn't a sport in India, it is practically a religion. You must be wondering what is fantasy cricket? What is the difference between cricket and fantasy cricket? Well, in simple words, Fantasy cricket is an online game that allows its players to experience what it would be like to be the captain or the coach of their very own cricket team which competes it various tournaments virtually.
The number of users of Dream11, the biggest fantasy sports gaming platform in India, has increased from around 60 lakh to more than six crores in the last two years.
The main reason for this exponential growth of fantasy cricket can be because of the freedom to choose their own team and appoint their own captain and vice-captain.
With the success of Dream 11, a lot of establishments and entrepreneurs are taking an interest in this industry. We will provide you with an in-depth analysis of fantasy sports from a business point of view. 2019 to 2020 is considered to be the most accurate time to enter in the fantasy sports as it has spread its roots to all over the world and getting enormous fame.
Looking for Developing Fantasy Cricket App?
Read More: How to Develop a Cricket Fantasy Sports Mobile App Similar like Dream11?
This detailed article will help you know "Why it is a Right Step to Invest in Fantasy Sports App Like Dream11".
It is really essential to understand the market demand and fulfill the market requirement at the right time to grab the targeted audience attention. It helps you make the customer base while building a reputation in the industry.
India's Fantasy Cricket Market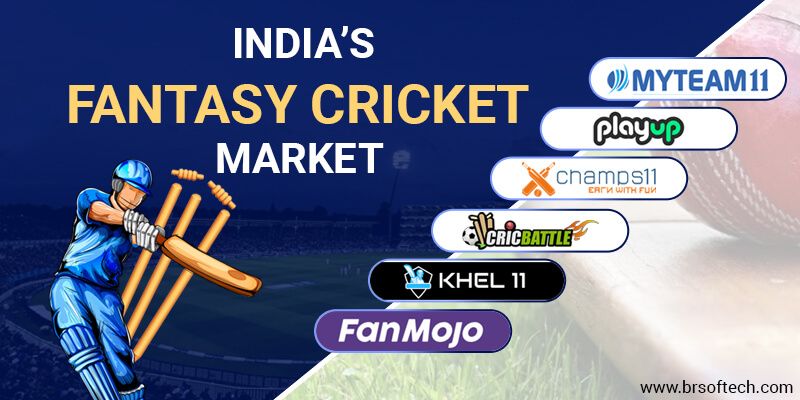 Dream 11 is the most successful fantasy sports app running in India. Smartphones have made it easy, for people to play anytime, and anywhere. Fantasy sports apps are certified to be an essential aspect of today's life. It has been proven to be the ultimate way to engage users and challenge friends and family.
Apart from Dream 11, there are various other famous players as well in the fantasy cricket league business like:
Myteam11 -1 M

Playup-

Champs11-

CricBattle

Khel11

FanMojo
Seeing the growth of these successful platforms, it is clear that in the coming time, there will be more fantasy cricket and sports app will be introduced in the market capting the targeted audience while providing with lucrative offers. The upcoming time is going to be extremely competitive and flourishing for fantasy sports considering its accelerated growth and popularity.
Read More: Why 2019 is the Best Time to Launch a Fantasy Sports App and Website?
Types Of Fantasy Games
Daily & Weekly Game

Scoring-based Game

Draft-based Game

League-based Game
Factors to Determine While Developing Fantasy Sports App Like Dream 11
Work on Ideation
To develop a successful fantasy sport mobile app, one must consider working on ideation. It is the most complicated process. It requires complete industry research and competitors knowledge. To generate a unique concept, one has to think of something innovative and engaging. Or possibly you can bring variation in the existing game by making it appealing to the audience and giving them life.
Be Clear About Your Target Audience
To build a successful fantasy sports app, Its remarkably significant to the target relevant audience according to your prime motive. In today's techno-savvy world, everyone has a preference when it comes to the sports they want to indulge in something interesting. To capture the appropriate audience and market, one must do extensive research and allow your business to grow and establish your app globally.
Include the list of Sports or Leagues
To capture the targeted audience attention, one must include the list of sports or leagues to keep the user engaged. Decide your sports niche, your budget, your audience, your teams, list of integral features, and the deadlines you wish to add in your app.
Secure Payment
Secure payment integration leads to a repetitive customer, hence one must consider online security while creating a fantasy sports app. It's been a major issue for almost everyone. Providing with secure payment methods helps the customer to build trust towards your brand and allow them to be with you for a longer duration.
Select The Platform Wisely
Selecting the right platform plays a significant role in development. You must be sure before starting the development about what you wish to offer, Mobile interface or web interface. If you wish to offer both starts the development process accordingly. A well-designed fantasy sports platform is advantageous from a business point of view.
Fantasy Sports Services
Service is the key part of an app and website like load balancing, app performance, autoscaling and a lot more. Hence, carefully choose the services you are going to provide to your customer and stay ahead in the competition. The service you provide to your customer decides the future of your app and longevity in the industry.
User-friendly Interface
Fantasy sports app with a great user-friendly interface reinforces your brand image and bolsters your reputation in the industry. It must have a user-friendly interface and enable the users to discover the app and its product and services efficiently. It makes your app accessible to use and strengthens customer engagement while building a great customer relationship. It increases the accessibility and provides the customer with a more pleasant experience.
Must-have Features in Fantasy Sports App
Millions of people are attracted to fantasy cricket and enjoy using highly functional, fast, and convenient fantasy cricket app. These apps must have certain features which attract users like:
It works on different panels like:
These panels consist of many following different features from both users and business point of view.
Registration: –

One must be able to use fantasy sports app and able to use them by simply registering themselfvs.

Login: –

Login option help users to log into the app using username & password.

Dashboard: –

This section will help the admin to manage everything like total matches with complete information like upcoming, Ongoing, played matches, total contestant, & complete earning at one place.

Contest: –

To grab the users attention its must to add all the required contest information with lucrative offers.

The Spectrum of Sports: –

By selecting the spectrum of sports you allows the user to check a sports tournament and player information with ease.

Live Streaming: –

This option plays a crucial part and allows the game enthusiasts to place the bet more enthusiastically.

Payment gateway: –

To make your app popular and use worldwide you must add a payment option that works smoothly on all the devices and based on the number of third-party methods.

Rules & Regulations: –

While developing the app make sure to add rules and regulations for people to consider.

Multilingual: –

Multilingual mobile apps helps the business to capture more market as compared to the app which only available in one language.

Monetization: –

After investing in the app, it's essential to look for app monetization strategies. It helps in bringing success, increase visibility, and generate revenue.

Back-end Connection: –

Fantasy sports development team must consider having a front end and back end features to handle all the bets and transactions.

Security: –

Wherever money is involved risks comes along hence while dealing with the money one must consider security as a top priority.
Advance Features of Fantasy Sports App
Notification: –

Managing everybody's money holds a big risk, therefore, notification feature comes as a savior.

Real-time Analytics: –

Add this advance feature in your app for data to constantly stored and updated in real-time.

Push Notifications: –

This advanced feature is helpful in sending alerts and messages to customers in real time.

GPS Location Tracking: –

By integrating this advance feature you can send your customers with upcoming and online leagues and match information nearby their location.

Payment System: –

Add various payment modes and users can easily make payment using the debit/credit card, net banking, e-Wallet.

Live Score API Integration: –

By integrating live score API you allow users to access real-time information.

Customer Service: –

Provide customers with advance support to resolve all their queries related to fantasy sports.
Bring Innovation to your Fantasy Sports App Using Trending Technologies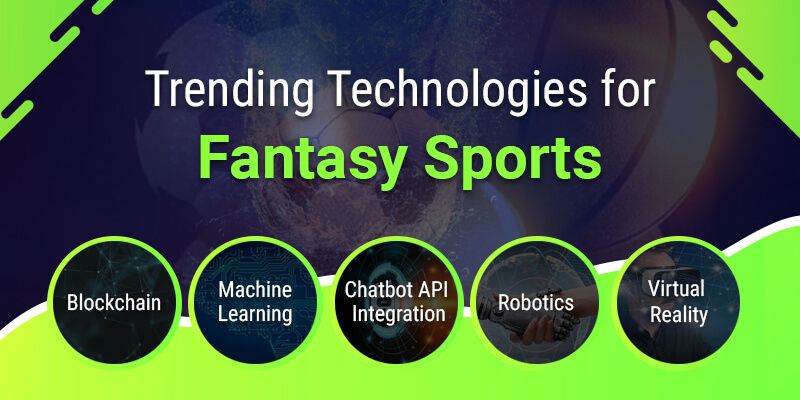 See the rise in profitability and productivity in fantasy sports using blockchain. The blockchain is a decentralized technology that enables the transfer of digital currency in the most advanced and secure manner. Typically its a list of records called blocks are linked using cryptography or a public ledger.
With the digitization, blockchain is entering in the sports betting industry and drastically changing it to the core. It helps you create a decentralized platform which enables you to monitor the transactions for the fantasy sports business model while leading secure transitions.
Machine Learning
Machine learning based algorithms helps fantasy sports in identifies the defects earlier in the process while improving quality structure. It's one of the best technologies and an application of artificial intelligence. It provides the system with the ability to learn automatically and improved from experience without being explicitly programmed.
It is a category of algorithms that allows the software application to become more accurate in getting an outcome. This advanced technology offers an opportunity to leverage competition and form new collaborations for entire business models.
Chatbot API Integration
Communication is one of the most important aspects of any business. The chatbot is one of the most popular and effective customer engagement tools. Your chatbot is the official representative of your brand, hence It's essential to ascertain your purpose behind creating the Chabot. According to a survey, 83% of online players need assistance.
This cost-effective solution encourages the business to save time and money while helping customers and represent your brand to market your business and target your audience. It's a cost-effective solution which assists the business to connect with the customer on a personal level.
Legal Aspects Related to Fantasy Sports Games In India
Fantasy sport is a game of mere skills. Therefore, the game of skills like fantasy sports aren't covered under anti-betting laws. One doesnt need to hesitiate while downloading fantasy sports app or participating in fantasy sports games.
Fantasy sports is based on the skills of the participants. Its result depends on relative knowledge, attention, training, and experience.
The fantasy Sports business is completely legal in the country.
As per Section 12 of Public Gambling Act, 1867, "Games of mere skill do not come under the application of Gambling Act".
To know more about the laws relating to Fantast sports games in India refer to this link:
Final Thought
The rapid growth of technology advancement and virtual reality taking the gaming industry on another level. The spectacular growth of fantasy sports inspiring a lot of establishments and entrepreneurs to take an interest in this industry. Its phenomenal growth track-record, dominant leadership in daily fantasy gaming, and compelling engagement metrics attract a lot of entrepreneurs towards fantasy sports.
With the rise of smartphone users, there is a significant rise in people using fantasy gaming apps in India. This billion dollar industry is rapidly growing with fantasy sports and allowing users to play fantasy sports like Cricket, Basketball, Kabaddi, and Football games virtually.