Diwali the festival of lights glitters and prosperity, this day is a symbol of victory of good over evil. On this Lord Ram returned home with Mata Sita after vanquished the demon Ravana after completed long 14 years of exile. 
According to the Hindu Panchang, we celebrated Diwali day in the month o Kartik. Generally, This Year Diwali falls in the month of October. It is the biggest festival celebrated by all religions throughout the world. The festival inaugurates a time of jollity – a time to indulge with loved ones and, dress up in finery and prepare delicious food for the festival. It is an occasion to behold all the beautiful moments, colourful fireworks that dazzle the night with beautiful hues. 
Important Dates To Remember
The year 2019
| | | |
| --- | --- | --- |
| Auspicious Days | Dates | Day |
| Dhanteras | 25 October 2019 | Friday |
| Choti Diwali | 26 October 2019 | Saturday |
| Diwali | 27 October 2019 | Sunday |
| Govardhan Pooja | 28 October 2019 | Monday |
| Bhai Dhoj | 29 October 2019 | Tuesday |
How Diwali Celebrated?
Diwali is one of the most relishing and biggest festivals which is also celebrated on Amavasya day only. Diwali also celebrates the beginning of a new business year and wishes for a healthy & prosperous life. 
This festival marks the triumph of light over darkness. The significance and tradition of Celebration of Diwali mainly depend on the region. Diwali is celebrated by decorating the houses with colourful lighting at home including the doors, windows, even around the temples. This festival is being celebrated for 5 days, but the main festival is celebrated on the night of the dark moon in the month of Kartika, as per the Hindu calendar.
Significance Of Diwali
As per Hindu belief, Diwali is considered as a most important day to remember our Goddess Laxmi.

It holds much significance as this particular day, is celebrated in honour of Lord Rama and Goddess Laxmi.

Those who worship or honouring Goddess, can obstruct all the negativity and seek their blessings.

By performing donations, charities on this particular day, the individual can eliminate all sorrows and barriers from their life. 

It is a day in which we show gratitude to our elders who imbibes knowledge, ethical behaviour.
Rituals of Diwali Pooja
Before a few days of this festival, people must clean, and decorate their houses as well as the workplace. On the festival of Diwali, Hindu people get dressed in lovely clothes and marvellous outfits.

The person needs to wake up and take a bath early in the morning and chants hymns and mantras

It is believed that on this day elder's feet should be worshipped and seek their blessings.

Devotees believe that by lightning all the diyas and lights will ward off the negative energy present in the house and will also purify the house's environment before performing the pooja.

Participate in family pooja and worship Goddess Lakshmi- the Goddess of fertility and prosperity.

Later on, people enjoy the family feast, which includes mithai (sweets) and also exchanges gifts with friends and relatives.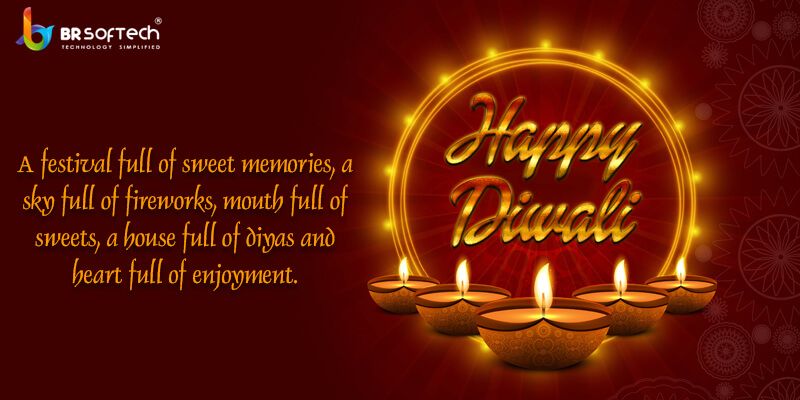 Other Auspicious day Celebration
Padwa
Padwa is a day honouring the husband-wife relationship. Wives are observing fast for the well-being and longevity of their husbands. A husband is used to pampering his wife with gifts. 
Bhai Dooj/Bhau Beej
This is a day symbolizing the love between a brother and sister and a time for family reunions when cousins gather to celebrate the day with joyousness and endless love.
BR Softech Wishes you Happy Diwali.
BR Softech Wishes everyone a very happy Diwali. We are the leading IT company, who have prowess in developing IT relations for tech clients around the globe. We offer innovative solutions and customised solution, keeping all the business requirements with the team of expert developers.