By the end of 2025, the mobile industry will have approximately 5.9 billion unique mobile users or 71 percent of the expected population of the Earth. This number gives us a clear idea about the demand for mobile applications in the coming future. That's why more and more businesses are opting for digitizing their processes to attain their primary objectives.
As a leading name in the field of mobile app development, BR Softech knows what it takes to be the best in the industry by delivering top-notch services to its diverse clientele. This is what motivates our certified team of app developers and designers to go an extra mile for our clients and demonstrate expertise in the domain of mobile applications.  
Why Did MobileAppDaily Choose BR Softech?
Dedicated solely to Mobile Apps, MobileAppDaily is a leading media house in the tech industry – showcasing the latest insights and success stories from App owners and App development companies, reviewing disruptive mobile apps, covering coveted CEO interviews and descriptive app walkthrough videos. Their proven marketing strategies make it a one-stop destination to find your perfect partner to reach millions of mobile Application users and technology enthusiasts globally.
Beyond the bounds, MobileAppDaily releases exclusive annual reports in various industry verticals, with some of the most popular ones being: Flutter App Development Companies, Beacon App Development Companies, Android App Development Companies and many more. 
BR Softech is excited to announce its recent global recognition by MobileAppDaily is a leading Mobile App Development Company after earning a spot in its exclusive report of Best Mobile App Development Companies for 2019. The report is curated based on various pre-defined norms including parameters like case studies, online market presence, client testimonials, and technology expertise, we are proud to surpass them all and recognized alongside the top leaders and innovators of the app development industry. Here's an abstract of our profile on MobileAppDaily: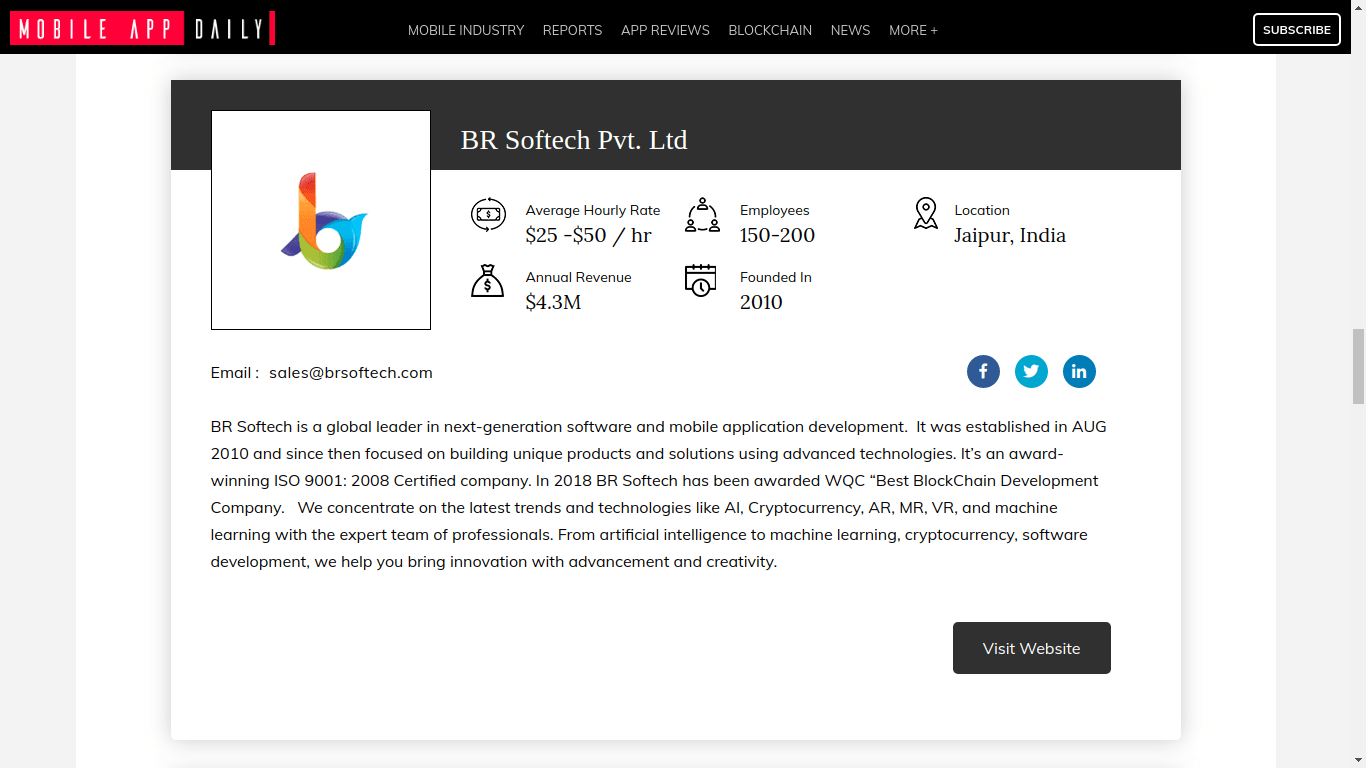 We at BR Softech are really excited about this recognition by MobileAppDaily and aim to maintain our consistency in delivering innovative and advanced app development expertise to our clients globally.
>>>Quick Glance on Mobile App Development Process<<<
So, if you have an app idea in mind be it Android/iOS app development or Blockchain app development, leave it to us for transforming it into a reality. Get in touch with strategists now!