ChainLink Blockchain Development Company
Are you finding a suitable company for Chainlink Blockchain Development? Then, end your search by hiring Chainlink Blockchain Developers from BR Softech. We have a highly skilled team of professionals who deliver you with a blockchain app on the chainlink platform.
We provide customized smart contract solutions as per your business needs in a cost-efficient way. Our dedicated developers are adept at providing a proper blockchain solution to clients. We, as a leading chainlink blockchain development company, are experts in developing Chainlink solutions.
Hire Our Professional Chainlink Blockchain Developer
BR Softech developers help you to get the best possible result as we are having a good knack in developing an array range of Chainlink blockchain applications. Get the best possible result while working with us as we provide reliable temper proof input and outputs that can easily bridge the gap between blockchain and real word platforms like Chainlink . We render complete support to connect your blockchain to existing infrastructure through advanced ChainLink
Our platform developer is one of the industry's most recognised developers that makes every effort to streamline your business with ultra intelligent solutions while offering great products.
Hire chain link blockchain developer to experience transparency and real time updates with high quality services ensuring top-notch functionality while bringing innovation. We strive to deliver the perfect blockchain solutions at affordable pricing keeping all requirements in minds.
Our dedicated team of developers main motive is to build long-lasting relationships with you which will ensure the massive growth of your business.
Develop an Advance High quality Blockchain Platforms
Enhance interaction with high quality graphics
Providing a wide range of Blockchain development solutions.
Quality service is our topmost priority
Provides end-to-end business solutions
Cutting Edge Chainlink Blockchain Solution
Offer Affordable Services
Maintain healthy relationships with the clients
Our Delivered ChainLink Blockchain services
Despite the Chainlink blockchain development, we also provide different services related to Blockchain-
Ethereum Token development
Decentralized finance development
DApp development services
Crypto exchange development
Smart contract development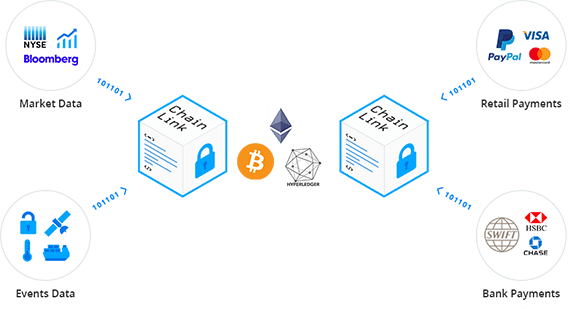 Key Features of Chainlink Blockchain Development Offered by us.
Here are some of the Chainlink Blockchain Platform's key features that are implemented by us while building the Blockchain platform. Take a look at these main features-
We make blockchain simple to increase business procedures.
We provide high-class security for business transactions.
Our developed data-driven smart contract saves time, cost, and energy.
We offer better connectivity with the off-chain network and data monetization.
Functions We Provide through Chainlink Network
We have implemented lots of different functions for connecting Blockchain with real-world things and data. We make smart contracts functionality to work with the off-chain Blockchain or blockchain network by using an external adaptor.
On-chain Functions

We provide this function as the first process that involves oracles developed to procedure the user's data request. We take the requests through an oracle sent to the network for off-chain data, and then, they are sent to the smart contract.

Oracle

We use this agent to analyze and verify real-world data availability and submit it to the Blockchain, and a smart contract uses it. We designed it for using data in a smart contract on the Blockchain. We use it as a decentralized oracle Chainlink Network to increase connectivity.
Off-chain Functions

We include off-chain oracle nodes in it to connect it with the Ethereum or other networks of Blockchain. Ours provided off-chain nodes gather the data as per request by the user, and nodes progress the data by chainlink core.

Oracle and Source Distribution

It is something that differs from the decentralized nature of Chainlink from other oracle protocols. We use Oracle and source dispensation because these are the keys to decentralization and oracle network's security as it avoids centralization. It manages to gather data from various sources.
Use cases Where BR Softech Provide ChainLink Blockchain solutions
We provide these ChainLink Blockchain solutions to various real-world use cases. These provided solutions help collect weather data to make sure that the payment procedure network is beneficial to implement smart contracts.
Insurance Smart Contracts
We use data from external sources if there is an insurable event. Data feeds from different IoT devices are useful for describing insurable events and if payments require to be made for them.
Security services
We use Chainlink efficiently for smart contracts and bonds dependent upon interest rate initiatives. It is based on data available on various financial websites and will need APIs to report on market prices and so on.
Smart Contracts in Trade Finance
We apply these contracts to check the fulfillment of contractual obligations. These contracts are used by us to feed information through ERP systems or GPS of supply chains to make sure that all conditions are fulfilled.
Bank Payments
Our advanced Chainlink solutions enable the smart contract to connect with the existing banking systems. We provide developers with the ability to make apps that could not be done in the last data-siloed financial systems.
Benefits of ChainLink Blockchain Solutions Provided by us
Here are the major benefits we provide to our users by implementing the Chainlink Blockchain Platform. These benefits include various verticals like retail payments, bank payments, Web APIs, Backend systems, market data, etc.
Automating the Financial Products

Our provided smart contracts use decentralized belief for bringing determinism to the financial sector, reducing the counterpart risk overall burden in probabilistic finance.

Market Data

Our offered Chainlink provides a wide variety of developers tools to get the most trustworthy and up-to-date prices in a decentralized and unbiased manner.
Decentralized Exchange

Chainlink solutions by us offer a new approach to design the decentralized exchanges and swap the assets by giving access to smart contracts to the off-chain accounts.

Tokenized Assets

We provide smart contracts to enhance tokenized assets to maintain a decided price dependent on market data fed through chainlink oracles into the smart contracts.
Why Choose us for Chainlink Blockchain Development?
We, BR Softech, is a prominent company for Chainlink Blockchain Development that has rich-experience in providing DApps via the Chainlink platform. Long experience with this industry, we have got expertise in managing difficult process including these below services-
Hire Chainlink Blockchain Developers from us and experience the most advanced and high-quality services as per your business needs.
Continuous and flexible support
Guaranteed and improved outcomes
Cutting edge and advanced chainlink blockchain solutions
USA Office
21 Overlook Ridge Terrace
#523 Revere, Boston,
MA 02151 USA
+1-650-727-6690
India Office
90, 10 B Scheme, Usha Vihar,
Triveni Nagar, Gopalpura Bypass,
Jaipur- 302018, Rajasthan INDIA
+91-7821055537 , +91-9982201414
Australia Office
11 parklands place,
Morwell, Vic-3840
Australia
+61 425 630 321
Canada Office
1193 Main St #3301,
Vancouver, BC V6A 4B6,
Canada
+1-604-360-4433
Delhi Office
First Floor, Plot No. 73,
Sector-20, Dwarka, Delhi,
South West Delhi, Delhi, 110077

HONG KONG OFFICE
Unit 701, 7/F, Silvercord Tower 2,
30 Canton Road
Tsim Sha Tsui, Hong Kong
PHILIPPINES OFFICE
14 Floor, Apple One -
Equicom Tower, Cebu Business Park, Mindanao Avenue cor. Biliran
St.Cebu City6000 Cebu, Philippines
Pune Office
Shop No. 7 A Square,
Nigdi, Pradhikaran
Pune, Maharashtra 411033