BR Softech is a leading Call Break Game Development Company that strives to develop customer-centric Call Break card game apps with stunning graphics, user-friendly UI, and engaging gameplay. Our team of certified Call Break developers have years of experience and are proficient in providing cutting-edge Call Break Game Development Services to our clients. We offer full-cycle game development solutions from ideation to development to deployment and maintenance, we cover all aspects of game development.
As a leading Call Break Development Service Provider, BR Softech leverages innovation and creativity to provide our clients with tailor-made and bespoke Call Break Card Game Development that allows them to stand out in the competitive market. We ensure to develop the best-in-class real money Call Break game apps that run flawlessly on platforms like Android, iOS, Windows, and the Web.
What is a Call Break Card Game?
Call Break is a trick-taking card game and is a variation of the Spades card game, played with 4 players. A single deck of 52 cards is divided equally among all the players. The player with the most deals after 5 rounds is declared the winner. It is a widely popular card game in India and South Asia.
All the cards are taken at their face value with Ace being the highest and 2 being the lowest ranking card. Spades are considered the default Trump in the game. Call Break is a fun and addictive card game that is becoming highly popular in the world and millions of players play Call Break worldwide.
Call Break Game Development Solutions
As the top Call Break Development Company in the USA, BR Softech excels in developing highly personalized Call Break Game Development Solutions that are tailored to the client's requirements. We provide cost-effective and feature-packed gaming solutions that are compatible with a wide range of platforms. Our team of developers follow a strategic development approach and leverages a combination of aesthetic designs, strategies, and features to attract millions of users to the Call Break gaming platform. We offer cutting-edge Game Development Solutions such as -
White-Label Call Break Software
Turnkey Call Break Card Game Software
Ready-made Call Break Software
Online Mode
Link your Call Break game app with your social media handle and enjoy the game with your friends and family.
Play With Computer
Don't have any online friends to play with? Play with an AI bot on the Call Break card game.
Multiplayer Mode
Play Call Break online with players from all around the world that are selected through an algorithm.
Local Mode
Play the game offline according to your preference. Features three difficulty levels- Easy, Medium, and Hard.
Call Break Card Game Development Features
Safe and Secure Payment Gateways

Our Call Break game features secure payment options so users can make transactions without any hassle.

Real Money Gaming

Utilise your skills and win real money with the Call Break game software.

Play as a Guest

If you don't wish to sign up on the Call Break game platform, you can also play as a guest.

Cross-platform Compatibility

Our Call Break Gaming Solution is compatible with a number of platforms including Android, iOS, Windows, and the Web.

Daily Coins

Users get daily bonus coins that motivate them to log in to the Call Break software every day.
AI Bots

Play directly against the computer with AI bots that give tough competition to the players.

Refer & Earn

Users can invite their friends and family to the Call Break app. Moreover, users also get additional rewards whenever a player joins the game through their link.

Live Chat

We integrate real-time chat and voice functionality to allow players to connect with other players.

RNG System

The gaming platform is integrated with the RNG System which ensures unbiasedness and gameplay.

Anti-Fraud System

We use cutting-edge tools and security protocols to ensure that the Call Break game is protected against fraud and external threats.
All-Inclusive Call Break Mobile Game Development Process
Our Call Break developers follow an agile and strategic Call Break Mobile game development process to complete the development cycle within an estimated Call Break Development cost and time.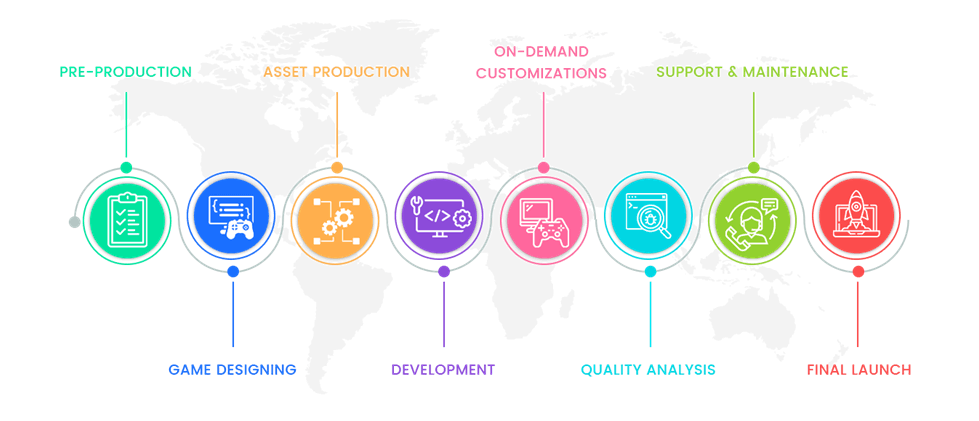 Call Break Game Development Technology Stack
Our developers are adept at working with advanced technologies and strive to implement the latest and cutting-edge technologies that offer the best performance.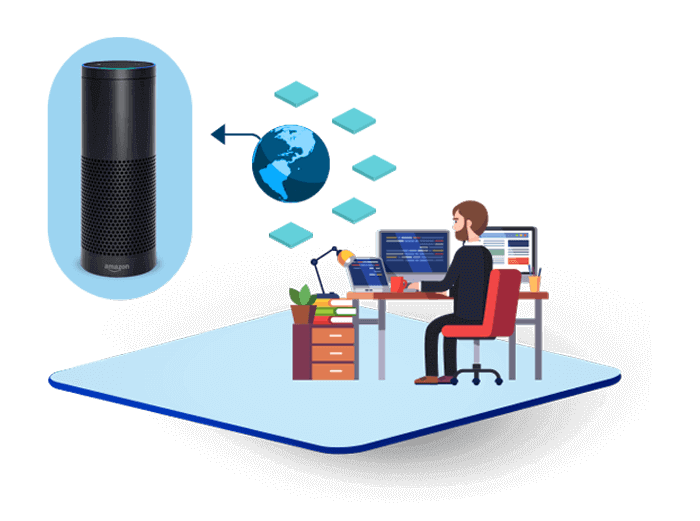 Hire Skilled Call Break Card Game Developers
Our skilled Call Break Game Developers provide cutting-edge game development while keeping the client's requirements in mind. We develop best-in-class Call Break game solutions that are suitable for a worldwide audience. We also offer readymade and Turnkey Call Break app development solutions to our clients. Our services don't stop with deployment, we strive for customer satisfaction and also provide post-deployment support and maintenance at affordable costs.
Contact Us
Why Choose BR Softech for Call Break Game Development?
With years of experience, BR Softech is your one-stop-shop for Call Break Game Development. Our developers and designers possess the tools and technologies required to develop the best possible real-money Call Break gaming platform for your business. With a focus on customer-centricity, we have gathered a large client base from all around the world.
Our developers excel in providing scratch development and transforming your unique idea into a fully-functioning Call Break game app. Leverage the best-in-class game developers from BR Softech and quickly climb the ladders of success.
Cross-platform Call Break Game Development
Cutting-edge Development Strategies
Robust and Secure Platforms
Frequently Asked Question?
Q1. How Much Time Does it Take to Develop a Call Break Card Game?
The time of call break card game development is influenced by a variety of factors including genre, scale, development platform, and the required number of features. When all these factors are taken into account, call break card game development may take between 16 weeks to 28 weeks.
Q2. What is the Estimated Cost That Will Occur While Developing the Call Break Card Game?
The development of the call break card game can cost between $40,000 and $75,000.
Q3. Which Technology Will You Use For Call Break Card Game Development?
For the backend, we prefer to use Java and for database requirements, we depend upon MySQL, Oracle, PostgresSQL. The front end of the game app is developed using technologies such as Vue. JS, Angular, Reactive Native, Flutter, and so on. These are just a few technologies we name. Let's connect with us to know more about the technologies we work on.
Q4. Can I Access Our Call Break Card Game Admin Panel Using Mobile Devices?
You can access the admin panel of the call break card game on your PC or mobile device seamlessly. Login credentials are required only.
Q5. Where Do You Store All Data of This Call Break Card Game?
The answer to this question completely depends upon you. We prefer to store your video game data on highly secured gaming servers. If you have any recommendations for the gaming server, then you may discuss them with us and we will store the data on the chosen server.
Q6. Will You Provide Both The Call Break Card Game Website & Mobile App Development Services?
Yes, we offer a range of call break card game development services including website development, mobile app development, and software development.
Our Game Services
Our highly competitive and skilled team of game developers offers advanced game development services which are compatible with operating Systems like, Android, iOS, Windows, and more.