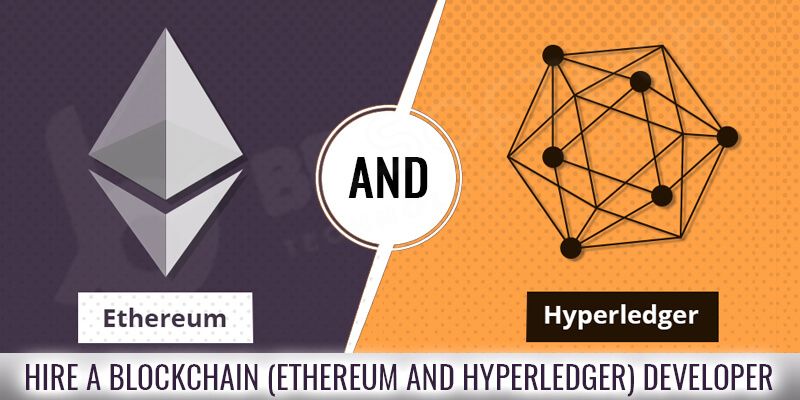 As blockchain is the new technology, and in a very short period of time it has become essential for every sector. But to develop this technology successful as it is a new technology is also not that much easy as many developers are in the learning stage. While seeing the situation, obviously you wish to hire a perfect and experienced developer and if we talk about the Ethereum and Hyperledger) developer so you have to be more alert, Today we will tell you how to Hire Blockchain (Ethereum and Hyperledger) who can fulfill all your requirements in this competitive world. A Developer should be expert in everything and it should be beneficial also, they can write smart contracts and many training has been started to improvise the skills of developers. Even some are so perfect that they have become the public figure.
Basically, the blockchain is the advanced technology which has brought several innovations in the several industries and it has sort out the several issues . It helped the industries in many ways and it is the best way to opt modernity. Along with this block chain can reduce the human efforts and handle administration.
Blockchain-based solutions enable peer to peer transaction. The database stored in blockchain network is protected by a large community, not an individual. With blockchain your data is secured securely.
It has been observed that many organisations has a large working and huge data and workers as according to the work the data will be also collected. So, here blockchain is the best way to sort out this issue and this technology will itself secure your data and manage it.
Ways to Find a Blockchain Developer
Job Post on Social Media Platform
As this is 21st century and it is known as digital world. In this digital world, the communication gap has reduced and we all are united and connected. The world has become so connected and small, we can reach to any part of the world and can contact to any one so you can get talent from any corner of the world. We can contact via various social media platform – Facebook, linkedin, Twitter even there are various sites who are working for professional requirements and post your requirements and hire the best developer.
Traditional Technology Recruiters
A senior technology last year for a percentage of the employee's annual salary?
He was quite powerful and effective in finding the developers, why not tap him for this job? There are over 18.5 million general software engineers globally. In the blockchain sphere most estimate point to 30000 or fewer engineers with any experience in Blochian. Blockchain developers is an entirely different animal than recruiting other developers.
Attend Blockchain Exhibitions
In this case, blockchain exhibitions are the extremely well-stocked pools of blockchain developers. Dodge the direct cryptocurrency focused events and watch instead for where the developer community is likely to be.
Be a Part of Blockchain Communities
We already know that open source is a key way to identify and verify software development tale and the same is true for blockchain. Some of the developers question and message strings on topics like hyper ledger, ethereal and node.js, but you can invest the time to learn and develop a relationship.
Try Freelance Marketplaces
We noticed about blockchain developers. They tend not to be particularly traditional. The father of blockchain Satoshi Nakamoto is son interested in fame and recognition in the real world. Nobody is even sure he really exists.
Which could be really good for you. Suited and booted full-time job opportunity on monster.com.
Acquihire
Talent onboarding through the synergistic property is a tried and true expansion play. But if you need truly visionary blockchain pioneers, who as individuals or small teams are likely already at the helm of their own startups, just make sure that you find the perfect chemistry and the right long-term value offer for such a big and potentially expensive move.
Create a Hackathon
Hackathon has been popular ways not only to innovate out of the case solutions, also to better hot new talent. Choose blockchain developers who don't provide a sniff about your corporate lunch program and organization trip to Disneyland might very well be the first in line to explain a truly interesting blockchain challenge.
Hire Blockchain Recruitment Experts
You are probably exhausted just thinking about the challenge of finding blockchain developers. It's also interesting, stimulating, and strongly satisfying to find the perfect hard to find blockchain talent that brings an important project to life. Full stack developers, back-end developers, front-end developers. Every day of the week. It's all we do, and we do it well.
Conclusion:
In this blog our topic is how to find or hire a blockchain developer, make no mistake about it, hiring great blockchain developer is not easy but in this technology world nothing is impossible. If you are expert in the technology, understand the underlying belief systems. Some of the point in this blog, if you follow this point so definitely you will find a experienced blockchain developer.