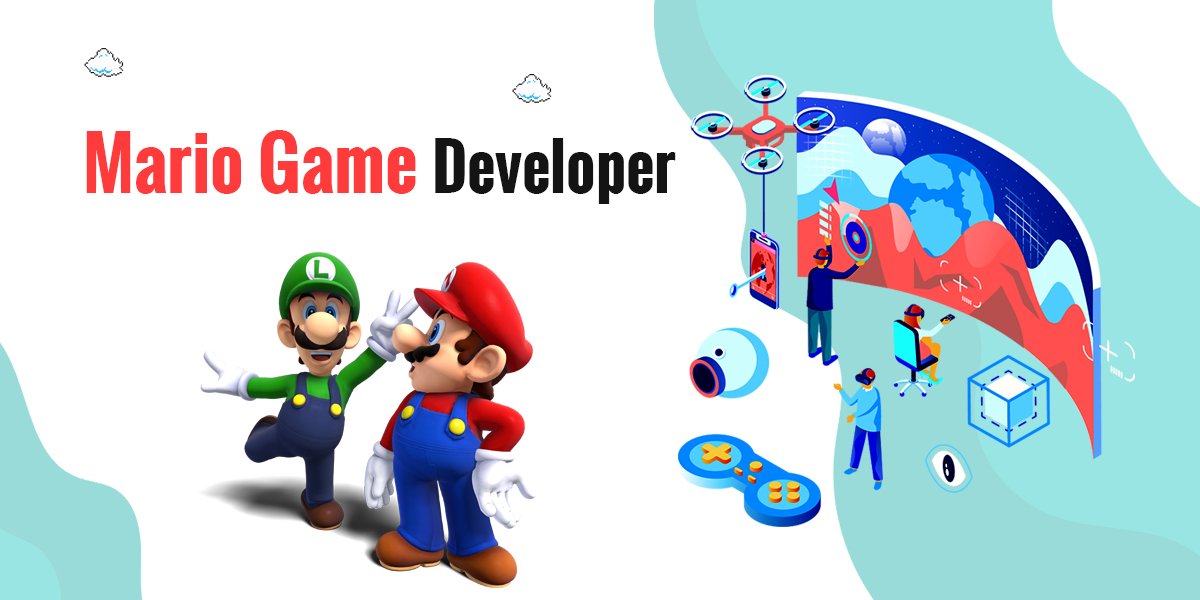 Discover the adventure of Mario game with BR Softech. We help you develop this age-old fun game bringing advanced features and high functionality. Unfold the secrets of this new Mario game while passing off-path ghost houses collecting power-ups and massive bonuses. This vigorous hero of the mushroom kingdom, Italian American plumber, has won the heart of millions with his unbeatable performance involving running and jumping. 
Mario Bros was the first game published and developed for arcades by Nintendo in 1983. Despite the innovations, it has captured a wide market with its simple yet fascinating gameplay. We at BR Softech help you develop an advanced and enriching game giving attention to details, knowledge, professionalism, and modernization keeping recent trends and technologies in mind. BR Softech is a well recognized Game Development company. Our team of professionals helps you develop a robust and scalable android game development for web or mobile applications using the latest technologies.
To this day, Super Mario is considered the best game available worldwide. The players increase their points defeating enemies and participating in the bonus round to gain some more coins. If you have played this 80's game, then you know how mesmerizing it is to play this great game. 
Mario Game Development Service
Mario is considered one of the most popular games of all time. We help you develop similar mario game with cross-platform functionality and help you craft an interactive and highly engaging game. We develop visually attractive UI and the responsive game that keeps the gamers involved. We help you create an outstanding theme, stunning graphics, introduce innovative ideas, build interactive games.
We deploy some of the best talents in the industry and provide the essence of uniqueness in your games, considering long term benefits and business returns. We help the enterprise meet modern needs while embellishing attractive features in your game and make it outstanding.
BR Softech is a reliable name in the gaming industry. Our skilled professionals help you develop next-generation games offering sensational experience. Our game development services help us stand out in the gaming industry and makes us the best game development company.
Features of Mario Game Provided By BR Softech
BR Softech helps you define new standards in the Mario game while offering outstanding gaming experience. We help you showcase the power of gaming while providing the epic adventure of Mario and providing expert Super Mario Game Developer with excellent game development skills.
This adventure game consists of top-rated features to provide users with exceptional gaming experience. Here we have listed some of the lucrative features of Mario game.

Hire Mario Game Developer From BR Softech
Being a leading game development company, we strive to provide the best solution for our customers and help them achieve a higher degree of satisfaction. Hire Mario Game Developer to provide the customer with a whole new Mario experience. We offer a dedicated Mario Game developer for our clients to have a better insight into gaming solutions to suit the best as per their development requirements. Our dedicated Mario Game developers provide personal guidance and help you develop the game development plan. Our highly skilled team of developers will help you in getting the best Mario Game app as per your requirement.
Get a free consultation from our team of experts to develop the next-generation game. We help you create better functionality while offering outstanding services. Develop the next-generation game and provide users with the most engaging experience.
Want to go Beyond Human Imagination...
Develop Next Generation Game
Why Choose BR Softech as New age Mario Game Development Company?
BR Softech is a famous Mario Game Development Company. We provide with a handful of online Game apps while keeping the quality and security in mind. We aim to reach the most significant number of users and provide a more comprehensive gaming and playing experience with Mobile Game Development. Explore all the options and play Mario game to experience tremendous gaming experience.
1193 Main St #3301, Vancouver, BC V6A 4B6, USA
Develop an advanced Mario game with BR Softech. We help you provide with ultimate gaming experience while keeping all the recent trends and technologies in mind. To avail of game development services, you must look for the incredible development services. There is a great chance of making money developing this mind blowing game introducing modern gaming experience.