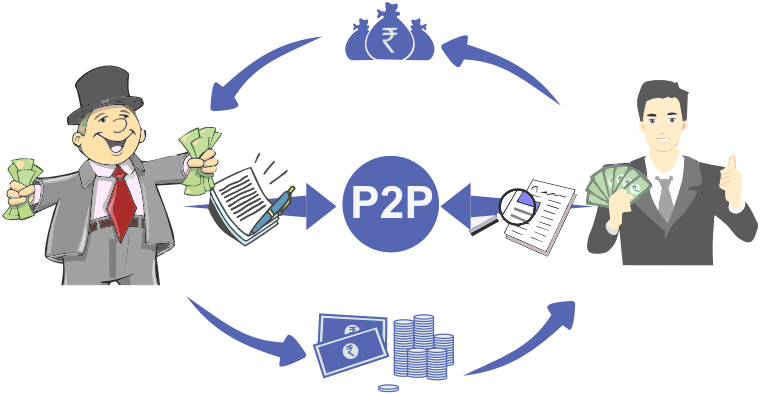 Blockchain P2P Lending Service Provider Company
Blockchain P2P Lending Service Provider Company
While choosing a top-notch Blockchain P2P lending platform, you should go for a service provider who has access to blockchain engineering, cybersecurity, and cryptography.
For completing all these needs of clients, you can take services of BR Softech. It is a leading Blockchain peer to peer lending platform where you will get all the significant emerging technologies like AR (Augmented Reality), IoT, and AI (Artificial Intelligence). With highly skilled employees and an extremely experienced dedicated team provides world-class services to our valuable clients at an affordable price.
Our Comprehensive Blockchain P2P Lending Solutions
Our dedicated team worked really hard and left no stone unturned in providing effective quality compatible solutions. With fast response and 24 hours of customer service help you to assist with your queries. With our groundbreaking services and top-notch security features. BR Softech assures you to deliver secure, highly innovative and independent Blockchain P2P Lending Platform solutions.
Blockchain P2P Lending Services
Our company provides web and mobile app development services, including P2P Blockchain services. Here are some of the benefits to Get through Blockchain P2P Lending Platform-
Faster than old loaning approaches
Decrease the time to take approval
Smart contracts boost and automate the lending procedure fastly
You can have interest also with cryptocurrencies
Best p2p lending platforms offer better rates than traditional loans
Any of the peer to peer loan platforms provide a competitive loan market in which lenders and borrowers consider the repayment duration and interest rates.
Top Features Provided by BR Softech in P2P Lenders
By combining AI and Blockchain, we have created a strong base that will bring change in the current transactions. To understand this, take a look at our provided features-
CRM System

The crypto lending platform developed by our team manages the operational load and motivates you to announcements, distribute data, and reports to related investors. Additionally, the website can also contain the data investors require like financial reports, tax returns, etc.

Advanced Function of Search

We have provided the search functionality that is smooth on your P2P lending platform based on the Blockchain. It must be helpful to investors for narrowing down the chances on different criteria containing a period, risk profiles, country, scale, or industry.
AML/KYC Automation

In P2P lenders, we have included the severe regulations in AML/KYC, and all the capable investors require to go through various verification tests. So, this is an unavoidable computation. Process automation saves your business resources and time.

Loan and EMI Calculator

This developed calculator by us helps the users in monthly instalments based upon the given loan period, amount, and interest rate. To create more leads, we will help to generate a different page defining the calculator's working.
Procedure Applied by BR Softech for Lending Platform
We implement this process to provide our clients a suitable solution by integrating AI and blockchain technology to solve their business problems. Check out these-
Generate a Profile of Lender

A lender must create a profile, including personal data containing an identification number, address, investment type, banking data, and so on. Then, they are required to relent it to the market. It is needed so that borrowers and lenders can search each-other.

Smart Contract deployment for interest rate

It plays an essential role in the interest rates set up for different types of borrowers by analyzing the creditworthiness. Borrowers can be divided depending upon the risk types like high, medium, and low by default.

Building Account of a Borrower

There must have an account of a borrower to access the loan. It should be set up with the information like address, name, government-approved ID and security like legal documentation, cryptocurrencies, and a third-party.

A Loan Request

Further for the account information, the borrower will send a request for the loan to worldwide lenders. It can be possible through smart contracts that make the borrowers able to provide demands to lenders who are willing to lend money.
Connection with the Borrower

It is necessary for blockchain p2p lending that the lender would accept the loan requests from the borrower as he will connect with the borrower only before the lending capital. At the time of consultation, a set of questions will be told.

Halting for a Borrower

You have to halt until a borrower generates a loan request. If a lender gets any query from a borrower, then an interview with the borrower will be arranged by the lender as they see suitable.

Lending the Loan

After getting approval from the borrower, including the interest rates and other things, the lender can provide the loan amount to the borrower. He will send the money to the wallet of the borrower from their wallet. And hence, the borrower will repay the loan.

Smart Contracts including Payment Automation

Ultimately, it is included with a crypto wallet, and the borrowers make payments by a smart contract. But if a borrower is given out to pay the interest, then a smart contract holds a late free during ledger updates on time.
Why Choose BR Softech Over Other Development Company?
We build apps by using selective and emerging technologies that can provide lots of benefits to our customers. These benefits include shared document management, loyalty programs, money transfer solutions, and also business cryptocurrency platforms. Here are some of the key services delivered by us to our valuable clients-
P2P lending blockchain platforms developed by us include a piece of deep domain knowledge, and this is exactly what we are doing over these entire years in different business verticals. Hire Blockchain developers from us and experience top-quality development services.
Blockchain development services
Fasten design and development of a prototype
Smooth global treasury management
Better security and user's privacy
Enhanced and effective business operations
Flexible customer support
USA Office
21 Overlook Ridge Terrace
#523 Revere, Boston,
MA 02151 USA
+1-650-727-6690
India Office
90, 10 B Scheme, Usha Vihar,
Triveni Nagar, Gopalpura Bypass,
Jaipur- 302018, Rajasthan INDIA
+91-7821055537 , +91-9982201414
Australia Office
11 parklands place,
Morwell, Vic-3840
Australia
+61 425 630 321
Canada Office
1193 Main St #3301,
Vancouver, BC V6A 4B6,
Canada
+1-604-360-4433
Delhi Office
First Floor, Plot No. 73,
Sector-20, Dwarka, Delhi,
South West Delhi, Delhi, 110077

HONG KONG OFFICE
Unit 701, 7/F, Silvercord Tower 2,
30 Canton Road
Tsim Sha Tsui, Hong Kong
PHILIPPINES OFFICE
14 Floor, Apple One -
Equicom Tower, Cebu Business Park, Mindanao Avenue cor. Biliran
St.Cebu City6000 Cebu, Philippines
Pune Office
Shop No. 7 A Square,
Nigdi, Pradhikaran
Pune, Maharashtra 411033