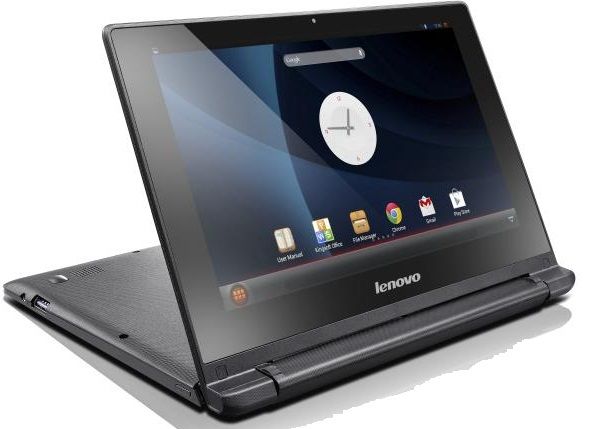 Lenovo announced a hybrid android laptop-tablets and it's called the Lenovo A10. The device runs on Android 4.2 Jelly Bean that Lenovo deeply modified to gives both a desktop & tablet experience. On the tablet face, there's an app launcher, where we can discover all of touch screen apps. If we want to apply the A10 as a laptop, we would utilize the desktop mode, which has a Windows E-sque taskbar where we can run and control apps.
The Lenovo A10 includes a full Accu-Type keyboard and touch pad. When you flip that keyboard around and easy it on a flat and plane surface, the A10 goes into "stand mode" where you can use it as a tablet.

The A10 includes a 10.1 inch 1366×768 HD resolution touch screen display. The display flips back 300 degrees to change into "stand mode" & uses the keyboard surface as a stand to support. It also sports hi-fi speakers and a .3 mega-pixel camera for online video chat. It's powered by a 1.6 GHz quad-core processor with 2 GB RAM and 32 GB storage. It's also play video for up to 9 hours on battery power.
It's a first laptop from the world's top PC seller to ship with Android 4.2 jelly bean on board. Lenovo makes a file manager into Android operating system so makes it simple to locate & handle a library of documents, videos and music.  A10 can also be flipped around into a "stand mode" which Lenovo says has been optimized for touch enabled apps and entertainment. Stereo speakers are also for your Netflix streaming.
Google has an OS for the laptop and desktop form factors called Chrome OS. However, the company also has the Android operating system, which is designed for mobile devices such as tablets & smartphones.
Lenovo declares the device is "an affordable, ultra portable, dual-mode laptop & the company's first to run on Android 4.2 jelly bean Operating System. Weighing less than 1 kg and measuring only 17.3mm at its solidest point, the Lenovo A10 is a perfect buddy for users on the go, offering easy access to a broad range of apps on a unique and dual mode platform, which improves the user experience for entertainment and Web browsing plus productivity".
Save