The success of any business depends on how efficiently they serve their customers. Customer service is the process of ensuring customer satisfaction with a product or service provided by the organization. Excellent customer support helps you drive marvelous customer experience by anticipating in customers' problems. Leverage the power of artificial intelligence and accelerate in understanding your customers. 
The explosion of technology advancement helps in building the futuristic technology and provides an interactive experience while ensuring customer satisfaction and providing with the most engaging experience.
87 percent of current AI adopters said they were using or considering using AI for sales forecasting and for improving email marketing.  –  Source
Many organizations are benefiting from artificial intelligence and provide a variety of ways that can increase customer satisfaction and can help you meet the market expectation. Artificial Intelligence is designed in a way to aid customers and maximize sales conversion. 
It is the hottest trending technology of the year. Stay ahead in the competition by learning about this most recent technology with us. 
What is Artificial Intelligence? 
Artificial Intelligence (AI) assists businesses to find an enormous way to enhance their business. It encourages organizations to analyze steadily changing user conduct, reduce inaccuracy, and deliver exquisite user experiences. Establish your brand in the market using AI-based solutions and gain a higher profit at minimum investment.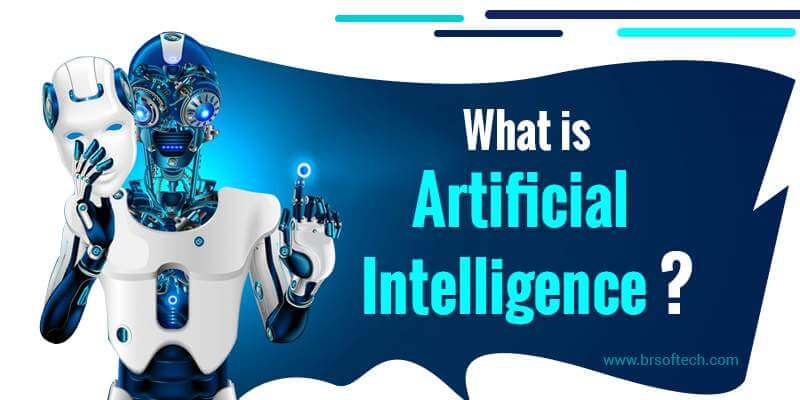 The rapid growth of this technology offers an opportunity to leverage competition and form new collaborations for entire business models. This advanced technology came into existence to help you do your job better with the utmost accuracy. Modern implementation of Artificial Intelligence helps top-notch companies to grow and do their job better. It offers a personalized experience for consumers while identifying the potential buyer and re-target the existing buyers.
How AI Benefits in Creating a Powerful Customer Experience?
Artificial Intelligence helps organizational leaders discover patterns by user consumption, history records, and uses the data for providing customers with lucrative offers.  
AI offers more intelligent, quicker,  straightforward, and efficient assistance by analyzing customer behavior. 
AI is changing the perception of reality by allowing the leader to make wise decisions. 
Artificial Intelligence helps you streamline the business process while boosting customer engagement, experience, and success.  
AI-powered digital solutions help you transform customer interaction, bringing evolution in various business verticals. 
Reach to a higher degree of satisfaction by sharply defined data architecture and streamline the end to end storage solution using this advanced solution. 
Experience the dynamic dimensions of customer service standards and redefine the overall customer service experience. 
Use artificial intelligence-powered solution

Chatbot

It helps businesses maximize revenue and minimize expenditure.
To know more about chatbot and how you can develop it, read our comprehensive blog. 
How to Build A Chatbot that Makes Your Business Successful
Craft real customer, experience with artificial intelligence,  and deliver fast and efficient customer service. 
Enhance Consumer Experience Using Artificial Intelligence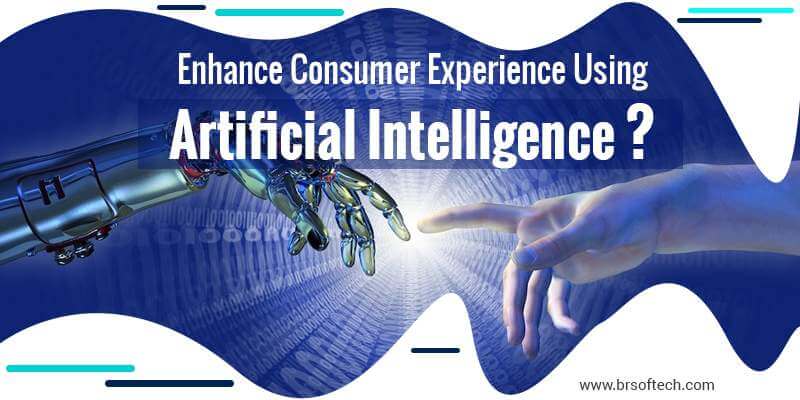 The emergence of technology is revolutionizing the whole customer service while enhancing user experience using artificial intelligence. Redefine your business using this ultra-intelligent solution with high quality and absolute accuracy. This progressive technology is beneficial for both service providers and users providing efficient solutions.
Without further ado, let's find out more about ways to improve customer experience using artificial intelligence.  
Implement AI to Formulate Customer-centric Strategy: –

For any business to succeed, implementation of the customer-centric approach is a must. One must know how to anticipate customer needs while making enough marketing efforts to offer the customer a seamless shopping experience. Implementation of AI helps organizations to target the right customer to cultivate while marking their presence in the market. 
For groundbreaking results, one must take require initiative, create awareness in the organization, and make customer satisfaction the priority. 
Target Potential Customer: –

multiple organizations from Apple to Google using this advanced technology for better customer experience and targeting potential customers. Artificial intelligence is becoming an integral part of many organizations helping them analyze and map the customer journey while incorporating this advanced technology.   
Artificial intelligence is redefining the customer service standard and help the business to target the potential customer. Targeting the right customer sustenance organizations saves a lot of time and assists them in the customer's point of view. 
Provide Advance Search Options: –

Artificial Intelligence is used by top-most organizations to understand the human language and extract meaningful information from any knowledge base or website. Google first started using AI in 2015, and since then, many popular eCommerce websites like Amazon incorporated AI into their search engine to make product searching smarter. It has made a profound impact on the way customer search the product and get access to other similar product links.
Customer Acquisition and Retention: –

In this digital age, it becomes essential for companies to deploy advanced techniques to process large amounts of data and use the information and derives from improving customer experience. Each business demands raw customers to grow, and anyone operating a business knows that attracting them requires time and planning. However, client acquisition is becoming more accessible, thanks to the development of artificial intelligence.
The client is what inspires companies to design creative, unique communication channels. Therefore, companies need to invest their resources in creating unprecedented customer service solutions.
Promote Frontline Customer Experience: –

Introduce your business to Frontline AI-powered customer self-service solution chatbot. A catboat is a machine that communicates with humans via chat or audio. The AI-powered chatbot is a smarter version of the chatbot. It refers to the use of messaging apps, speech-based assistants and chatbot to automate communication and create the personalized customer experience with a human touch. 
The chatbot is one of the most popular and effective customer engagement tools. With the emergence of technology automation of services has picked up the fast pace.
Let's understand how AI-enabled chatbot helps to improve customer service.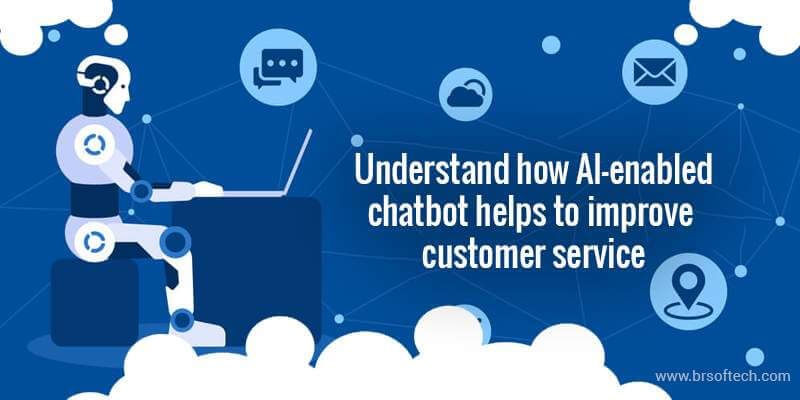 It offers speedy customer service with quick answers.

Get a greater return on investment while saving on additional labor.

Accuracy is the key, it provides 100% accuracy and focuses on better customer experience.

The AI gives chatbot massive power to multi-task and respond quickly with automated queries. 

The AI gives chatbot the learning potential to sense human behavior and contribute to both agents and customers

.


Read more: Mobile App Trends 2019

AI Boosts E-commerce Accuracy: – Artificial intelligence is expanding its technology and knowledge boundaries. Today, wherever you see, the intelligent machines that improve our lives are discussed by everyone. Nowadays, e-commerce companies can collect information in an organized way through artificial intelligence algorithms and robots. Most of the leading companies are using the innovative method to enhance their user experience and try to retain their customers by staying one step ahead of the competition.
Artificial intelligence services provide their customers with an enjoyable and improved experience. Like most online sites, they use certain technologies to offer their clients with better product selection and suggestions based on their preferences, which might lead to a boost in e-commerce accuracy and achieve customer satisfaction. 
AI Predicts Experiences: –

Attracting new clients means understanding the requirements and desires of consumers. Based on current data, AI enables this process by predicting consumer behavior. Artificial intelligence helps businesses to create experiences that naturally integrate with the daily lives of customers. It helps to create the assumption from historical transactions. In this way, an organization can easily predict the information ahead of time according to the market trends. 
Not just that, it allows companies to easily track records using AI intelligence sensors, and the interconnected machine network will help the company to predict the analytics. It helps in developing the loyalty that will prove beneficial for customer retention, up-selling, and cross-selling of products. 
AI Helps Deliver Relevant Experiences Seamlessly: –

Consumers want from beginning to finish a seamless user experience, filled with a user-friendly platform and excellent customer service. Companies are increasingly investing in the development of AI software to assist them in enhancing user experience and brand loyalty.
Consumers are most likely to be happy if they feel part of the community of a brand. Artificial learning can successfully parse vital information about the preferences of a consumer when used with a combination of social media.
Companies are increasingly seeking alternative methods of winning clients' faith. One way in e-commerce is to provide an impeccable user experience. Many companies are turning to artificial intelligence that can help to simplify the tasks and even provide feedback to make the process smoother.
Understand Customer Faster, Using Artificial Intelligence:

– Get real-time customer insight using AI-powered solutions. It helps organizations understand their customers better and cater to the needs of every existing customer. 
AI helps organizations to categorize the whole data

Organize the entire data effortlessly 

Analyze the data for more reliable results
Transform the way your business works using artificial intelligence and develop AI power solutions. It benefits you generate greater returns while building a market reputation. By categorizing, organizing, and analyzing the data accurately, one can undoubtedly understand the customer's sentiment and present with real-time accurate data insight. 
Magnifying Automation: – Artificial intelligence and Machine Learning are an emerging technology in the technological world. It has rapidly made a natural impulse outsourcing and enhances automation in every sector. The AI instrument hypothesizes a solution in the form of an automated process change and simulates how those modifications will improve future outcomes. 
It can improve productivity and efficiency using these features organization benefits to increase human intelligence and obtain the value of the data. It saves the needs of the human worker by automation that could significantly reduce the burden and enhance productivity. It can also help to prepare the business, according to the customer's future requirements. 
AI Offers Frictionless Experience: –

AI helps you lead the frictionless environment and redefine customer experience for greater results. Customer friction is anything that prevents your customer from moving through your conversion funnel. To stop this and prevent organizations from phasing such situation companies are now adopting artificial intelligence and incorporating it into their businesses.
AI helps the business identify where friction points occur and where an experience level falls down. It enables real-time customer engagement and instant identification of service level issues. This technology helps businesses to make more informed decisions with the ability to process vast amounts of data. 
Unleash a large number of tools to solve the most difficult problem using artificial intelligence and discover efficient ways to assist the business to become smarter with its implementation. Many organizations are now incorporating artificial intelligence solutions and speeding up their growth exponentially.  Develop advanced artificial intelligence solution with BR Softech we help you develop advanced solution following futuristic approach keeping the modern trend in mind.  
With the team of expert developers, we help you clutter everyday complexity while increasing productivity and determining the success of your company.