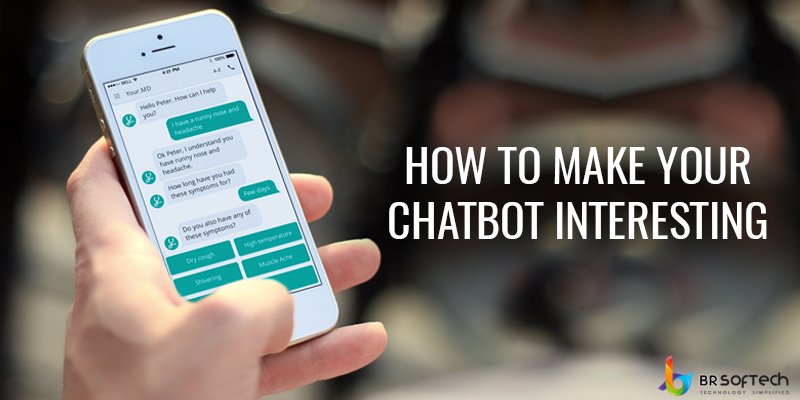 The chatbot is one of the most popular and effective customer engagement tools. It helps in increasing sales and monetizes your social media accounts. In today's world, every platform of resources is connected to the internet of thing, application basis, and remotely based technologies. Building a successful chatbot is always challenging. It requires a high level of adaptability. The rise of Artificial Intelligence and emerging technologies allow chatbots to communicate with customers more efficiently and helps them get accurate results. Chatbot development services help in increasing customer engagement. Provides with high functionality and powered by rules and Artificial Intelligence.
According to MarTech Today Chatbot handles 16000 customer interaction weekly.
The chatbot is bringing the new ways for a business to communicate with the world and helps in Increasing Salesforce marketing. It allows the business to keep up with the trend and provide with improved customer services. It's one of the most important aspects of any business. According to a survey, 83% of online shoppers need Assistance.
BR Softech is the game development & IT company, which provides "Chatbot" option in every application and website. The Chatbot Development Company allows the audience to get a more personalized experience. It's an innovative platform which grabs audience attention and helps the organizations in reaching the client through their preferred app and platforms.
According to HotSpot 2017, 57% of consumers are interested in chatbots for their instantaneity.
Chatbot Layout Process
Your chatbot is the official representative of your brand, hence, It's important to ascertain your purpose behind creating the Chabot. Its work process depends on user requirement. It handles the product and service related questions. It requires a corresponding set of data to the set of platform and resolves all the working aspects around data and its utilization.
Without further ado, here we have listed some of the prominent things to take care of while developing the Chatbot Software.
1. Understand the Requirement: – To build a successful Chabot its must understand your business or application requirement and implement the solution accordingly. Set the working parameters for the software and define the functionality and structure as per developer and user requirement. Know your targeted audience and work accordingly to get the beneficial result.
2. Database: – To grab the audience attention, establish a strong database and give your boat a personality. Custom chatbot development helps the organizations to create an impact on users. While developing chatbot ensure you use human-like language and create a context for the smooth conversation. Make it proactive and allow the customer to come back with enhanced customer experience. Be sure if you want chatbot for the website or your mobile app.
3. Use it as a Customer Service Tool: – Chabot is a self-serving tool which helps the organization to assist the maximum number of customers in a day. It can help the organizations in saving time and resources. Provide the users with the ability to use this self-service tool by giving them certain options like chatbot for Facebook: 
Update Profile Information

Update billing details

View their Plan and Services

Take payment

Schedule Appointment with the Representative

Process Order

Allow customers to know their order history

It will increase customer satisfaction and provide them with ease.
4. Get Started: – Chatbot alone can make your business stand out and help you increase revenue. It interacts with the user through their preferred social media platform and devices. You can use it as a distribution channel for exclusive promotion and offers, By collecting personal information, you can build buyer persons and you can also promote your brand in the most organic way.

Chatbot Work Flow Process:
User use chatbot client process after fill login formalities and start type a phrase in the chat client.

According to Database, the Chatbot send the phrase to the machine language of NLP.

NLP database-engine extracts the intent of chat client and entities to send back to the chatbot.

The Intent used a call to open proper services with proper data.

The data Server of Chatbot return sends to chatbot server.

After that the chatbot server package data into the proper response for display by the client conversation and client requirement basis.
Benefits of Chatbot:
The chatbot is designed to help customers and represent your brand to market your product and target your audience. It's a cost-effective solution which helps the business to save time and money. Here we have listed some of the major benefits of chatbot to help you understand its importance.
This innovative platform captivates the audience.

Helps you connect with potential clients.

Provides with 24/7* service.

Help customer with a more personalized experience

Help the organizations save money and time

Monetize your social media platforms.

Help you invest organization in new products.
Related Blog: How ChatBot Can Benefit Businesses ?
Things to keep in mind while developing the Chatbot
Inform your customer with operation hours and alternative contact information

Acknowledge customers with the latest Offers, pricing plans, and promotions

Product specification and service description

Information about other services provided by an organization or product.
Conclusion: 
Chatbot provides with in-depth metrics to track the performance of your Chabot. This beneficial software can have a huge impact on your company's growth. Make the most of our experience and expertise and develop your own Chatbot Software with BR Softech. Chatbots can enhance the functionality of mobile apps and come up with the conversational interface to increase user engagement.