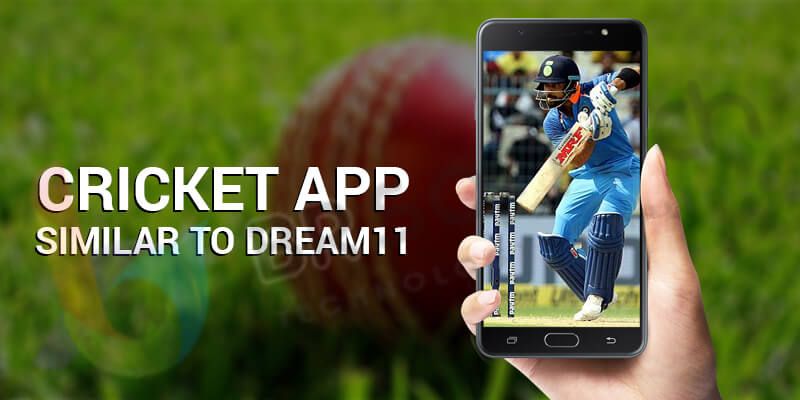 Dream 11 has turned as the new headlines in the sports sector as well as, it is the new trend among the cricket lovers. Whereas, it is a perfect platform for cricket betting. Hence, through it you can bet on the live matches without any broker or dealer. Basically, the name known as a sports fantasy and it is played emerges and played in an imaginative style. Let's tell you that the fantasy game is not only the cricket there are many other games which includes like football, kabaddi and basketball is into the spotlight,
Dream 11 is among one of the betting platform which is rising furiously and this game offers for all the platforms like Android, IOS and website and its main motive is provide the user friendly platform to the users. Most of the players would be seen on this platform. Around 1.5 billion of the population is utilising this application. Most people were to develop Cricket Fantasy Apps Like Dream11
Read Also: How to Build a Fantasy Sports Mobile App like Dream11?
Now, let's tell you that cricket is not only the medium till entertainment now, but people has also changed it into the business sector and make the one of the media of earning. People bet on every over and sometimes even a ball. It has become a business which includes all celebrities, sports, gambling, corporate, billions of fans etc.
And now with the advanced technology, it took a different path, and people can utilize it via smart phones, 3g and 4g and broadband, which made it live and easy to access for the users.
The need of dream 11 was since years and many companies have introduced but later all of them failed. And finally in 2011 a crazy cricket fan Harsh Jain introduced the Dream 11 app with his co founder. It was a boom to the cricket lovers. Harsh Jain stated that he was working on it for 7 years and finally, he launched and it proved it most beneficial during the IPL Leagues and MS Dhoni is its brand ambassador.
Words from the co founder Harsh Jain :
"We built Dream11 because me and my co-founder are like crazy fantasy sports fan, used to play fantasy football game every single day when we were younger and when we looked at the cricket world, there are billions of people that follow cricket and there is no good fantasy cricket game and that just don't make any sense so we built our own."
When asked Why did you build Dream11?
So on this Dream11 co-founder Harh Jain answered : "I think the way people consume sports today(cricket in India) is very passive, we wanted to convert them in to active fans to get them a little more thrill of the game and when you watch the game you actually get involved in to it more and that's why our tagline is Dream11.com makes sports more excited."
Other players and competitors have also contributed to the dream 11 platform and it offers the platform for the application, web and it is the user-friendly platform.
Here are some competitors of Dream 11
Myteam11

CricBattle

Playup

Khel11

Champs11

FanMojo
Business Model of Dream 11
Every start up have perfect planning, and every platform works on a specific model same as the dream 11 has the business model.
The dream 11 platform module is designed in such a way that real sports, players, and fans can evolve from the world. It gives the players an opportunity to involve in the active and live game.
Now, have a glimpse of the business model and how it works
On this platform, the user can sign up for free

The user can earn the bonus while sign up if he has referral code from the other user who uses the app dream11 so he can enter the referral code.

After a couple of hours, the referral can get the bonus point in his account. The account will be credited as he referred another person for the dream 11 apps.

For every single match, the user will get the opportunity to make his team of 11 players ( That is why it is named as dream 11) of their choice from contestant teams with certain game rules of how many players you can select from each team and type(bowler, batsman, all-rounder).

At the time of creating the team, the user will get 100 credits in his account and he can spend that budget by including the player of his choice. To include the player in the game each player needs a certain budget now it is on the player how he utilizes and identifies the best players among them.

Once the user finalises his team and make the captain and vice captain then it's time to join the contest, which is going but with paying the entry fees and this is known as the hot-spot from where Dream11 earns most of its revenue.

Each of this contestant has a certain winning amount and limitation on how many teams will become the winner and what is the sequence of giving the amount according to the team. The amount will be distributed according to the rank positions.

It is based on the contest and the number of teams platform decides on total how many teams will become the winner.

So before the real sport takes place the platform announces lock in period, no changes can take place in it hence no changes and no alteration.
Revenue
Basically, Dream11 is the freemium fantasy cricket game
Hence cricket fans can register this platform and join a contest for free of cost and in the entry fees only to become a part of the team. WIth its business model, you would not see the first single coin of net profit without at least a few million users.
Putting all the calculations of Dream 11 will earn the revenue the of INR.4-6 Crores(US$6,00,000-9,00,000) from each match. Along with this dream 11 allows other players also to make their football team and NBA Team.
APart from this, we would like to tell you that, dream 11 allows other sports fan to work on the same business model.
Points You Should Know Before Starting Your Own Dream11
If you want to be part of dream11 so here are some points on which you should focus:
Research & Analysis
Research properly and then active your game, have proper research in which countries this game is effective and how it works.
Planning
Plan your business perfectly plan on the paper and include everything sports niche, your audience, your budget, your team, list of features and your deadlines.
Engagement Platform
You have to decide whether you want to offer a web interface or the mobile interface. This platform is focused on mobile users and many users prefer for the mobile.
Game Rules and Format
You are the boss of your game. You can decide your own format and game rules of your business. But keep in mind that you should create the rules that users should engage with them. Dream11 has a wide range of formats, in which users can participate in it.
Now this game has become and also included Pro Kabaddi, NBA, and Football games to engage the larger audience,
Marketing
Marketing is an essential part of any business sector, it is imperative to do the marketing. If you will not do the promotion so nothing can come up, marketing is the perfect way to mark your existence. You can do the marketing online and offline. In offline campaigns, it includes event, exhibition, print media, electronic media, a radio whereas online marketing includes social media, search engine, and mobile marketing.
Conclusion
So, here we have given you the idea of dream11 features which you should include in your application to make your application best. Hire the best Fantasy Sports App developers which can include all these features in your application and develop the Cricket Fantasy Apps Like Dream11 as it will the perfect way to be in a competitive market.