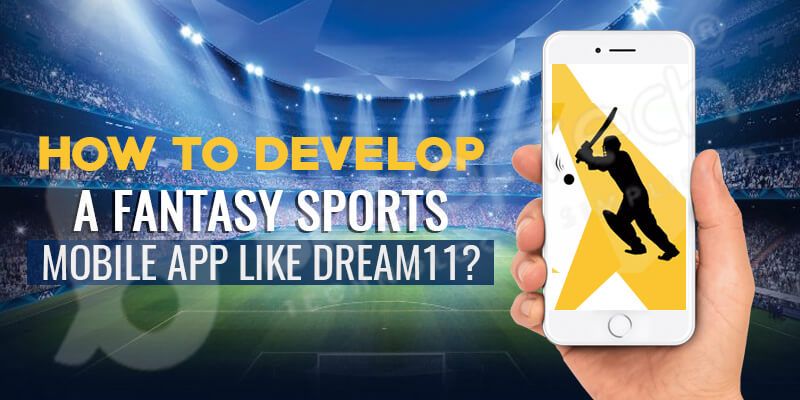 Sports game development company in India is continuously growing because it has unlimited features in the mobile application, there are trillion user of Android in India. One of the most popular spp which has marked its space in the digital sports is dream11, the growing attraction and stimulating play, gets glued millions of sports aficionados across the country. Fantasy sports immerse everyone in a virtual game which is played more of an imaginative style.
India is based on the fantasy sports platform majorly boasting fantasy cricket league and same as other sports football, basketball, kabaddi is into the spotlight, with the immediately growing base of 25+ million users.
The app of sports offerings like a sign-up bonus, cash prizes, with lots of enthusiasm have millions of hearts all over the world. Big enough to be hailed as a world's number one fantasy cricket and six largest Fantasy Cricket Sports app like Dream11.
Growing Fantasy Sports Market of India
Fantasy sports apps in the country and beyond the world and it has grown very big. This industry is prepping up to break all record as it comes to engaging sports enthusiasts and testing their knowledge and skills in sports.
You may never know that soon all sports leagues in the nation offer their very own fantasy leagues to their fans, the name is fantasy premier league. Presently IPL(Indian premier league) and ISL (Indian super league) same as this fantasy already run their own official fantasy leagues in India.
Fantasy Sports Games Market Growth and Action Stats Across The World
Fantasy sports started in a united state of America in 1952. Even today there are over 200+ operators with 60 million users. Male sports fans in the USA play 65% fantasy sports.

Fantasy sports user by 2020-100 million, 30% online sports fans in India.

In India last two years from 2 million users in 2016 to 20 million in 2018.

Engagement wise, users spend 42 minutes a day on fantasy sports app.

2 out of 3 or 67% of online sports fans in India are aware of fantasy sports.

Ever played fantasy sports 96% of them have played it at least once in the past 1 year.

Fantasy sports is very glutinous 90% of the users play at least once a month.

20 million fantasy sports users, India rapidly catching up with western countries. India is becoming the battlefield for fantasy sports operators.

50% of players primarily use their mobile device for fantasy.
Types of Fantasy Games
Daily and weekly game

Scoring based game

Draft based game

League based game
Popular Sports For Fantasy Games
Fantasy soccer mobile app and software

Fantasy basketball mobile app and software

Fantasy cricket mobile app and software

Fantasy football mobile app and software

Fantasy baseball mobile app and software

Fantasy rugby mobile app and software
How to Set Up Business Model Like Dream11
This is possible with the only brilliant mobile app development team, firstly create a website aptly suits your requirements. The team of expert will help you to create an innovative and unique application for your fantasy sports business. Select a right or experienced developer to create a super quality app.
Application Features and Functionality
Registration/log-in: the first user registers and logs into the app using the username, email id, contact number.
Home screen: default screen that user will land on after logging in to the app. Entire match misting is displayed here. A user can find and search by matches, cricket, football, NBA, match category ongoing live match results.
Contest: user can view the entire contest listing for the respective path with details. Entry fee range, contest type, winning range, contest size, on contest listing includes contest name, entry fee, total winning amount of the contest, winners count. A user can select their desired contest and join.
Payment mode: online payment mode are available in this app they provide such a credit/debit card, application wallet, paytm wallet, cash bonus points.
Create your own contest: on a single click, a user will be able to create their own contest by submitting the following detail. Name, winning amount, contest size, allow multiple teams, entry fees, the entry fee is calculated on the basis of total price amount and content size selected.
My contest: a user will be able to view the list of joined contestants. He can easily view and edit their picked team players and filter search by match type.
My profile: in this section user will be able to view and update their profile details. In this section, you can see your reward points, account details. The transaction, manage payments, add cash, withdraw winning amount, here you can add your bank details and pan card details. Invite and earn.
Admin user:
Admin login: admin has to login to the app using, username with password.
Dashboard: total matches, total contestant, entire earnings.
User manager: admin panel can manage the entire user account, like Add/delete/edit/active/deactivate accounts.
Manage matches: only admin will able to manage entire matches of the application and can Add/delete/edit/active/deactivate matches.
Manage games category: only admin can manage the games categories.
Contest manager: only admin have to power to manage entire match contests of the application and Add/delete/edit/active/deactivate match contest.
Earnings: check and view entire earning from the application with various filters.
Manage payment: same admin has to power to manage various mode of payments of the application.
Manage reward points: the reward points offered to the users can be managed by admin.
Manage cash bonus: only admin to manage the cash prizes and cash bonus offered to the participants.
Manage reports: admin will be able to generate reports as contest reports, contestant reports. Earning reports, match report, player ranking reports.
Manage bank withdraw request: only admin will able to view entire request from the contestant to withdraw their winning amount into their respective bank. Only admin have to right accept/reject bank details. Send money to the win contestant.
Some Additional Features:
Live match score: in this features users will be able to watch live scores for a variety of matches and sports. A game highlight, original video programs.
API integration: the fantasy sports app API provides easy to use ready-made data for the developers.
CRM integration: an app is integrated with back-end service provider and helps in managing tickets, proves useful in many other ways.
Push notification: alerts and messages are sent to the users to inform them when it's time to create a team.
GPS location tracking: this feature is effective in sending alerts and push notification to the app user and matches nearby location.
Real-time analytics: this technology proves to be critical in apps like data needs to be captured in real time.
Payment system: various payment modes and users can easily make payment using debit, credit card, and net banking.
Custom mail reminder system: emails will be sent to the participant to inform them about upcoming matches information.