E-commerce platform is in trend now and every second person prefer to do shopping from the online store as now people demand to have a doorstep service and they wish to shop from the online stores. While seeing the increasing graph rate, if you are also thinking to mark your presence among the online store, so make sure that you opt for the suitable e-Commerce platforms for small businesses by the best E- commerce web development company and these platforms are best for the startups & small businesses. In this blog , you will get the full guide about the different open source E- commerce platforms all in depth.
In the technological market, there are many platforms with distinctive features which fulfill all your demands. The competition is at high level and it is essential that you have some unique and functional features.
Growth History Of Ecommerce
The concept of online shopping was introduced by Michael Aldrich in 1979 at the United Kingdom but the system was marketed in 1980 which offered main business systems. Then in 1992, a online book store was created by Charles M. Stack in 1992 then finally in 1994, a giant has introduced and that is till now world wide popular Amazon the leading shopping portal, who has changed the definition of online shopping. In early 90's the world wide web arrives and in 1998 global exchange payment method has also introduced with the name of paypal which has turned the world into new world and made the impossible things possible. With time many changes have occured to the society.
There are many E-commerce platforms with different functionality in the market, which fulfills your market demand.
List of Best E-Commerce Platform for Your Online Startups
1) Shopify:
Shopify is known as a best hosted canadian based E- commerce solution. This platform was founded in the year 2004, and nowadays you can hire shopify developer easily. It helps to increase your business quickly and considered as a safest E- commerce platform.
Top stores with Shopify:
Features:
Subscription based service.

Product Management Features

Order Management Features

Offers Customer Management

Professional themes

Mobile Friendly

Discount, gift cards and coupon
Design
The designs are very impressive and elegant.

There are nine themes available in the market.

Paid design price is around $160-$180 a piece.

Save time as it offers design demo.

Other factors like header, footer settings, typography, colors, presets, background etc can be adjusted easily.
Pros

Cons

This platform is easy to use and easy to set up.

With only sign up you can utilise this platform.

It enabled SEO features like title tag and meta description.

It offers various appealing themes.

There is no hassle for the coding.

Full support offers by the platform via phone call, Email, live chat and twitter for 24/7 hours.

Basically,shopify supports a lot of third party integration system.

Shopify is most expensive.

On this platform, other expenses like for many plugins, themes and features you have to pay for it.

It uses its own markup language called 'Liquid'.
2) Magento:
Magento is an open source E – Commerce platform, founded in 2008. The top brands using this platform named as Burger King, Huawei, Pepe Jeans and Liverpool F.C. This is a professional platform and only programmers can operate it. There are large number of magento developers in the industry. According to the research there are 250,000 merchants available worldwide. Hence,the Magento platform offers the powerful marketing, search engine optimization and catalog management tools. In India, many owners are depended on it only.
Top Stores with Magento :
Features:
Product management features.

Order management system feature

Multiple payment gateways

Customer Management

Multiple and wide number of themes available

Mobile-optimized structure.

Discounts and coupon codes

5k+ extension available in all over the world.
Design:
User has to opt for the main software.

Third party support is needed to work on the designing part.

Main sources of the Magento designs are – Magento Connect and Magento section.
Pros

Cons

User can set the platform according to his preference in terms of functionality and design.

This platform offers you to opt for the cloud edition.

Membership subscriptions, recurring payments, discounts all the parts can be handled by the user.

Magento offers various plugins and themes for multiple purpose such as support, to marketing to shipping and site optimization.

Enabled to create site on various different platforms,

On this platform have to invest the time and money.

The platform has been prepared on the PHP language, so in that case if you have to do the minor changes also, so you need the help of the developer.

User is forced to invest on the platform.

Less suitable for the beginners.
3)

WooCommerce: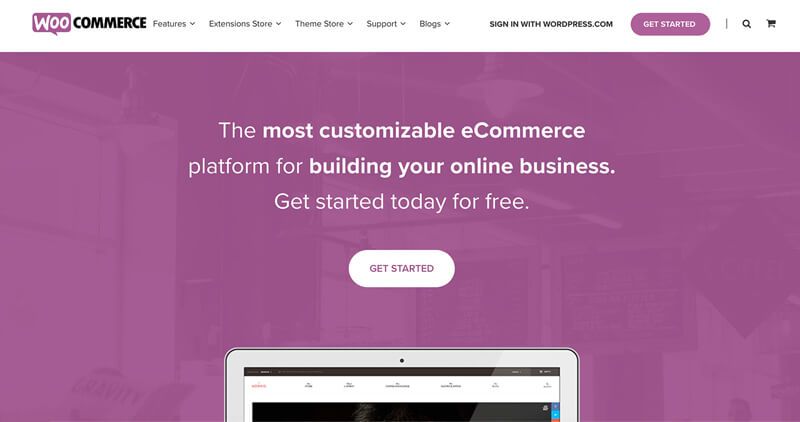 WooCommerce is an open source plugin platform for wordpress. This platform is designed for the small to large sized merchants. It was launched in September 27, 2011. In a very short duration, it become worldwide popular. Woocommerce is customized platform and it is based on the simplicity characteristics there are many Woocommerce development services in India.
Top Stores with Woocommerce:
Features:
Part of wordpress

Integrated with wordpress deeply.

Theme available on the web

Multiple payment gateway

Customer Management via third parties

Product Management Features.

Order Management feature

Offer Discount and code coupons.
Design:
The theme is same as the wordpress, where as it work as a wordpress plugin. It puts all the information via wordpress theme which includes content information and product listing. In some cases it might be possible that what user want it won't display but user has to work on it.
Pros

Cons

Free of cost.

Based on wordpress.

Professional and customizable

Fully Secure

Flexible

Support by the large community.

Software gets updated frequently.

Content is not always appropriate.

Expensive theme customization.
4) PrestaShop:
Basically, Prestashop is an open source E-commerce platform. Hence, software is published under the Open Software License.This software was created in the Php language and supported for the MySQL database management system. This platform is currently used by the 250,000 shops worldwide and it is available in 600 different languages. There are many companies who are offering prestashop development services.
Top stores with Prestashop :
Features
Enabled Powerful Catalog.

Offers Site Management.

Display Product according to your preference.

Offers SEO strategies and Marketing tools.

Payment and Shipping.

Client accounting.

Multiple languages.

Offers Safer site.

Powerful platform.
Design
It offers ready to use theme.

Users can make their own theme by coding.

Theme can be modified.

Responsive theme.
Pros

Cons

Easy to set up and maintain

Less complex

Easy to use

Best for the multilevel languages

Appealing back end interference

Customizable

Affordable

Less resources are required

Version upgradation

Open Source

Secure payment

No official support

Paid functionality

Unprofessional design

Limited scalability
5) Open Cart:
Opencart is an online management system based on open source opencart solution. It is based on the Php language and supported by the HTML. This system is enabled in various languages along with this OpenCart development services are in high demand by the users.
Top Stores with Opencart:
Features
Responsive portal.

Payment gateways.

Enables notification system.

Increase functionality.

Customizable.
Design
The design can be installed in two ways:
Manual way

Automated Method
It's all on the user according to the thoughts user can install and bring the design into platform.
Pros

Cons

Large number of plugins

Huge community

Enabled MVC and XHTML

Modified

Effective

Administrative

Basic feature also needs extra plugins

Lack of provisioning for caching

User needs to install an extension

Not easy to set up.
Conclusion:
Hence, there are many E- commerce web development company and now the demand has also increased. While seeing the demand of the E-commerce platform now entrepreneurs are marking their online presence and without any hassle they should choose the best platform and above we have listed all the trending and most suitable platforms, user can choose according to their requirement for start up also and still your thoughts are not clear so you can contact us.