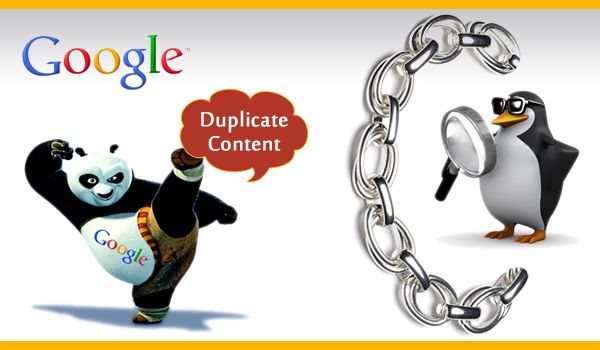 Google Panda is a change to Google's search results ranking algorithm that was first released in February 2011. The change aimed to lower the rank of 'low-quality sites' or 'thin sites', and return higher-quality sites near the top of the search results. This change reportedly affected the rankings of almost 12% of all search results. Google's Panda has received several updates since the original rollout in February 2011, and the effect went global in April 2011. To help affected publishers, Google published an advisory on its blog, thus giving some direction for self-evaluation of a website's quality.
Google Penguin is a code name for a Google algorithm update that was firstly announced on April 24, 2012. The update is effect at decreasing search engine rankings of websites that violate Google's Webmaster Guidelines by using now declared black-hat SEO techniques, such as cloaking, keyword stuffing, participating in link schemes, deliberate creation of duplicate content, and others. Unlike Page Rank, however, Google makes all updates to this algorithm public.

Google's head of web spam Team, Matt Cutts, in his recent blog post announced the roll out of Penguin 2.0 "Penguin 4" which is referred as the next generation of Penguin Web spam Algorithm. Google aims to move its search algorithm towards searching content rich sites which can serve the real purpose for people. It will further encourage websites owners to develop better and more humanly content.
The first Penguin Update which was initially called "Web spam algorithm update" was launched back in April 2012 which aimed to decreasing ranking for sites that were violating Google's existing quality guidelines by using Web spam techniques like Keyword stuffing, Link Schemes etc.
SEO or Search Engine Optimization is not an unfamiliar term. Webmasters and website owners are using SEO Techniques since late 90 have to improve the search result and rankings of their website so they can attract more visitors. SEO make a site more crawl able and internal pages more accessible and easier to search.
These updates affected search queries in English and other languages. About 2.3% of English-US queries are affected to the degree that a regular user might notice according to Matt who further asked users to report spam my websites which are coming in search results via special spam report form for Google to check it out. Webmasters and SEO experts are keeping a close eye on what sites are getting under radar and are losing rankings in terms of search visibility.