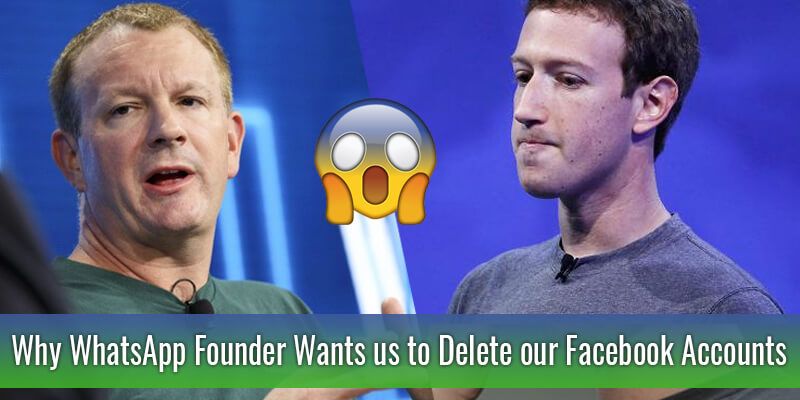 This morning has turned into a shocking morning for the technology and internet platforms, The two major platforms of online and communication mode is standing in front of each other as a competitors. It is really shocking that 2 have parted away their ways aggressively.
Yes, we are talking about the two online sources without which our lives can become incomplete even our personal and professional lives are dependent on them and those two platform are not other than facebook and whatsapp.
Yes, it's really shocking and inconceivable that the co-founders of the major communication platform are against each other and this shocking news, we got from the twitter account by the tweet of Brian Acton.
He tweeted "It is time. #deletefacebook.'' and furthermore he refused to comment.
It is time. #deletefacebook

— Brian Acton (@brianacton) March 20, 2018
Now by this tweet he has left us in a mystery what does he mean by it and what he has in his mind? Is it his personal view or it is a starting of a conflict.
As well as shocking thing is this tweet has came up after a bruising five-day period for Facebook, that has been seen regulators swarm and its stock price plunge following concerns over data privacy in the wake of revelations about Cambridge Analytica's misuse of user data.
Let us tell you, Facebook purchased WhatsApp in 2014 on the cost of $19 billion. After that, In September of last year, Acton left the company to start the Signal Foundation. WhatsApp co-founder, Jan Koum, continues to run the company and sits on Facebook's board.
Along with this, this is not the first time that facebook has been trolled before this last year, Last year, former head of growth Chamath Palihapitiya caused a firestorm by saying "we have created tools that are ripping apart the social fabric of how society works."
Where as other brand owners has also express their views which includes include Sean Parker, Justin Rosenstein, and investor Roger McNamee.
Now it would be interesting to know the mystery behind the tweet. And that time will only tell us