Food delivery industry is one of the fastest-growing industries. Its groundbreaking growth has captured the attention of millions changing the perception of reality. It's diversifying consumer base and global presence with ever-changing trends keeping it alive and competitive. With the emergence of technology and the rise of smartphone users, it's changing the surface of how food delivery apps like zomato works and redefining the customer experience following recent trends. Many young entrepreneurs are looking for food delivery apps for sale that accelerate their business growth.
BR Softech is a leading mobile app and software development company. Stay ahead in the competition with BR Softech. With the team of 250+ professionals, we can help you convert your idea into reality.
Get an incredible food delivery clone script which is filled with high industry standard features that can blow everyone's mind. With the continuous increase in online food delivery clone business in India we offer lucrative features that can come with attractive discounts, integrated payment, UX designing and other significant features that can play a vital role to accelerate growth.
Why is the Food Delivery app required?
Globally, the food delivery market accounts for €83 billion, which is 1 % of the total food market and around 4 % of food sold through restaurants and fast food outlets. The food industry has matured in most countries, with an overall annual growth rate estimated at 3.5 % for the next five years.
It has been seen that youth is attracted towards food, and they look for good food but during office time and in hectic lives to reach till their favourite dishes is too difficult, but technology has made it easy breezy with only one or two taps on your screen, you can order with your app.
How Technologies Shaping the Food Industry?
With the ever-changing demands and trends, the food delivery business is strategizing and experiencing the interests of the people to keep up alive in the market. Let's have a glimpse of how future technologies shape the food industry.
Order Accuracy Improves
Enhance Customer Satisfaction
More user-friendly
Promotes Digitalisation
Convenience
Growth of Smartphones Culture
Affordable
Add-On Benefits of On-Demand food delivery script like Zomato and Swiggy
Zomato and Swiggy are the hubs that act as a bridge between foodies and restaurants. In order to deliver the best dishes at doorstep you can easily make a great fanbase with high quality features.Through creating a food delivery app like Zomato clone script and Swiggy, you can exploit this market for restaurant finder apps in equal measure.
We tend to provide the awe-inspiring features and provide continuous support during the time of production of an app. We will also address some of the variables which will decide the cost of creating your food delivery app script. Before we move on to the apps, here are some benefits of the Zomato and Swiggy clone script.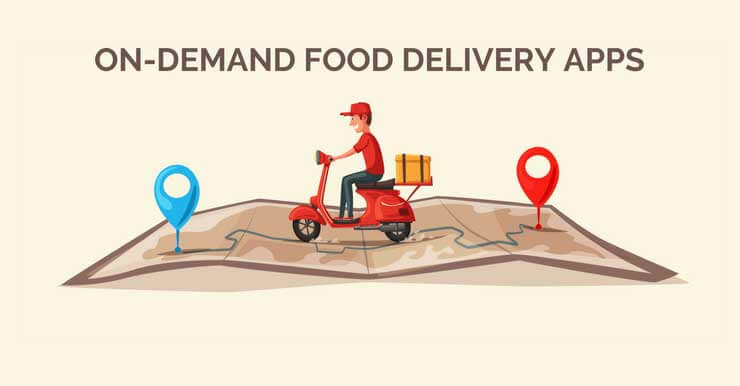 Use an attractive and unique name for your business.
Pitch restaurants to generate extra income from home delivery orders.
Tie up with good brands and earn good revenue.
Go on a fixed commission basis
Promote products on both social media and print media.
We strive to deliver ready made food delivery app and help you to accelerate your business growth.
Rising Trends and Top notch Reason to choose BR Food Delivery App Clone?
We deliver excellent food delivery clone app development solutions that enhance the market demand with high degree prospectus.We enable high quality food delivery app source code that helps users to place orders from anywhere at any moment of time.
Effective Inventory Mapping

Sellers get their own space to deal with their store, stock acknowledge requests or track their deals and get more insights regarding their store's exhibition. Monitoring stock is consistent.

Legally Protected

We provide the highest quality feature and all that can be tracked by our enticing tracking system that tracks all our geographical location covering all legal issues.

Recognize Restaurant Easily

The online food delivery requesting program consequently shows restaurants dependent on the area of the Customers. They may likewise be looking for one of a kind eateries that can create. Sometimes identification made things simple and flexible with the help of online food ordering solutions.
Eatery/Partner Experience

We have worked to provide both the restaurants and the distribution partners with an unparalleled online and device onboarding experience to do business seamlessly.

The All-Powerful Dashing Control Center

The Super administrator board panel places you in the focal point of all the activity occurring on the stage. Get a look at the income, Delivery Partner exhibitions, Vendors in addition to other things.

Request. Track and Receive.

Pick a restaurant of your choice, Pay and submit the request to the respective restaurant. Track the updates till it arrives at your doorstep. All conceivable with the help of advanced programming features of BR food clone app.
Innovative Feature of Food Delivery Clone App
Online food ordering admin panel
Administrator control board

An online food ordering admin panel can easily log in with the application while using the web. Permitting both the super administrator and sub-administrator to manage that can be easily managed.

Manage access control

The administrator panel provides unlimited oversight over the online ordering system. It can enable and allow access to the vendors.

Foods and Ingredients

You can undoubtedly oversee food and ingredients from the administrator back end. Additionally, can monitor everything.
Manage vendor

New vendors can be added to from the admin back end, as well as the vendor's item, orders, payments all can be managed.

Manage category

Admin can effectively manage the category and its sub-categories. You can filter out based on its availability.

General setting

SMTP data, site information, contact request, pennant, FAQ, money, vouchers, oversee address, bulletins can be overseen.
Restaurant Features Panel
Manage Item

Merchants can refresh new things in the seller back end by including and altering thing portrayal alongside the image transferred.

Oversee fixings type

Sellers can without much of a stretch oversee fixing type and rundown from the merchant back end. Fixings can be sifted dependent on the accessibility.

Clients orders

Merchants can adequately deal with the sets of specific clients and make reports as per their convenience.
Clients surveys

The surveys and input given by clients can be overseen, just as essential move will be made upon by the cafe's oversee

Assign Delivery Task

Vendors can assign the task to delivery staff and can keep track of delivery status in real time from anywhere.
Client Feature Panel
client-join

Clients can exchange information utilizing both the web and portable application. He can keep up a client profile with the location

Pick conveyance type

The client can pick their conveyance type either pickup or conveyance or both, alongside the date, time and menu list.

Search cafe

The client can pick the area and search for close by cafés inside the territory, giving an easy to understand interface.
Installment techniques

The client can decide to pay for the arranged nourishment either through Cash On Delivery or using charge/Mastercards.

High Content Library

Users can get a vast variety of library sessions through an online platform.

Warning

Your client gets told with Email or SMS warning on affirmation of each request status.
Value Added Features of BR Softech Food Delivery App Clone
Subscription package for restaurant
Clients can buy into eateries where he/she gets various ideas with zero conveyance charge. The component can be redone start to finish dependent on business prerequisites.
Bitcoin Wallet Integration
Integrate the bitcoin wallet and start trading in the bitcoin market with a thousands and millions of bitcoin users globally. Our bitcoin is Highly secured and seamless.
Mass nourishment booking
Restaurants can check their accessibility and ability to acknowledge and take into account mass nourishment orders. Clients can choose the restaurant, food items and checkout.
God's eye see
This component permits the administrator to see factors like generally speaking procuring, rundown of clients and drivers with proper data, occupied or void status of drivers, total number of excursions, and all other commissions earned.
Particular City/Country based
Organizations can dispatch the application in various nations and zones with custom monetary forms and dialects.
Different Outlets
Restaurants are providing value added panels and other separate panels with multiple features where users can easily place orders and choose food items and checkout.
How Online Food Delivery Application Works?
Let's find out how online Food Delivery Application works and get immense popularity capturing the targeted audience's attention. Have a look at how food ordering clone script impressive features.
User Visits your Website or Mobile App
Shape your food business by marking your presence online. Online presence increases your visibility in the market and allows you to grow with the increased user base.
Select Desirable Food
Serve your foodie customer with a smart solution consisting of multiple food options. All the available food items will reflect on your mobile phone with price and description to choose from.
Select the Payment Mode
Once all the food items are added to the cart, select the desired address, and pay for the food you wish to order. Users can directly pay the amount online through the integrated payment gateways.
Select Favorite Restaurants
It allows them to select their favorite restaurant and gives them the opportunity to explore more food options selecting a different restaurant.
Add Food Items to Cart
Adding items to the cart option gives you the feasibility to order exactly what you are looking for and select the dishes which are available in the budget.
Notify Customer about Food Preparation
As soon as the order gets placed, you will be notified about the delivery time via SMS to your registered phone number or a mail will be sent to you with order number and details.
Importance of Food Delivery App Clone
We are living in the Digital world. The extensive use of technology by the people of the world is increasing day by day. The food industry has also seen a drastic change in people's tastes and preferences after the launch of apps like Swiggy. If anyone wants to develop an app like Swiggy, that helps the restaurant to showcase their menu through applications and attract customers to order food through a mobile application.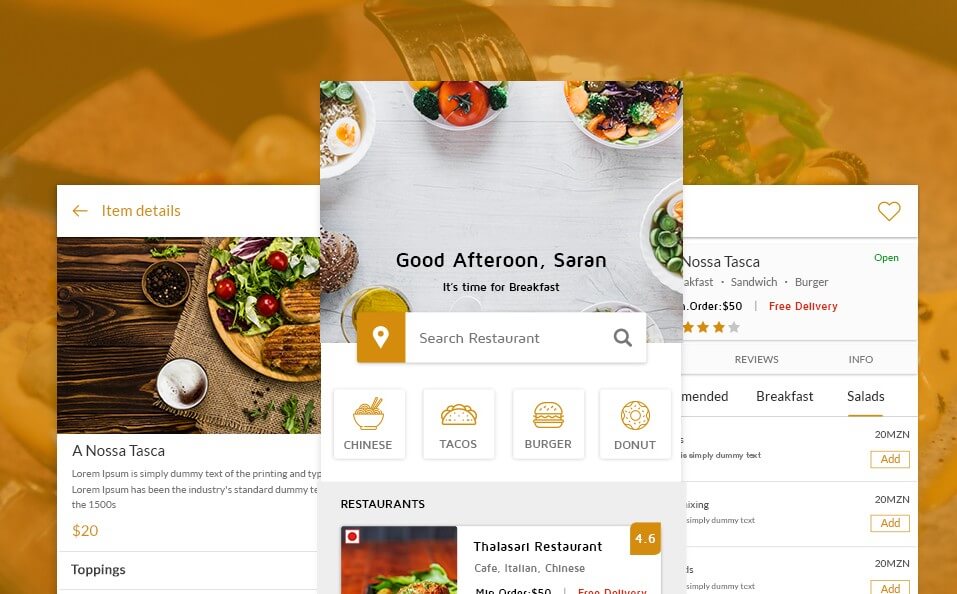 The Demand for Online Ordering is Real
Order Accuracy Improves
It Drives More Revenue
Enhance Goodwill
Customer Satisfaction
Customer Support
We provide online food delivery apps with excellent features that can help customers to select their food items from the menu as per their needs. To develop an app like Swiggy, you need to hire developers that can develop a Swiggy app clone script for all sizes of the business that can quickly kick-off the business.
Why Choose BR Softech?
If restaurant owners want to serve their customers in a modern and best way so they can contact to the BR Softech, for the best Restaurant web service, it offers you the best restaurant website development service in terms of restaurant app design which is made by the best restaurant website developer which make it a perfect and make it best restaurant website company.
From time to time we collaborate with clients to help them achieve their desired outcome. Our flexible solutions are suited for your specific needs and maximize the returns. We strive to give increased revenue to scalable solutions using an on demand food delivery app clone that can attract the attention of millions.
On top of it with us, you can experience and expertise solutions. Our expert team takes care of everything from preparation to execution using swiggy and zomato clone php script. We are using state-of-the-art technology to meet the current aspects and deliver reliability and top-notch standard services.
Latest Blog
Intensify your knowledge to navigate your digital transformation with us.
USA Office
21 Overlook Ridge Terrace
#523 Revere, Boston,
MA 02151 USA
+1-650-727-6690
India Office
90, 10 B Scheme, Usha Vihar,
Triveni Nagar, Gopalpura Bypass,
Jaipur- 302018, Rajasthan INDIA
+91-7821055537 , +91-9982201414
Australia Office
11 parklands place,
Morwell, Vic-3840
Australia
+61 425 630 321
Canada Office
1193 Main St #3301,
Vancouver, BC V6A 4B6,
Canada
+1-604-360-4433
Delhi Office
First Floor, Plot No. 73,
Sector-20, Dwarka, Delhi,
South West Delhi, Delhi, 110077

HONG KONG OFFICE
Unit 701, 7/F, Silvercord Tower 2,
30 Canton Road
Tsim Sha Tsui, Hong Kong
PHILIPPINES OFFICE
14 Floor, Apple One -
Equicom Tower, Cebu Business Park, Mindanao Avenue cor. Biliran
St.Cebu City6000 Cebu, Philippines
Pune Office
Shop No. 7 A Square,
Nigdi, Pradhikaran
Pune, Maharashtra 411033