Tik Tok, the current trending social video app with around 1 billion users is receiving mixed reactions like- a lot of interest, enthusiasm, confusion, etc. as many development companies are looking forward to making an app like TikTok.
This app can be referred to as the key player in the market of social apps. It includes cutting-edge features, UX, and impressive short-time video formats that are making it more famous among people. TikTok has hit the market very hard that there is no way to bring it down.
BR Softech is known as the leading app development company because it provides the best services for app development to the clients. Skilled and knowledgeable developers offer the software app as per the client's needs.
To develop a similar app like TikTok that includes a user-panel, admin panel, front end features, and chat option, you can contact BR Softech. We will offer you the best services at reasonable prices along with all the advanced features as our ultimate aim is to satisfy the customers.
What Actually Tik Tok Is?
In the present time, no person is there who doesn't know about the TikTok app. It is the most trending app nowadays as it brings in videos, songs, and tunes that are famous in the market recently. The user can add another person too in video-making and can lip-sync to the songs for making a video, dance, and can add filters and effects for doing it creatively and making videos better than ever.
More of that, it works as a platform for interacting with each other and sharing good content and videos as well as you can browse the other video shared by someone else.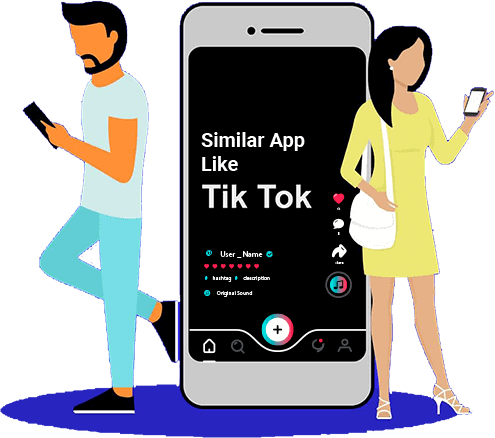 Experience an emerging Tik Tok App Feature with Us
Create your app like TikTok as you can take the service of leading app development company BR Softech. We will provide you similar apps like TikTok with an easy process and amazing features. Then you can also come up with a creative video and can become famous like other TikTok users. But do you know what are these amazing features that made TikTok so popular? Here are they-
Image capture at high-speed
Share videos on various social media platforms
Amazing filters and effects
Broadcasting of music videos
Separate music library with a pick from the editor
Share the screen with another person
How Does it Work?
To develop an app like TikTok, firstly know about it's working. This app includes real-time features and editing tools as well, through which you can make any music video and can share it with anyone. It includes-
Photos
Users can share their original photos into animated photos by applying various filters and other amazing edits.
Music
Through this, users can add, save, remix, and search sound effects and songs by videos, playlists, and many more.
Filters
Users can also add fun and animated filters to music videos just like Instagram or Snapchat.
Must-Have Features to Include in Similar App Like Tiktok
Here are some of the main features that we prefer to add if we are developing an app like TikTok-
1. Register and Login

The first feature we will provide you in the app will be the process of register or login. You can register into the app through any of the social media accounts like Instagram, Facebook, or Twitter and you can also simply register via the phone number or email.

2. Navigation and Simple User-Investigation

Our developers provide simple user-interface to users so that it will be easy for them to view or find the videos while scrolling on the screen. You can also follow whoever you want.

3. Reduce the Cognitive Load

It refers to the total amount of brainpower needed for using the app. Ensure to reduce this load as giving too much info will tend to uninstall the app.

4. Decluttering

In TikTok app development, cluttering is not good as having all the info like button, images at once makes the screen overcrowded. So, get rid of all the things to improve comprehension.

5. Bite-size Chunks

It connects two unique activities and when the flow is connected logically, it becomes so easy to process further for the user.

6. Offload Tasks

An app should be like that needs the efforts of the users and this is why TikTok is getting famous. So, store the entered data and set it as default.
7. User-friendly Screen

We take the normal and familiar screen so that users don't get confused as there is no need for any kind of additional information. Users will get involved with this app without any curve.

8. Build A Constant Design

Consider the various consistencies in the app design such as- visual consistency, external consistency, functional consistency, and AI-based recommendations.

9. Sidestep Jargon

While copying the TikTok clone script, iOS and android developers add this 'clear communication' feature on priority as it can be done easily with certain phrases and words.

10. Hashtag Challenges

Hashtags bring an opportunity for competing with one another for a specific topic on the app.

11. Reaction and Duets

This app lets you appear on another person's screen, be it, anyone, your friend, or any celebrity. This feature is becoming very popular nowadays.

12. Sharing Option

There is no use of the app if you have something good to show the people that can't be shared. That's why there is the option of sharing videos on various social platforms.
Other Top-Notch Features of TikTok
Log-in SignUp via mobile phone and social media platform
Customise your profile as per as your preference
Add Filter to make your video more attractive
Do share on social media platform
Get push notification regarding likes and comments
Steps We Take to Develop a Tik Tok Clone App
Here are some steps that we use to develop an App, have a look-
1. Analyze the Target Audience

The first step is that we identify and find out more about the audience we are targeting through the app. Here are essential points-

Behavioural Trends

It involves reduced desire of the user to download something, lack of high-value and security, slow-loading times, and app usage.

Demographic Aspect

It includes all user's average age and their living areas, the devices they are using, and many more.

2. Decide the Monetization Model

After having details about the target audience, we start working on choosing the right business model for the TikTok clone app development. It includes the two main things-

In-app Purchase

We will provide users with the option of supporting live broadcasters along with exchanging virtual coins or currency for gifts.

Advertising

We will provide you with such options that whenever a user interacts, you will get cost per click. Also, cost per action, if an advertiser pays for a particular action like newsletter signup or app installation.

3. Development Cost

To develop a social video app is not at all an easy thing, so except for creating a costly fully-functional app, we always suggest our clients launch their project as an MVP (Minimum Viable Product).
4. Building an MVP

To develop a social video app is not at all an easy thing, so except for creating a costly fully-functional app, we always suggest our clients launch their project as an MVP (Minimum Viable Product).

Find out whether people are liking the app or not and what is the feedback?

We do this all only if our client permits us to do this.

This MVP includes various features such as- User login, basic UI, User profile, posting, geographical features, searching, social sharing, etc.

5. Required Technology

It depends upon the needs of the clients, if they want TikTok like apps for android devices then, developers will take the help of Java and Kotlin but if they want an app for iOS then, it will take the help of C language or Swift.

6. Development Monitoring

When we start a development project, we analyze the things from starting that include requirements elicitation, cost estimation, technology stack choice, and planning for the project. Also, there is included the three essential things-

Defining the project scope like business priorities and software features and consider monetization strategy.

Analyze the main features of the TikTok app clone and its user roles, then we design the app concept.
Want to Stand Out from Ordinary
With Us
What makes BR Softech TikTok App Clone Unique
For developing TikTok clone source code and promoting it after development, here is the list of required teams-
Why Choose BR Softech for TikTok clone app development in India?
Our company is well-known in the field of app development in India for many years. Despite that, we offer readymade and customized both types of solutions as per the needs of our clients. Along with a never-ending list of amazing features, our knowledgeable and expert developers cover all the elements required by the customers.
We make sure that we provide high-level amenities to the clients by considering the current situation of the market. Moreover, ingenuity and novelty are the things that make us fall apart from others.
Experienced Team
Our expert team provides highly amazing features to the clients with the best services as they have rich experience in this field.
Security and Confidentiality
We provide full security for the information and data of the client as it is our responsibility to save this from the third party.
Quality Results
Our dedicated developers never compromise with the quality of the product, be it any TikTok clone app development or software development.
Good Customer Support
The team of BR Softech provides support to the customers 24*7 and clients can contact us from anywhere and anytime.
Delivery on Time
Whenever we take any projects in our hands, we deliver it to the client on time and accomplish their requirements.
Pricing Packages
We offer the price to the clients as per their needs in the app. Also, we give them amazing services at reasonable prices