ERP is a multi-software tool that is specially designed to reduce traction among the business. This software is owing big and small centralized approach and assists by collecting and managing the data.
School management ERP software is likely to be used for the data back-office automation process, streamline workflows, optimize the overall productivity, and reduce costs. Almost every organization uses ERP, especially School ERP Software, that handles the whole accounting process by using software platforms. This education resource planning is designed for most of the sectors from manufacturing, educational, healthcare, and other financial services and government.
If believed in the reports, it is observing that ERP is providing the best solution and providing the numerous opportunities to business venture and to explore new ideas and strategies to innovate.
Some of the reasons they implement these ERP platforms are to improve business performance (64%), to position the company for growth (57%), or to reduce working capital (57%). Also, startups and SMBs can now rely less on human resources to go about their day-to-day operations.
To be effective in today's increasingly competitive and complex business climate, you need to put in place systems that allow you to streamline, automate, and balance easily. ERP system provides the right path for your organization and other implementation and management processes.
ERP Stands for Enterprise resource planning that standardizes and streamlines the business process and integrated software platforms using the standard base data. It is a business management software that suits the application and manages the data. Optimizing the best opportunities and implementing the practices that help in meeting business standards.
ERP is a business management software. It is a set of integrated applications that help users to store and manage data of their business. Any organization needs the best ERP software that performs with the higher efficiency and opportunities of the firm.

Just like BR Softech Online School ERP software is coming up with a proper functioning and diverse operation that makes the learning much more simplified for school, teachers, and management. With this technological advancement and management process is working as a cherry on the cake for education and other industries.
Foremost Goals of ERP System
ERP provides real-time business data throughout the organization, allowing businesses to adapt and respond to changes quickly. The business data available in ERP systems informed us about the best decision within the organization. With the online school ERP software, it becomes easier for an organization to streamline the working process.

Without much ado, let's have a quick glimpse of the goals of the ERP System.
Increases Efficiency
With great assistance and overall performance, companies are well understood with performance and other opportunities for business. Get an ERP contribution to finance, sales, and production. It is quite easy to access data while streamlined and focusing on core deliveries.
Collaborate Promotion
ERP breaks down walls between departments. This process ae somewhere works as a superhighway to lick work between the substations. It simplifies all procedures and collaborates with the team more profoundly with the help of ERP platforms. Allow collaboration in remote areas directly to the headquarters through the internet. Most companies are using this ERP system software to keep alive in the market.
Enhance Data Security
In order to prevent a data breach, ERP systems include firewalls and restriction controls. Various single data warehouses require data monitoring. With greater assistance and ERP solutions, restrict unwanted data breach activity. Spot all kinds of unauthorized activity and remove random suspicious patterns.
Make Accurate Forecasts
Sometimes incorrect predictions and forecasts are reshaping industries. The lack of data has sometimes proven harmful to the business. Using a centralized database provides diverse business solutions, and standardization is enhancing data integrity. ERP ensures data realistic forecasts while estimating the required data outcomes.
Using machine learning and predictive algorithms, advanced ERP solutions with business intelligence tools enable users to dig deep into big data. Companies with multiple sources of data can leverage hidden insights into ERP and gain a competitive edge.
Reduced Operational Costs
For any company, all metrics are closely monitored where delays and breakdowns are anticipated, which results in better managed. But with the ERP, most of the processes like production, engineering, and all other business inputs are measured that results in faster real-time data solutions. To keep themselves alive in the market, companies are required to balance between the functions and while keeping in budget. Use regular updates to avoid massive maintenance costs.
Read more : – Benefits of school management software for the schools
ERP offers an overabundance of advantages, especially School Management ERP Software that helps you to manage a daily basis process. ERP is used to share data, and that makes the entire process smoother and more manageable. To get better data insight, an ERP system provides robust analytics, machine learning, and other capabilities.
Let's have a look:
It promotes effectiveness by automating data collection
Enables business growth while maintaining complex business processes.
Enabling more reliable compliance with more limited risk
Collaborated using integrated data.
It provides better customer solutions.
Enhance supply chain management.
Offering high-level security while maintaining transparency.
This makes the report much more accessible and customizable.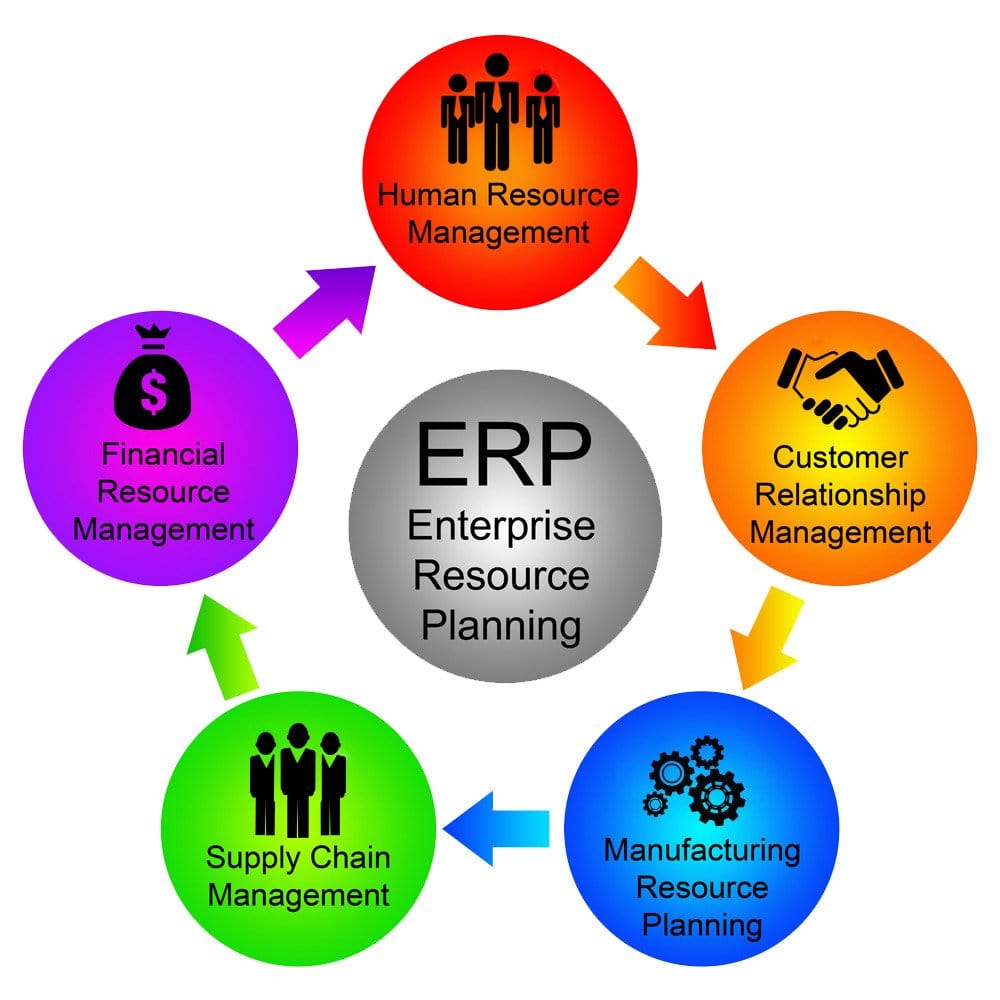 Top 3 Signs why you need ERP?
Perhaps by doing the required hard work, your software is not able to put the required limits or expand the business on a global scale. This is the time for you to adopt an advanced ERP system as the basics are not letting you grow.
If your accounts are not able to succeed with the conventional form of accounting software and you are tired of wasting money and costs. Switch with the best ERP online software solution that helps you to grow together.
In this technological world, it is vital to invest according to technical needs. If your system is not able to accommodate customer needs, this is the time if you do not want to lose your charm in front of your competitors. Integrate the best ERP software system for best practices.
Why Do Educational Institutes need online ERP Software?
Why Institutes need ERP Software?
Those days are gone when we use the conventional method of technique to learn. Now education is a lot more fun with the great assistance of the ERP education system. Now modern gadgets have transformed the education phase with the help of machine learning and other brain gaming teasers.
ERP is filled with an array range of functionalities as it main object us to communicate regarding the topic of the module. It is a single database network that comes with providing information across every department of the organization.
In simple words, we can say that school management system software acts as a bridge between the automation and processing of educational centers as it fulfills their all foremost educational needs.  
Features of ERP System in Education Sector
Experience the dynamic dimension of the ERP System and unleash the power of education. The global impact of ERP on education came out in 2020 as a considerable result of making it much more sustainable. Let's quickly find out the advantages of online school ERP software in the education industry.
1. Quick Response
The admission process in school universities is a tiresome task for both parties, be it the student or management, as it is complicated and lengthy. Numerous application details are required related to the date of birth, marks, and even specialization. Tracking these data records is no less than a challenge. However, with the help of an ERP system, it made the process much more straightforward and accessible for administrators to speed up the management process.
2. Automate Free Payment
Before the introduction of ERP, everything was done manually. After the innovation of ERP, it makes payment processing less tiring and hassle-free. This software automatically segregates the data accordingly, which includes tuition, books, exam fees, and many more. These notification alerts, it notifies student's parents about all the essential elements of the firm.
3. Less Paperwork
ERP digitizes the administration process from data filling to exams; all are going paperless. It allows you to store the databases that not only increases the efficiency of the management. Students can store important assignment projects in softcopy; this reduces the cost and makes the environment much more sustainable.
As per the report, it is believed that digitalization in the education center reduces the paperwork and cost of paperwork.
4. Prompt Decision Making
School management ERP can deliver bulk reports for administrative tasks such as the process of student enrollment, fee status, student track record, and other demographic data, etc. School management system software helps you to access the information and analyze all the decision-making processes and remove complicated errors.
>>>Make Your School Smart Through School Management System<<<
5. Payroll System
Now the school administration doesn't have to spend most of the time calculating the number of hours the teacher does work. The system calculates the work itself and tells the total no. of hours an employee works and also calculates the amount itself.
Taking everything into account
The process of management is integrated with advanced technologies that help you to manage the human resource process more profoundly. ERP is assisting and regulating the administration process and offers several benefits to management school, academic, and non-academic activities. BR Softech provides a diverse range of ERP business management software that simplifies daily day-to-day lives and repetitive tasks.
Hire an ERP app developer who can help you get the best possible outcomes that enhance the overall productivity and management of the firm.
Create a customized School Data Management Software