Globally, the addiction to gaming is immensely increasing day by day with an enormous rise in Internet users. Game developers are putting a lot of efforts in incorporating every new technology and trend with the game development model. Fantasy Sports is one of those trends that is becoming the most favorite for all the big gaming businesses. Today, Fantasy Sports is a multi-billion dollar business, having a prominent impression on real live sports events. Cricket, Football, Tennis, Horse Riding, Baseball, and Rugby are the few names which are associated with Fantasy Sports.
What do we understand from Fantasy Sport?
Fantasy sports are online games, permitting the participants to play a virtual game or a virtual season of any sport. In this sport, players virtually gather and form a virtual team of actual players of an ongoing professional sports event. These virtual teams compete with each other based on the real players' statistical performance in actual games. In fantasy sports, the participants act as the team's general manager as well as field manager where they can buy and drop players, similar to real sports.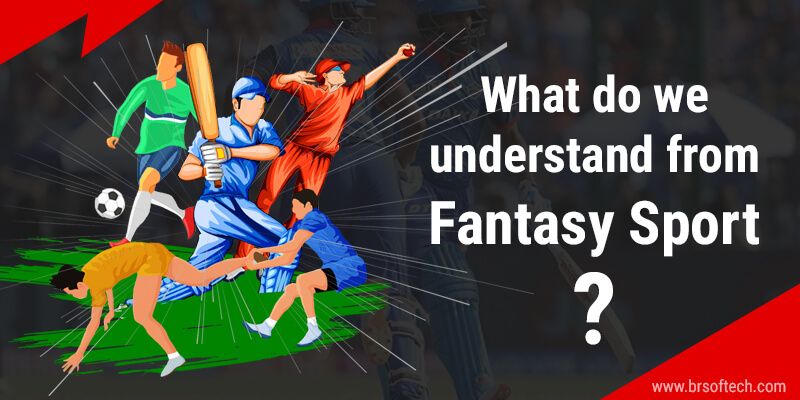 Among all the Fantasy Sports, Fantasy Cricket has become the biggest hit among the players. Players can experience the real-life thrill of the most popular game of Cricket using various Fantasy Cricket Apps. There are many Fantasy Cricket Apps available in the market, but Dream11 stands tallest of all. 
On March 2019, the total number of users on Dream11 was 52.5 million, which is estimated to reach over 100 million by the end of 2019.
How Dream 11 works?
Dream11 provides a single-match daily fantasy sports platform for sports lovers where they can leverage their expertise and exhibit their abilities in a specific sport which in return offers winnings, points, cash prize, and rewards. Dream11 enables users to form their team consisting of real-life players for future matches after comparing their score points based on their on-field performance. 
Building Fantasy Cricket Apps
The success of the Fantasy Cricket App like dream11 has paved the way to the new Fantasy Cricket Apps. A fully functional Fantasy Cricket Solution is a promising profit-making business in today's date. One can get an extremely operative app like Dream11 with the guidance of skilled mobile app developers. An expert app development company will help you in building an innovative sports application for your fantasy sports model. These apps can not guarantee success unless you adhere to the key features while Fantasy Apps Development. These features play a major role in making your app user-friendly and revenue earning. 
Key Features to Follow while Building a Fantasy Cricket App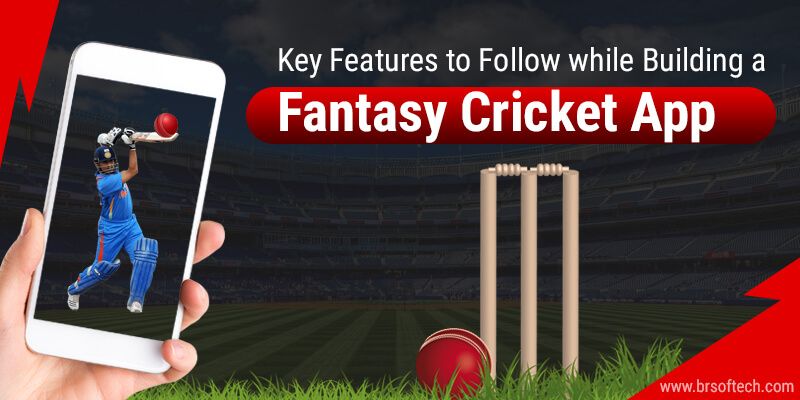 Features can be divided into three categories:
User-friendly Features

Admin- friendly Features

Additional Feature
User-friendly Features
Registration/log-in
New Users can register and login to the application using their username, email ID, phone number, password, and referral code from friends. 
Home Screen
After logging in with the app, the user will land on this is the main screen. All the information regarding the matches and tournaments is displayed here. 
Contest
Here, users can see the complete contest listings for the matches with details like Contest Name, Contest Type, Entry Fee, Winning amount, and Winners Count.
Payment Modes
It enables the users to make online payments using credit/debit card, net banking, e-wallets, or cash bonus points.
My Contest Details
Users can create their contest by submitting an entry fee, which is calculated based on the total winning amount and size of the contest. 
My Contest 
This section displays the list of joining contestants. User can also see and edit their selected team players and can also use filters feature for such purpose. 
My Profile 
User can update his profile details along with bank and pan card details.
This section also displays your reward points, transactions, and give the option to manage payments, and encash the winning amount. 
Admin- friendly Features
Admin Login
From this section, admin can log in to the app by entering the username and password.
Admin Dashboard
The dashboard displays all information regarding matches like total matches, upcoming matches, LIVE matches, total participants and total earnings. 
User Management
Admin can manage, update, add, delete, edit, activate and deactivate the user accounts.
Match Management
This segment enables the admin has full control to manage, update, add, delete, edit, activate and deactivate the tournaments. 
Games Category Management
This section allows the admin to efficiently manage all the categories of the matches. 
Earnings Management
Admin can check and view the total earnings and revenue generated from different matches with the use of different filters. 
Payment Management
Admin also has the power of managing the various modes of payment in the application. 
Managing Reward and Cash Bonus Points
The Admin has the authority to give the reward points to the participants. Also, he can add and manage the cash prizes given to the users. 
Managing bank withdraws request
Admins have the right to process the withdrawal of winning amount of the participants in their bank accounts. It's an admin who can accept or reject the payment and send money to the participants.
Additional Features
Live Match Score
This feature allows the users to see live scores, match highlights, and expert reports of matches and tournaments.
Integration of API
APIs of Fantasy Cricket Apps offers simple to use, ready-made data for its effortless integration into the app's platform.
CRM integration
For service providers, CRM integration helps to manage tickets, location, emails, push notifications and other useful things.
Push Notification
This is a very useful feature that helps in sending alert messages to the users to inform them regarding the timing of the match and time to create your team.
Real-time Analytics
This feature helps in constantly recording, storing, and updating of the real-time data in these applications.
GPS Location Tracking
This feature helps in sending message alerts and push notifications to the users to inform them regarding upcoming or ongoing matches at the location close to them.
Customer mail reminder system
This feature helps in sending mail reminders to the users about their picked team or the selected players.
To get in-depth knowledge of these features, read our detailed blog. 
>>>How to Build a Fantasy Sports Mobile App like Dream11?<<<
Key Factors that Impact the Cost of Fantasy Cricket App are: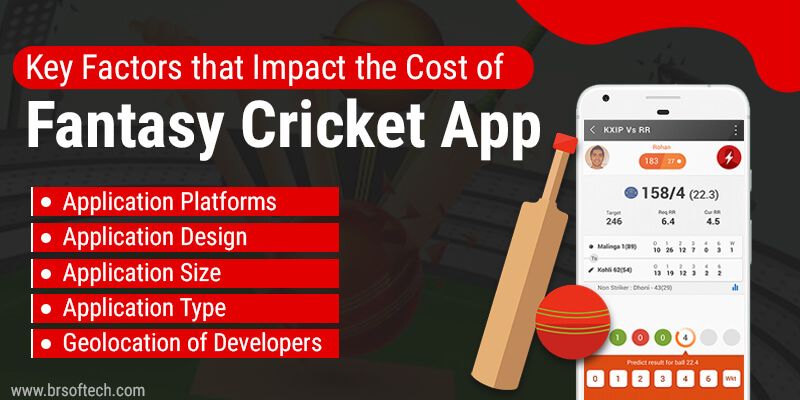 The cost involved in the development of the Sports betting app like Dream11 having the primary user panel feature is around $8,000 for both the operating systems, iOS, and Android. And the cost of the admin panel is around $9,000. If you want a fantasy sports app compatible with all mobile platforms along with a website then it is likely to cost around $20,000.
If you intend to hire fantasy mobile app developers, the development cost will depend on the total number of hours it will take to develop the app and certain factors like:
Application Platforms: – 

Total development cost involved in developing Fantasy Cricket App depends majorly on the mobile platforms for which you are desired to develop the app. The cost varies with different app platforms, eg. Development cost involved in Android platform is lesser than in iOS and Windows platform. 
Application Design: – 

More attractive, colorful, and vibrant the app will more be the cost incurred in its development. An engaging and unique User Interface is essential for apps like Dream11 so that it can attract the users and they download it instantly. 
Application Size: – 

The size of the app is directly proportional to the cost of the development. Larger the size of the app more will be the features and functionalities the app will offer to its users. These additional features will lead to extra development cost.
Application Type: –

There are fundamentally three types of apps:
Native Apps 

Hybrid Apps

Web Apps
Native App: – Native apps are complicated in creation. These types of apps are developed specifically for
IOS on Objective-C or Swift

Android on Java

Windows Phone 
They provide with valuable user experience and excellent customer service.
Hybrid Apps: – Hybrid app's functions works on a single programming language. Hybrid mobile app development is less complicated in creation, unlike native apps, hybrid apps can work on both platforms. These apps are easy to develop and manage.
Web Applications: – Web application is a conscious version of the websites that work on mobile devices. This website is optimized for mobile users. Many users find mobile apps more convenient as compare to websites.
Geolocation of Developers: –

The location of the developers plays a major role in deciding the cost of the development of the app. 
US developers will charge between $100 to $250 per hour.

Eastern Europe developers will charge for $80 to $180 per hour.

Asian developers can be hired for $60 to $180 per hour.
Developing a popular gaming app like dream 11 needs a high level of skill and experience. It is essential for the Fantasy Sports app developers to carefully incorporate all the features that make your app successful. 
With Fantasy Sports growing popularity BR Softech expert Fantasy Sports app developers are providing top-notch Fantasy Sports development solutions to the companies. For more customizable and unique Fantasy Sports platform, one can hire a dedicated developer from us who can help you develop to advance app using lucrative features and trending technologies.