Bring customer ease and utmost satisfaction by providing them with an advanced and high functional loyalty app.  In today's world to survive in this competitive market and to retain the existing customer one must provide the customer the opportunity to earn and get rewards. Multiple businesses like Restaurants, Fitness Centers, Grocery Stores, Retailers, and Salons make full use of the loyalty rewards app in India to increase their customer base and earn greater revenue. 
58.7% of internet users worldwide cited earning rewards and loyalty points as one of the most valued aspects of the retail shopping experience. – Source
Loyalty program application help business to increase their customer retention in several ways like:
By providing the customer with high-value product or services

Excel at customer service 

Reward long-term buyers
This works well in business which generates emotions in customers and doesn't position themselves as the cheapest in the market. It is best to serve the small & medium-sized business as provides a greater return on investment and robust features. 
How The Loyalty Rewards App in India Works?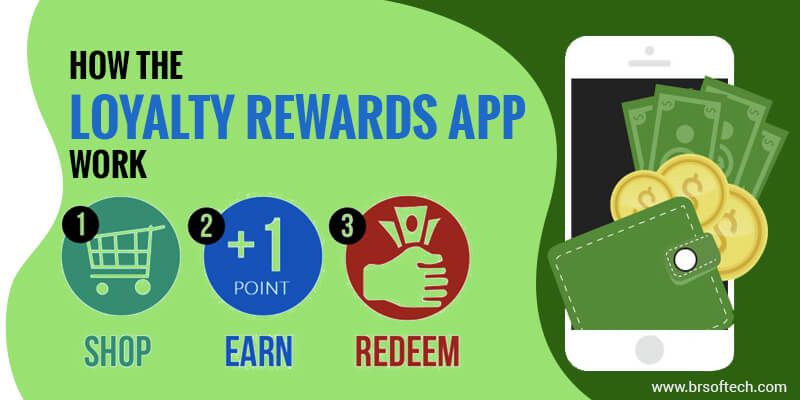 Just follow these simple steps to earn reward points and other loyalty rewards. 
Search and visit your nearest deal. 

Select, order and collect loyalty rewards in just a few taps. 

Get rewards. 
It works on User, Admin, and business panel by allowing customers to get beneficial deals.  BR Softech is a leading loyalty program Mobile app development company offers rich features and provides with ultimate user experience. 
Without further ado, let us help you with all the lucrative customer loyalty features we provide with: 
Membership Management

Gift Card Management

Customer Relationship Management

Rewards Management

Loyalty Cards
Not just that we also provide with an of mobility, app design features, application, and development feature while keeping the current trends and technologies in mind.  We help you create an enriching web and mobile experience keeping the stringent quality checks in mind. 
Factors That Impact The Loyalty Rewards App Development Cost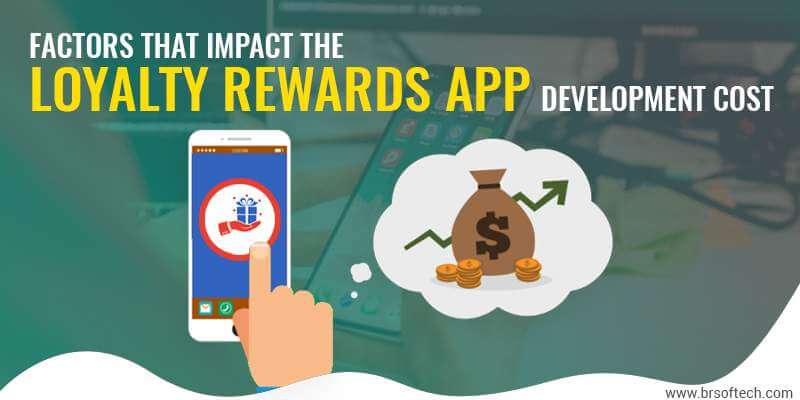 BR Softech offers customer cost-efficient solutions, providing them with a readymade solution. Our team of expert developers presents the customer with a customized Loyalty app for business using advanced technology. 
Here we have listed some of the top factors that impact the overall development cost.  
Concept Analysis
Hire a dedicated app developer for developing the app or contact Loyalty App Development Company, the one who specializes in the field and can help you provide with concept analysis while guiding you to convert your app idea into reality. Well, developing the app is not rocket science, but having the right person for the right work is what matter the most.
Read more – How to Create a Customer Loyalty Program?
Strategic Planning & Requirement Analysis
We help you strategize your plan while converting your dream into reality. Our team of expert developer helps you plan each and every aspect while analyzing your business and your competitor business.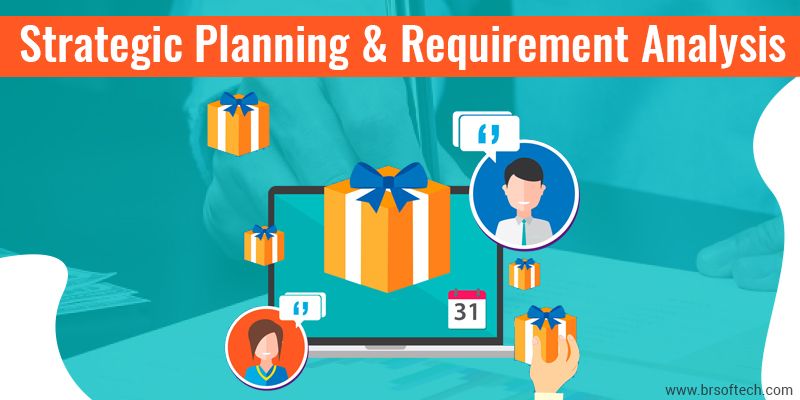 Application Type
There are fundamentally three types of apps:
Native Apps 

Hybrid Apps

Web Apps
Native App: – Native apps are complicated in creation. These types of apps are developed specifically for
IOS on Objective-C or Swift

Android on Java

Windows Phone 
They provide with valuable user experience and excellent customer service.

Hybrid Apps: – Hybrid app's functions works on a single programming language. Hybrid mobile app development is less complicated in creation, unlike native apps, hybrid apps can work on both platforms. These apps are easy to develop and manage.

Web Applications: – Web application is a conscious version of the websites that work on mobile devices. This website is optimized for mobile users.  Many users find mobile apps more convenient as compare to websites.
App Platform
There are multiple outstanding platforms are available all over the world. All you have to do is make your decision to select a single platform or cross-platform for your app. Once you decide the platform. Here we have listed platforms you can opt for as per your app requirement.

Android & IOS: – There is not much difference in the cost of  Android app development & IOS Application Development Services. However, Android may cost a little higher as there are plenty of versions available in the market.  
Web Apps: – Web apps are cost-efficient as compared to other native  development apps

Cross-Platform app development: –  Cross-platform app development is cost-efficient as it requires fewer development works.

React Native: – There are many brands who want to mark their presence on both the platforms IOS and Android.  As compared to Native App Developer, React native app development is much more cost-efficient.
Hybrid Platforms: – Hybrid platforms are perfectly blended with native and web app. There are three frameworks PhoneGap, Ionic, and Sencha Touch which are widely used in Hybrid Mobile App development.  
Determining the best platform to choose while developing the best mobile app is really difficult. Choosing the right platform can impact mobile development cost.
App Complexity
The number of features defines the complexity of an app.  There are different costs impacting features like Admin panel development, third-party integration, In-app purchase, Hardware, Deployment architecture Model and much more.   Some of the features may be linked together but will impact the ultimate cost of the app.
The more features you add in your app development process more it will cost. The complexity of app development features decides the cost of mobile app development. 

Here we have narrowed down the list how apps structure looks like.

Basic apps: –  The one that comes with regular features require basic UI components and pre-defined backend with templates and analytic features.

Mid Level App: – Mid-level app includes more features and like integration with the API, Simple backend structure, real-time messaging option with less complexity.

High-level App: – High-level app is provided with top functionality features. They help with custom animations, database relationship, media processing, real-time synchronization, and much more complex features.

Cost of all the mobile development apps also depends on the number of hours it takes to develop the mobile app.
API Development Cost
API is the Application Program Interface. It defines the accurate way for a developer to write a program that requests services from an operating system. It's available in three basic forms:  Local, web-like, and programs like.

APIs are increasingly generalized, validation of API structure is remarkably important for any app developer.  There is the number of variables included which impacts the cost of the loyalty app development. APIs that aren't fully ready can drastically increase the cost of the development. Mostly the development mistake is to build the API at the same time as the app. It can block the app. Best way to avoid this situation is to build API when the team really needs it. It will not make a high impact on the cost and the app will work  more efficiently

Animations & App Design
Wireframing, UI design, Animation these are the factors that really impact the cost of the app development. Generally, there are two options to design the app, custom and standard UI. Customized UI as compare to standard UI is more complex and expensive. Final app screen flow depends on the Wireframing. Every Wireframe approved by the client decides the screen flow and impacts the cost. If the wireframe is ready, then there is no additional cost for developing it. 
App Maintenance
Maintenance of the app is the final stage in loyalty app development. It's an on-going process as trends keep on changing. To keep up with the market requirement one needs to maintain the app. App maintenance can be divided into a few categories.

Updates: – Apps require the update on a regular basis.  To keep your app updated and maintained its really important to maintain the app development.

Operating System: –  To keep your apps compatible with the newer version of Android and IOS, it's really important to keep it up to date.

Libraries: –  Most of the apps use a third-party library which will get broken unless updated.

Security Bugs: – Once the app is published it can be affected by bugs any time, Hence, it's really important to update the app in order to fix the bugs. 
Estimating the exact cost can be intimidating. It starts at $1000 and will get higher depending on the complexity of the cab and hours it takes to develop. For more personalized app you can Hire the best App Developer from our team of experts and get can specialized solution.