Online shopping has witnessed a revolutionary transformation that has changed the way we shop. This platform is continually growing and serving customers all over the world. The reason for Shopping application Development constant growth is our ever-growing technology. With the rise of smartphone users, our online shopping platforms are growing too. The online marketplace business model only makes them reach greater heights. Online marketplace encourages leading businesses and startups by providing with an overall business solution. Platforms like Flipkart, Amazon they are incredibly popular selling channels amongst consumers across the globe. 
In 2018, the biggest online marketplace based on gross merchandise volume was Chinese platform Taobao with a GMV of 515 billion U.S. Dollars. Small and Amazon ranked second and third with 432 and 344 billion U.S. Dollars in annual third-party GMV respectively.  –  ( Source )
The online marketplace is mainly useful for micro vendors. They get the business opportunity to expand their network. According to a recent report from Sensor Tower, there is a 16.3% increase in new app users. As the number of mobile users is growing, there is a notable difference in business opportunities. This global platform is growing immensely and following a futuristic approach.
How to Make An Online Shopping App And Where To Start?
The emergence of technology has changed the way people do shopping. Apps have become the new handy market, which can be accessed anytime from anywhere.  Before you indulge yourself in different aspects of your shopping app, depth market analysis is required.
Here we have listed some of the essential things to consider before developing the app. 
Analyze the market 

Find Similar Apps

Understand The Market Demand 

Know Your Competitors 
Once you understand the online marketplace, focus on how it benefits marketplace vendor, sellers, and customers. It will help you grow your business and will help you get a better understanding of the online market. Over the years, the purchase through an e-commerce website development has increased from 9% to 14%.   
How To Develop Online Marketplace App Like Flipkart, Amazon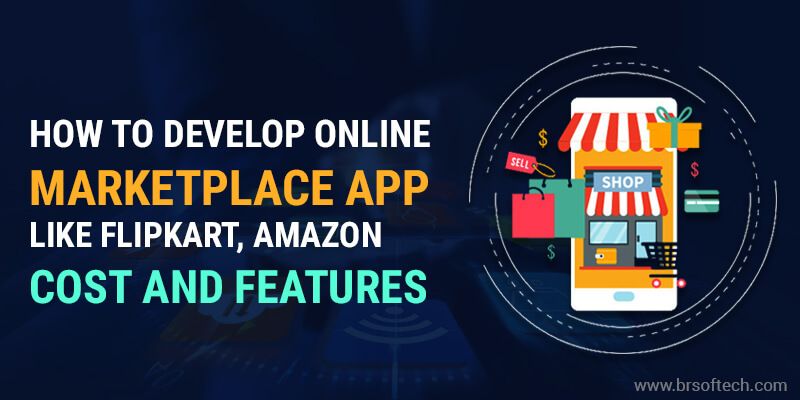 One can create the app by following these easy steps. 
Choose a unique and engaging layout which can be customized as per user requirement

Add advanced features like drag and drop

Publish the app to expand your business on google play and iTunes
Not just that, there are other more significant things which one should consider to make e-commerce app outstanding while keeping the market trends in mind. 
Select a Domain Name: –

Selecting a domain name can be a daunting task. There are various popular hosting service providers available in the market like Go daddy, and DYN. These popular platforms allow you to choose a domain name that can attract your customer base and get popularity in no time.  While purchasing the domain name consider these essential things.
Cost Categorization 

Loading speed

FTP Access

The space provided 
Robust Server: –

Choose the right server for hosting the site if you are planning to start a multi-vendor secure site. It helps the customer get a great experience while selecting the product they wish to buy.  Hosting service should be cost-effective, easily accessible, and simple to set up.

Consider Ready-made Script: – ready-made scripts help you save a lot of time and money while starting your business online. You can always opt for a customized option to provide your users with a personalized experience. With a ready-made marketplace script, you can easily develop a website like Flipkart and Amazon Clone.
Launch The Website:

– It may seem easy to launch the website, but there is a lot to do after launching the website. Increasing visibility is a must to get a better response. There are ample of things you can do to increase your website visibility like;
Digital Marketing 

Television Ads

Social Networking, Telemarketing 
Search Engine Optimization: –

To grab the audience's attention its must to focus on Google ranking. It helps you increase your customer base and get on top by simply investing a bit in SEO. It increases the quality and quantity of website traffic by increasing the visibility of a website.   SEO helps you move ahead in the competition without paying much. 
Essential Online Marketplace App Features 
Create an exceptional user experience by providing users with explicit customer service experience by adding high functionality and rich features. By including right features, depending on marketplace size, type, and the niche you can add features.  With these responsive and interactive app features, you can engage customers completely.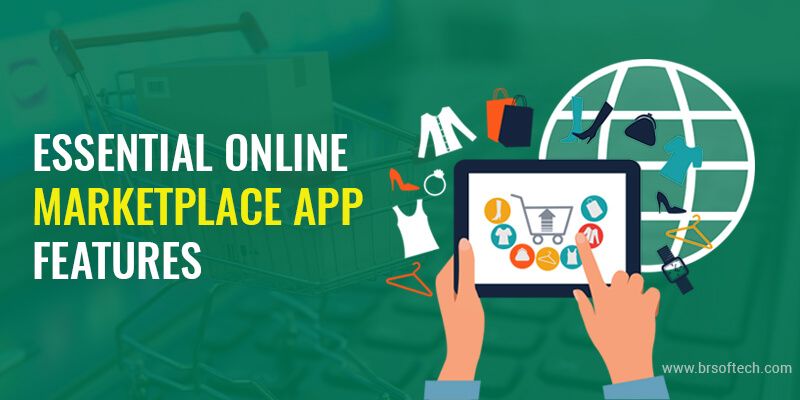 Here we have listed some of the top features which helps you generate more traffic and earn higher revenue. 
Customer Login

Easy Product Navigation

Real-time Order Tracking Option

Payment Gateway Integration

Live Chat Support

Augmented Reality View

Offer Smart Search Option

One-Click to Add to Cart

Wish List

Push Notification

Social Media Integration

Security

Promotion and Discount Code Tools

Rating and Reviews

Language Option
These listed features make the online marketplace more promising and beneficial for traditional retail customers. For more details and in-depth analysis, you can read our detailed blog. 
 "Must-Have Features in Online Shopping Apps Like Amazon, Flipkart"
This blog will help you make the selling and buying of goods easy while bringing convenience and comfort to consumers. 
Find Out the Cost to Build Online Marketplace App Like Flipkart, Amazon
Building an online marketplace app like Flipkart and Amazon is easy. The overall cost of developing the app depends on several factors like the number of resources working on the marketplace app, features & functionality you wish to add in your app, app design, app size, the platform you choose, and the complexity of your app.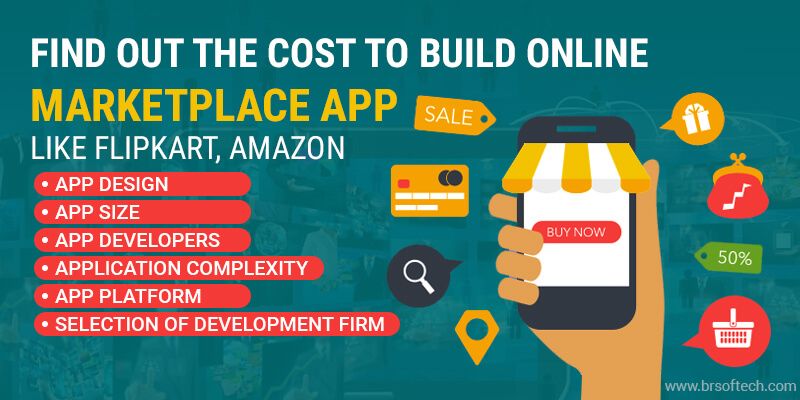 Here we have listed some of the major factors that help you determine the cost of online marketplace app development. But before the development start, one must conduct market research and identify the scope of the project to get the estimated amount.  
App Design: – To provide users with the most engaging experience, it's essential to choose the app design which attracts the users. It plays a vital role in the complete development process. The more engaging the app design is, the more it will cost as it's essential to bring something unique yet user-friendly UI/UX designs to grab the audience's attention. It can be simple, attractive and rich as per the budget and desirability.

App Size: –

App size is decided by its features and functionalities which decides the cost of the app. It's the key element which greatly impacts the cost and allows admin to choose feature and functionalities. By selecting it wisely cost can be managed to get a beneficial result.

App Developers: –

The overall development cost depends on the app developers as, app developers geographic location, their experience, and expertise can impact the total cost.

Application Complexity: –

The complexity of the app is another factor that impacts the overall development cost. Android apps are harder to build due to googles mobile app development platform and cost higher.

App Platform: –

Selecting the app platform decides the development cost and directly influences it. For developing an Android app one require a well-planned budget as compared to iOS as iOS is more affordable as compare to Android.

Selection of Development Firm: –

There are huge app development firms and moderate development organization they both cost application development differently.  Choose the development firm wisely and keeping the budget in mind.
Apart from that, there are other things which influence the cost of development depending upon the complexity of an app. It mostly depends on the options you choose. 
Approximately it will cost you somewhere around $12000 to $41000 or maybe more depending on your preference.
Here to help you we have provided with the breakdown of the development process which will help you understand the development process thoroughly.  
App Backend Development 

Project Management

Quality Analysis & Assurance 
Conclusion 
Once you understand the customers business needs and figure out what products you are going to sell and whom you are going to serve by conducting market research contact the development team. We at BR Softech with the team of expert developers help you build an outstanding online market place. We also provide with a ready-made solution like Flipkart Clone. It helps you save time and development cost while offering great opportunity to start your own online marketplace. 
BR Softech Flipkart Clone Script makes selling and buying of goods easy using the internet. It provides a secure payment gateway which helps in exchanging information between the payment portal and the banks. In addition, we provide with customization option. It will help you add your preferred features and functionality while allowing you to provide users with a great platform to buy the goods they are looking for.