With the fastest-growing economies in the world, people are adapting to all types of technology with time. The retail sector is caught up in a storm of mobile apps, and all companies are forced to adapt to changing times. The service sector is heading towards Uberisation and online eCommerce is the best example of showcasing the usage of the Internet in the country. It makes human life easier from booking to shopping with the help of mobile apps and websites.
Spending on food and daily needs for any household is the wallet's largest and most reliable share. Although shopping in supermarkets is a rather boring job for most people to stand in a queue and find groceries. Most companies are bringing Grocery app with renowned Grocery delivery app development to be the best possible alternative to this everyday need. Software services like on-demand grocery delivery apps, shopping apps, etc. are on the rise to have an impact on the business world. The market for smartphone devices on-demand grocery delivery is highly competitive as there are many applications on the market.
Grocery Mobile App is in high demand as everybody opts for doorstep services in this modern world. Here are some steps to learn more about how to develop a Grocery Shopping App.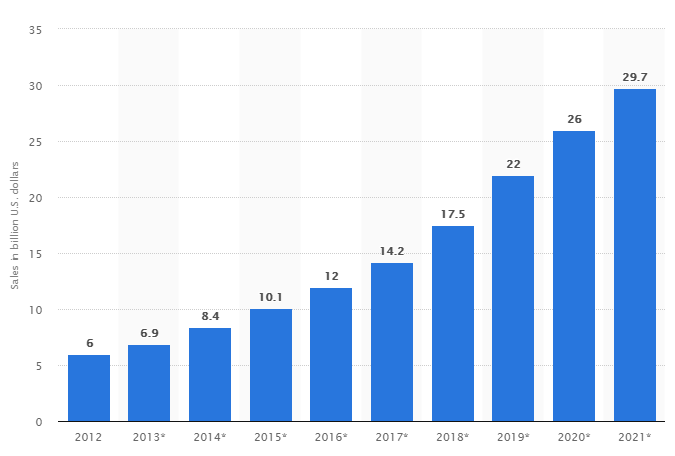 The U.S. online grocery market is estimated to generate sales worth about 14.2 billion U.S. dollars in 2017, with sales forecast to reach 29.7 billion U.S. dollars by 2021. (View)
Features of On-Demand Grocery App Development 
The main goal of on-demand applications is to tackle daily problems with real-world solutions for average people. Grocery shopping app features connecting seekers with vendors to offer them goods and services quickly.
User Panel Features
Profile Management
Users must build their profile after logging into the app or by adding the relevant personal details. Whenever needed, they may edit the details. The essential push alerts can be sent to users ' by accessing personal data.
Product Management
When making the payment, consumers must test and monitor the goods they wish to buy. Using this function, you can make sure nothing is left behind by simply adding to the list.
Multiple Payment Options
Enable users to pay online by incorporating secure Payment Gateway into your on-demand grocery delivery app. The market offers distinctive payment gateways such as PayPal, Apple Pay, and more. Allow customers to pay in a hassle-free way.
Order Delivery
Using the Google Positioning System (GPS), grocery companies will allow shoppers to monitor their placed orders and driver's position in real-time. By implementing the function of Google Maps, you will increase your business trustworthiness in many folds.
Admin Panel Features
Inventory Management
Monitor the consumer inventory's real-time status and effectively manage all orders. Whether the service is in stock or out of stock, admins can get better insights. If the service is not available, suitable decisions can be made by business owners.
Product Management
Admin is allowed to incorporate items from the backend of the software in bulk. The admin user can enable or disable the service depending on the availability of the products. 
Real-time Analytics
Admin is allowed to incorporate items from the backend of the software in bulk. The admin user can enable or disable the service depending on the availability of the products. 
Delivering Panel Feature
Delivering Notifications
Upon acceptance of the order by the customer, the vendor will receive the application for delivery of the grocery along with the order number and necessary information such as the delivery address, contact number, etc.
Acceptance/Rejection of Delivery Requests
If the buyer's location is too far, and it does not fall within the specified free delivery range, the delivery person may accept or reject the order.
Customer Location Tracking
The vendor can allow the delivery person to easily track the location of the customer by incorporating Geo-Location services. To monitor or track the location, these apps have proven benefits such as GPS, Apple, and Google Maps, etc. To exploit this function, the vendor can incorporate any of these.
Types of On-Demand Grocery Mobile App
E-Commerce based Grocery Apps
Some applications offer a wide range of food products depending on the location of the client. As needed, users can order grocery products and can schedule the delivery time according to their convenience. The most common e-commerce apps are Amazon and Walmart.
Independent Stores Grocery App
Most stores are committed solely to selling grocery items. To bring the customer experience to a whole new level, most leading companies choose to create a customized mobile app. Such apps allow shoppers to build lists of groceries, share them with the store, and set shopping items. BigBaskets and Grofers are the best examples of independent food devices.
In-Store App
With each passing day, the online grocery market is moving upwards due to advancements in technological up-gradation. Plenty of supermarkets such as Publix have enabled mobile apps to allow them to purchase through these apps. These companies are providing a wide range of services and rich features to their customers.
Benefits of On-Demand Grocery Ordering App

Time Folkes
Now the customer does not have to visit the store personally and walk around the supermarket with a shopping basket. We all know that grocery shopping is a tiresome task, but now the consumer can place you're their order from anywhere at any time with the aid of these on-demand stores, and it will be delivered to the address.
Get Consumer Behaviour
Consumer behavior is a phenomenon that we've all learned in economics and is also very applicable to grocery apps business. In today's situation, collecting valuable customer information that includes their personal likes and dislikes has become imperative for entrepreneurs.
Avail the Benefits of Discounts
The competition is getting tougher as the number of grocery apps increases. Most online grocery apps are now coming up with some tempting product deals and discounts. This discount is available merely on almost every product like vegetables, cereals, soap and much more.
Customer Relationship Management
Create a customer relationship with the company through the strategic management of the relationship with potential customers. This allowed companies to stay connected and build customer relationships that could prove beneficial in improving the company's goodwill.
To learn more about How to start an online grocery business app, you can check this link and keep yourself updated –

How to Grow the ON-demand Grocery Ordering Business
Once you have started trading your products through an app, you need to increase your marketplace presence. Here are some tactics that will help you build your business model with enough user base.
Promote Business
Before releasing any product, the primary thing to do is to advertise the company's services or goods on the market. People should therefore already have a clear idea of what is going to happen in the market, and it will also reduce the break-even point time.
International Markets
It will become very onerous for a new company to make its existence without the help of local partners. It will also assist the company in increasing its fleet and extending its scope to untapped markets. Businesses can then compete with retailers at the national or international level.
Unique Design
With a unique design, it may help you to capture the attention of the target audience. Knowing the market's availability and patterns are essential and can make the product unbeatable easily. Developing an app for grocery orders includes realistic graphics and class-apart functionality that can make the device a bettor treat for customers.
How Much Does it Cost to Develop an On-demand Grocery Ordering App
The Grocery app development cost depends on varied aspects such as business model, type of app, number of features, functionality, pricing model, platforms, the development team, and more.
Conclusion
It can be easy to set up an online grocery store when you know exactly what you expect from it. Choose the correct grocery delivery app development technology as your foundation stone and incorporate items when setting up the store after considering demand and availability. Once the basic setup is in place, you can build your own grocery delivery app that can be proven a true winner on the grounds of quality and performance.