The Present era is based on mobile app development which is possible by the Application UI/UX Development Services. This type of process attract to the users or customer choices. According to the app development market survey of 2020, mobile app users are being influenced by the Android and iOS UX/UI Design Services. So, Let's come on trending ideas of mobile app UI/UX interface which is we provide to you.
Best Mobile App UX/UI Ideas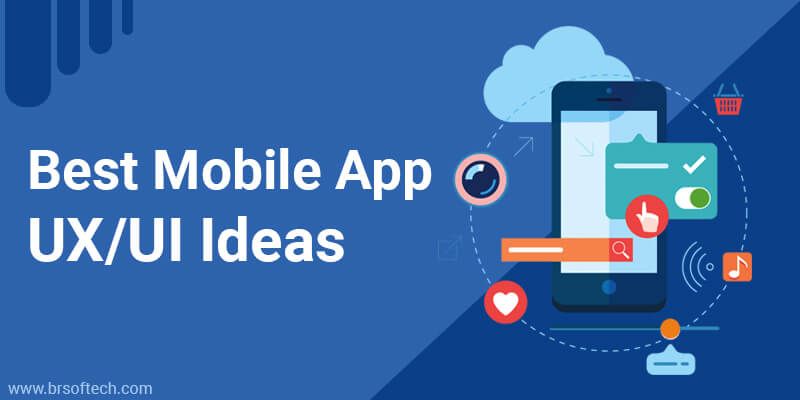 The mobile app development ideas give you a right way to develop a best mobile application features like UX/UI, support services, performance-based services, Impressive Splash screen design and much more. Just look down some attractive UX/UI design trends 2020.
User View Simplification
A linear design interface is the best user interface designing in the mobile app development. It allows the user or customers complete the application steps in one action task. So we can say that it is a good view interface in the mobile app development which allows the estimated time of task completion. For example: when you open map app, tracking app etc, then you can see the details at the bottom in the linear views.
App Gesture with Best Animation
This is the best app feature in the mobile application that is provide the lots of feature on the mobile screen. Here we are define you the app gesture features:
Double tap feature give you screen light wake up.

You can drag your content and screen by click on one touch and then drag your app features.

The pinch gesture feature is provide you zoom in and zoom out.
Mobile Content View Experience
The mobile content view experience is based on the mobile screen compatibility according. So you can design your mobile app content view according to the mobile screen resolution that manage your content in the center screen of the mobile.
Full Screen Resolution
At present time, iPhone X and Samsung smartphones burned the mobile market with the launching of full-screen resolution. So according to this concept, developers use the full-screen resolution app method which is fully compatible with the mobile screen resolution. Because Sometimes we open or click an image according to then due to mobile compatibility it is not accessed and loaded according to the mobile screen.
So you can develop the full screen resolution feature in your mobile application development to easily access all applications, image, and videos according to full-screen mobile and normal screen smart mobile phones bases.
Dazzling Exciting Colors
Color defines the art that reflects a thought according to colors. That's why developer uses the various colors in the mobile application. These color vibrant define the best Mobile UI/UX Development Process. When you open the app or mobile, then the vibration color feature changes the color from one class to another class. That looks like so impressive in every class's of a mobile application,
Emotional Experience
The emotional experience of your mobile app is the greatest user experience that is present the emotional features like emoji creation according to human behavior, emoji gesture features, feedback emoji and many more. These type of UX service's present the best quality of your mobile app in the global market.
Biometric Authorization
At present time everyone is fast in the mobile technology. IN the past time, People have used the normal phone with button lock. After some time, the android and little bit good phones come in the market, that has the pattern lock, Pin lock. But now in the present era, Technology has launched lots of good and much better smartphones which have best biometric features, face lock, and finger lock system to mobile authorization. These all are feature represent your mobile user interface and user experience in the mobile app development .
ChatBot Server Connection of App Services
The chatbot server is based on helping resources that are available on 24 x 7 time. In this chatbot server, you can manage your all details about the app concern, services, features and third-party link services that you are integrated on chatbot messaging platforms.
As the Result
Our company development process is based on Android and iOS UX/UI Design Service development that provides the best service's in the mobile app market. We are expert in the best User experience service based application like movie ticket booking, Taxi booking app, courier app, Shipping and tracking app that gives the best UX to users. Furthermore, we are developing User Interface based application like Social networking app, Chatbot apps, Laundry app and restaurant booking app and many more. You can hire our developer to develop these type of service in your business purpose.