Home automation helps you make your smart home secure. Control every aspect of your home using a smartphone from wherever you are. Home automation solutions are introducing multiple certified smart devices for non-experts making their lives effortless and bringing utmost ease. The new-age devices are easy to use and simple to instruct like Amazon Alexa. 
Technology has changed the way we live, introducing an era of advancement. The Internet has vanished all the barriers to providing people with the ability to remotely control lights, home appliances, security cameras, and other useful devices. From the electric power distribution to the introduction of a refrigerator, washing machine, water heaters, sewing machine, dishwasher, and clothing dryers, everything is done by Home Automation Development, keeping customer's requirements in mind. 
According to Statista, a smart home revenue is expected to show an annual growth rate (CAGR 2019-2023) of 15.4%, resulting in a market volume of US$41, 756m by 2023.
What is Home Automation?
Home automation is also known as the Smart home. It is a system that majorly connects controlled devices to a central hub or gateway that allows users to control the entire home using advanced devices connected through the Internet.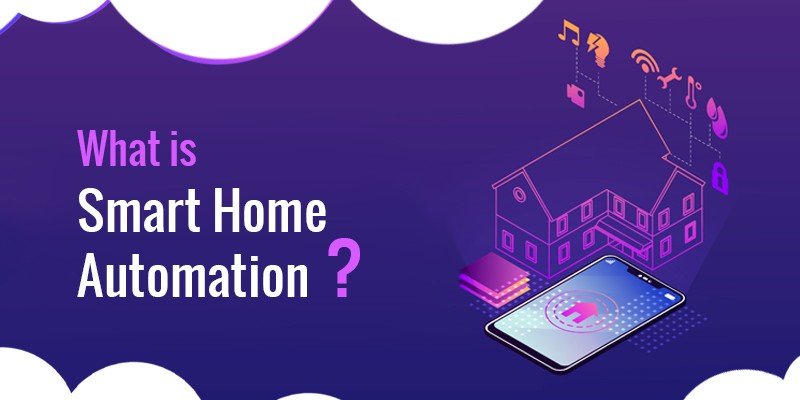 Home automation is a significant part of IoT (Internet of things). It brings control of operating your everyday home electronic appliances in the most controlled manner.  
The average revenue per installed Smart Home currently amounts to US$315. 40.
There are three generations of home automation:
The first-generation is wireless technology with proxy server like Zigbee Automation  

The second generation is artificial intelligence controls, an electronic device like Amazon Echo

The third generation is robots who interact with human-like Robot Rovio  
19th century has seen all the ups and downs in the home automation industry, despite the competition. Home Control Software Development providing users with the privilege to operate devices on the tip of their figures.      
 Home Automation is divided into 3 distinct levels
Monitoring

– The ability to check the status

Control

– The ability to change the state of the system

Automation

– The ability to change the state of a system



What is Smart Home Automation?
Smart home automation is the technological solution offering user comfort, convenience, and energy efficiency by allowing them to control smart devices. It is a step towards what is referred to as the Internet of things. Home automation has become an integral part of everyday chores. 
Simplify your life, opting for smart devices, and automate your home with these upgraded technologies. Security is no longer a concern with the advancement of technologies. 90% of Automobiles will be Connected to the Internet by 2020. Most people opt for smart home automation to get convenience, and others choose it to organize their work. 
According to statista,  The global smart home market is forecast to reach a value of more than 53 billion U.S. dollars by 2022.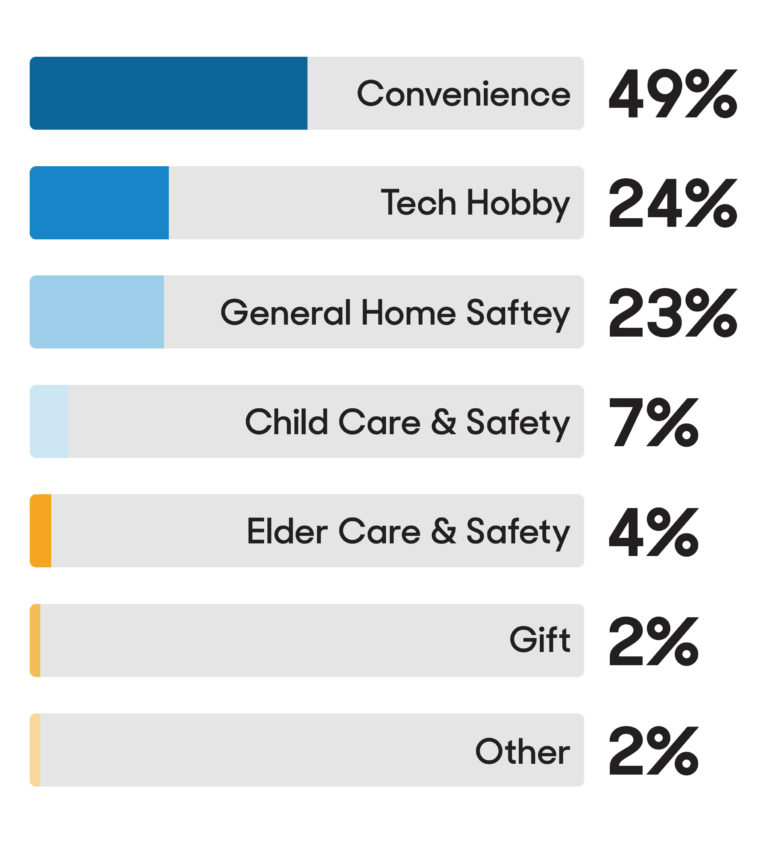 For better insight, read All you want to know about Smart Home and The Internet of Things
>>>http://techmekrz.com/blogs/all-you-want-to-know-about-smart-home-and-the-internet-of-things<<<
Components of Smart Home Automation System 
Devices like a lock, switches, sensors, and lights which can control by the end-user. 

Connection devices like hubs and gateways 

A smart home network or networks like Wi-Fi

Internet connection to get seamless experience using connected devices 
Smart Home Ideas 
Give your home a smart upgrade it deserves. Invest in the latest technologies that can help you bring the convenience and comfort you wish to get. These advanced machines can help you do a distinct task in the blink of an eye while offering a convenient way for your friends and family members.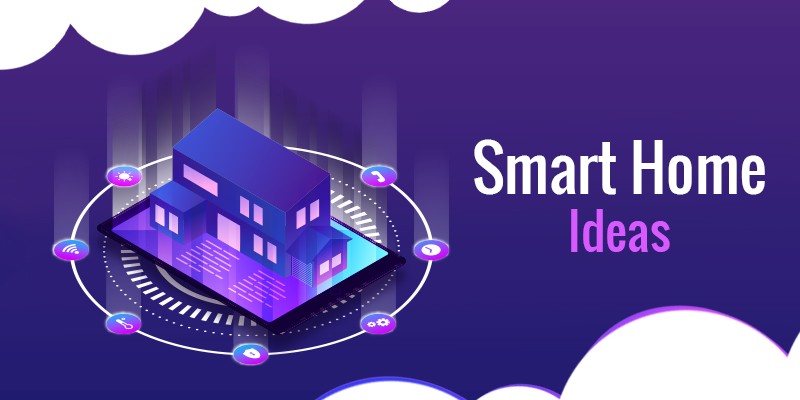 The smart home idea is based on these three things:
Stress-free

Thinker-free

Struggle Free
Smart home's ideas were first to present, keeping the needy ones in mind. These smart devices help the non-experts while providing them with the convenience they look for. The best part is setting up your smart home is now as easy as putting a smart speaker in your living room. You can also opt for all in one device with an intricate network of connected devices. 
Best Smart Home Devices & Technologies
Let us help you in your smart home journey while creating the list of devices that we believe can really help you make your home more stylish and bought quickly using your smartphone:
Alexa Enabled Smoke Detector and Carbon Monoxide Detector Alarm 
This safe and sound Alexa enabled smoke detector can really help you make your home smarter and detect emergency keeping your home secure and connected. It comes with:
Carbon monoxide detector alarm

Easy mobile controls

No more confusing beeps

Voice Alerts

Easy to Install 
Protect your home & family from unfortunate situations opting for Alexa Enabled Smoke Detector and enjoy hands-free voice-controlled speakers.  
Ring Smart Doorbell 
Protect your family using the Ring smart doorbell. Using this device, you can easily make sure that your home is secure through your smartphone. 
Comes in a nice design

Offers greater motion tracking 

Easy to use

Wider security camera

Comes with charging cable 
It's an excellent option for the utmost security and a more comprehensive camera option. 
Amazon Echo Smart Speakers
From playing music to making calls, set music alarm, timer, ask questions, get the weather report, control, smart home devices, Amazon Alexa is difficult a must buy the smart device. It offers:
Help you book a cab

Play your favourite music

Set Alarm

Set reminders

Ask questions

Get news update
Amazon Alexa is one smart solution to your common questions and needs. It offers an interactive yet engaging user experience. 
Google Nest Hub Smart Display
Get a fantastic experience by entering into the world of display-led speakers. It's a turbocharged version of the Google Home Hub providing an outstanding customer experience like:
Excellent Screen time

Good Music

Neat Design

Affordable price

Podcasts 

Responsive
This great smart speaker helps you watch YouTube videos with ease while providing you with an engaging yet amazing screen experience. 
Philips Hue Smart Lighting
Make room for Philips Hue Smart lighting for making your home stylish and fabulous. The models of Philips Hue Smart Lighting can be connected to the Internet easily offer excellent user experience like:
Easy to set up

Streamlined app experience

Simplified integration 

Decent automation 

Formidable presence
The smart home has finally arrived with multiple devices from the doorbell to the personal assistant. These devices help you set up a smart home with ease offering an outstanding experience. You can plan the budget for your smart home, depending on your level of comfort.  
How Smart Homes Work?
Technology advancements are taking place to help us meet this fast-paced life. Its dynamics change every now and then offering one or other lucrative services. This rapid transformation is fulfilling our various aspects bringing convenience and utmost ease. But the question remains the same how smart home works?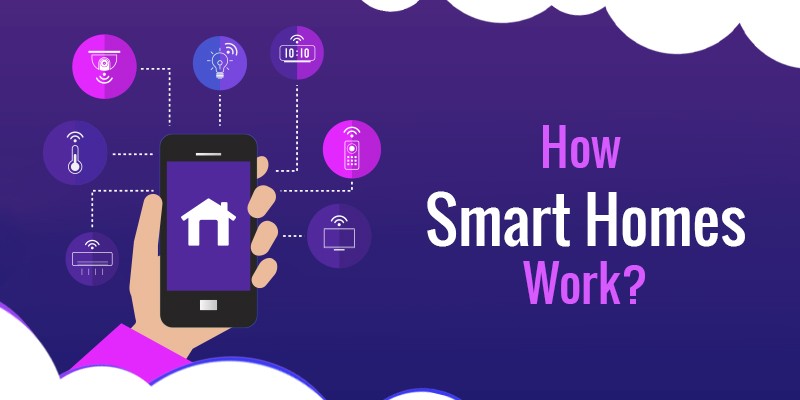 Home automation works differently depending on the technology; there isn't one protocol for home automation to work. It differs depending on the country, company, and type as technology us connect to each other through varied from country to country. X10 was the first home automation as per industry standards. 
 X10 Helps power line wiring, wireless-based protocol radiofrequency. Leading protocols in home automation today are Zigbee, Insteon, and Z-wave. They help you connect using wireless technology like mesh-networking. These protocols use radio waves, wireless technology, and electricity to send messages to and from devices. 
App-Based Smart Home Technology 
App-based home automation increases the accessibility of smart homes for the general population. They help you use your home network to communicate with the cloud. Cloud is an integral part of the Internet of things. Most apps-based smart devices help you connect your home network Wi-Fi. The app-based system enables you to create your personalized account with connected devices. It allows you to communicate back and forth with cloud-based home- automation without any interruption.  
Central Control 
Central control is one of the most popular home automation systems that can help you control everything. From your lights to the washer, phone, thermostat, wireless home automation solutions can control everything with the capability of using a single source. 
This type of home automation is most popular with businesses and upscale private residences. It offers the utmost security and allows consumers to access all the home devices from one convent system. The central control system is known for providing high end, which means unimaginable quality. It is very much popular in the home automation, security system providing great user experience. 
Annual smart home speaker, sales alone are estimated to reach $56.3 million in 2018, according to Canalys. 
With growing trends and emerging technological advancement, smart home automation has become a need to catch up with this fast-paced lifestyle.  
Smart Home Solutions We Provide
Bring the immersive excitement and introduce Smart Home Solutions in 2020 for your home. It elevates your home to the next level using advanced solutions. It makes the lives of householders quickly and enables the users to remotely lock/unlock doors and adjust room temperature and more. 
1. Smart Homes: – We help you transform your home in more than a living, allowing you to control your home remotely. Integrate compatible smart devices in your home and manage it from anywhere in the world with our smart home solution.
2. Convenience & Comfort: – BR Softech helps you provide personalized smart home automation solutions that make your smart home control easy, offering 24/7* services. Its main aim is to mitigate the work while providing people with the utmost ease and comfort. 
3. Safety and Security: – Our advance solutions are designed keeping the customer's needs in mind offering utmost safety. Our Home Automation services will help you protect your home by the required surveillance. We provide our customers with the best in class security measures for integrated home.
4. Remote Access: – Get remote access to your home integrating IoT based Smart Home Automation. It helps you access your home anywhere in the world using the Internet. Distance is no longer an issue if you wish you remotely access your connected devices.
5. Promotes Healthy Living: – With our smart Home Automation solutions, We help you make your living a healthy lifestyle. From air purifiers to water purifiers, we help you provide advance solutions that can give you peace of mind offering mental peace. 
6. Voice Control: – Manage your home with voice control through Amazon Alexa or Google voice assistance. It helps you provide enthralling entertainment options, simplify your routine tasks, and help you make better use of your resources to enhance your home experience.
7. Motion Sensors: – Contribute to saving the environment using motion sensors. Save electricity, installing occupancy motion sensors, and do your bit toward environmental good. It helps you minimize your energy consumption while allowing you to make your contribution to our plant. 
Read more :- IoT Automation Solutions: Full Guide for Your Smart Home
Home Automation in India
Home Automation is all you need to convert your dull home into a smart home. BR Softech helps you enjoy the luxury, enabling you to do your task just by tapping on your smartphone screen. 
With the explosion of technology advancement and advance wireless home automation solutions, India is grabbing the attention of millions. It offers:
Safety

Security

Convenience

Entertainment 

Energy Efficiency
Home Automation Software in India is designed keeping the everyday problem in mind and providing an automated solution to that. It caters to the residential, hospitality, and other industries increasing transparent communication and comfort of mitigating the work. It's fast, robust, and reliable for improved user experience. This software is mainly designed to work with compatible devices solving multiple issues. 
Future of Smart Home in India
India is experiencing an advanced age of the digital revolution with the Internet and an increased number of smartphone users. The growing number of internet subscribers and mobile phone users clearly reflects the growth of thr Internet of things globally. IoT allows devices to communicate with each other and saves the time of humans. This incredible technology reduces operational costs and helps organizations improve productivity and workplace safety. 
India's digital economy is expected to grow to be at $1 trillion by 2025. Its market is growing larger and stronger. 
Statistics indicate that smart product penetration in Indian households is going to increase to 9.5 per cent in 2023 compared to only 1.5 per cent in 2019. The smart automation market is currently pegged at over Rs 8,000 crore.
IoT has introduced the concept that everything around should be electronically integrated and interconnected. 

The future of Smart Home in India shows the rise of smartphones, smart cars, smartwatches, and smart homes. 

The availability and rising affordability of a wide range of high technology products, giving birth to a new sort of consumer. 

Maximum convenience with multiple apps and personal assistants like Alexa Skill development and

Google Assistant Development

. 

In the future, technologies will become a cross-platform to provide complex decision-making solutions while increasing device compatibility. 
In no time, IoT Home Automation Solutions will become an integral part of our life. It's expanding its reach into markets such as Europe, South Africa, Japan, and the US. 
Machine Learning is playing a significant role in Smart Home Automation. It's taking the responsibility of predicting and automating all the tasks that comprise our daily lives. It allows machines to understand user behaviour and offer outstanding customer experience. 
Top Smart Home Automation Providers
IoT Home Automation Solutions enable users to get an outstanding experience. With a busy lifestyle, it has become challenging to get leisure time and relax. With the advancement, IoT Home Automation Systems are a true blessing for people who wish to invest their time to follow their dreams while ensuring minimum time and maximum output.  
Streamline your work by soothing your household objectives, ensuring easy control of applications provided by these smart home Automation providers. These companies help you develop an advanced solution to keeping your basic requirements in mind.  
Without further ado, let's know more about the top smart home automation providers. 
BR Softech Pvt. Ltd. 
With the team of expert developers, BR Softech helps you create a massive opportunity for startups and other enterprises developing advanced home automation solutions.  
Fox Domotics
They are a well known tailor-made automation solution provider via R&D and in-house manufacturing of smart, energy-efficient, and reliable systems. 
B. One Hub
An IoT company is known for developing Home Automation Solutions at affordable prices using AI and other trending technologies.  
Step Automations
Offers real-time integration of smart home automation products for producing customized solutions with enhanced intelligence. 
Cmart Digital
Delivering artistic products with plug and play concepts using diverse technologies, along with comprehensive home automation solutions with excellent customer service.
These are well-known names in Home Automation Development that are achieving immense success and developing advanced solutions to minimize human efforts.  
Why Should You Choose BR Softech?
 BR Softech is experiencing an increased demand for integration of Home Automation in India. We power to transform your home into a smart home using the latest trends and technologies. We help you integrate impressive capabilities to people and allows them to enhance the standard of living. Here people like to simulate intelligent behaviour and perform better with little or no human intervention.  
BR Softech is a prominent brand in India offering the latest home automation product development services while providing smart system solutions. 
1. Quality Assurance: – With our rigorous approach toward quality assurance, we aim to deliver the top-notch application, which can stand out to your professional standard with sophistication.
2. Flexible Engagement Models: – Our team of experts is trained to design flexible and impressive engagement models for various applications. The engagement model helps in developing a credible trust of our clients.
3. Experienced Consultants: – Our team of professional developers and designers positively take challenges and develop an exceptional application using the latest trends and technologies. 
4. Committed to Deadlines: – Our work culture is designed to work on timelines where the entire team works together to deliver excellence when they need it.
We excel in providing our clients with desired results in keeping quality standards in mind and offering outstanding solutions. Ensure the highest level of reliability and performance, integrating smart home products. Home automation helps in delivering impactful experience using the latest innovations and personalize the overall experience. Keep up with the newest technology and make full use of home automation while making life easier and more enjoyable.