Today, we are all witnessing technology extending its hands for easy handling options on a daily basis. In the modern age, every industry is transforming, and so are we; we are transforming our household chores to accomplish digitally without any hassles. With the evolution of technology, most of the leading companies are starting to create carwash and laundry Service Mobile apps like Washho. The mobile car wash app has changed the whole perspective of business that enhances the overall customer experience due to faster and eco-friendly services.
These days the car wash industry is no longer an unorganized sector, as most of the leading companies enter these industries every day. Nowadays, car wash and laundry industries are taking one step forward and becoming quite popular businesses to start, as most people do not have time to clean their cars or even laundries at home due to busy schedules. An on-demand car wash and laundry services are blessing for most people, due to most companies are capable of delivering services at the doorstep at pocket-friendly rates.
According to Statista, the forecast revenue of laundry and dry cleaning services in the United States is expected to reach 7,660 Million USD by 2022.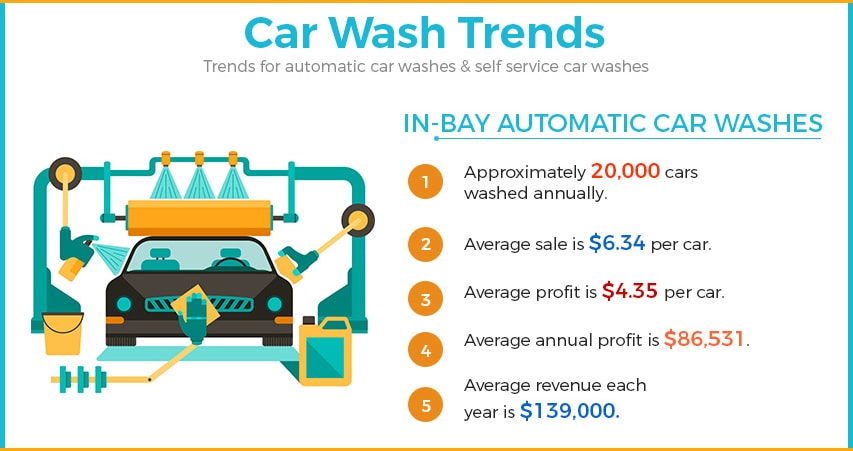 The on-demand of laundry apps and car wash apps carry a large amount of income. It has also opened up a handful of opportunities for individuals and business people. The users love these applications as they save their time and provide the best support when needed. On-demand mobile app with its best features makes it a clear winner across all consumer and industrial niche levels.
The car wash and laundry apps are mainly divided into three parts.
Customer App

Store App

Delivery App
1. Customer App :
To schedule a hassle-free services

To view order -history and make online-payments via different gateways

To track your status and get relevant information directly on their phones
2. Store App:
To help the in-store team monitor and maintain accountability for each order

To assist in the independent processing of clothes in the absence of any supervisor by sorting the data by using multiple filters
3. Delivery App:
To monitor the pick-up date/time, route and address in an organized way ·

Manage the routine effectively.
Read more – On Demand Car Wash App:- Features and Benefits
Major Factors that need to be considered while developing an app
Conduct Market Research 

Ascertain competition

Get the Necessary equipment 

Prepare a business plan

Design a proper business structure

Obtain legal formats

Hire both experienced and professional ones.
Features of Car Wash and Laundry Mobile Service App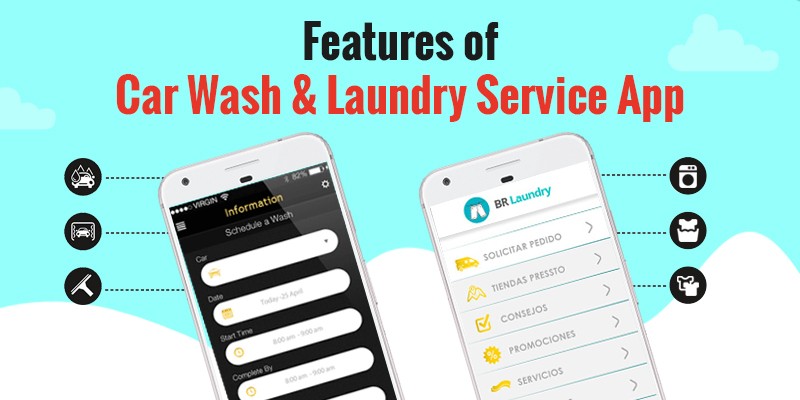 Most leading companies provide rich features that put high efforts to meet the market demands and enhance the customer experience. Here are a few features that impact on costs while developing a car wash and mobile laundry app.
Having a real-time position on the Android and iOS platforms is essential. Developers don't have to go anywhere else as there are Google Maps for Android, and Apple maps are available for iOS.
Increase conveniences for the customer
Buyers are more inclined toward a much more convenient product or service in any way. The on-demand app provides the customer with high-quality services in the customer's preferred location, so now users don't have to wait in the unending line for the car wash and laundry services.
Most of the leading business apps incorporate push notifications; it keeps the client informed about the latest offers, cashback, and order status. It can be quite lucrative and at the same time and also enhance the company's goodwill.
>>>How to Become Successful in Car wash Business?<<<
To keep in touch important with the latest trends, the app must-have essential features for maintaining a great medium between customers. The client must have an option to review rates, book an advanced service, and may also receive memberships other than adding essential features as well. That's how they can make their company stand out from other rivals.
Factors that Impact the Cost of developing a car wash and laundry wash service App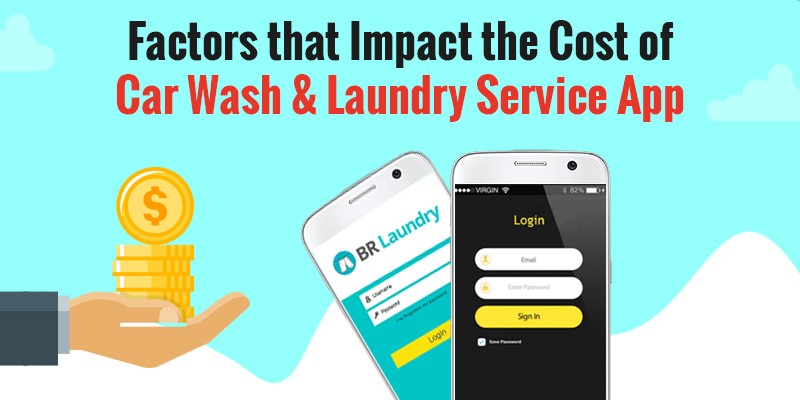 The exact amount of production of a car wash device is difficult to calculate as these innovations are dependent on distinguishing variables. Here are the significant features that affect the cost of apps.
Nowadays, adding extra features with some unique designs grabs customer attention, and the more functions you add, the higher will be the cost. Including the key elements when preparing and launching your first version of your software is a good idea. It can be accessible, budget-based, and attractive.
Choosing the App Platform
Smartphones have changed our lifestyle and become an emerging trend of technology; It is always a challenging role to choose the best car wash app development platform. An average cost of making an app depends heavily on what kind of software you choose to create. There are several excellent platforms available in the market like Flutter, Ionic and many more for hybrid app development. You can choose the one which suits your business requirements the best.
The app's size is dependent on the app's features and functions, as well as helping to measure the value of the app. It is the main component that affects the cost significantly and enables admin to choose the best quality feature apps. A beneficial result can be obtained while selecting the best features.
Cost of Carwash and Laundry Service Mobile App 
Approximately $10,000 to $30,000 per platform is the price of creating an app like a car wash app, and for laundry apps, it costs you around. $15000 – $40000 for a quality product. You can create the best app that can help you to attract more and more users and guaranteed your app to stand ahead of the competitors.
In the United States, more than 72% of the population uses professional car wash services, and conveyor car wash services are one of the most revenue-generating businesses. (View)
Conclusion
These on-demand apps enable you to provide one of the fastest and easiest ways to get high- quality car wash service to users. The growing interest in an on-demand environment is offering customer services to meet their needs and provide an innovative platform to its customers. Maximize your business performance by choosing the best car wash clone script and experience higher business productivity. Professional developers can build your app in such a way that it will grow beyond boundaries. 
If anyone wants to develop the app as mentioned above, then our dedicated team of professionals and qualified app developers at BR Softech provides the high-features with an impressive service to meet the customer requirements.