The prospect of mass automation has apparently shifted over the past decade from a vague possibility to an inescapable reality. There are numerous ways in which technology is changing the industry: just a few examples are Robotic Process Automation (RPA), Artificial Intelligence (AI), and Machine Learning. Business automation reduces the workload of the human force, and robots are doing all the work with a more productive and accurate response.
Automation, which now goes beyond routine manufacturing operations, has impacted and transform all the industries such as healthcare and finance. Successful automation must also add value in the form of more precise procedures, better products, and services, or completely new ideas that were not possible previously.
It is assumed that not only low-wage, low skill jobs are being the most at risks like clerks, security guards, chefs or middle-income workers, but white-collar jobs are also on the radars in near future.  
We'll probably see some effect from AI and automation technology in the next five years. Nearly 50 percent of businesses think that automation technology will lead to a decrease in their workforce by 2022, according to the World Economic Forum.
By 2035, the range of jobs with high automation potential will be closer to 35-50% for those sectors. – Source
Industries that are significantly impacted by automation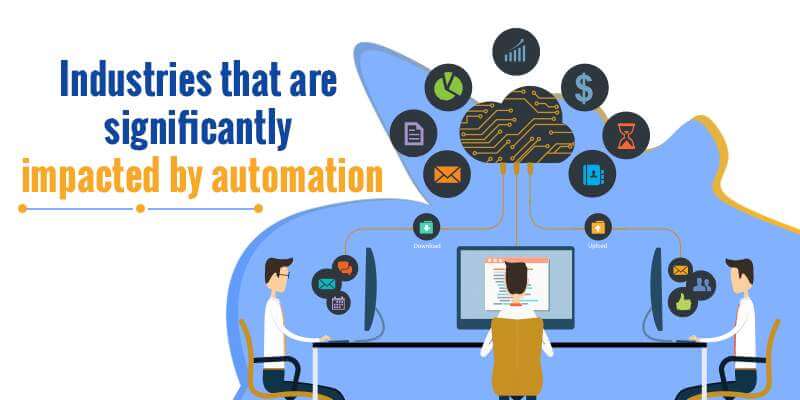 Approximately 1.7 million robots are already in use around the globe, but they are widely used in industrial environments where few people can set foot. As that number increases and the roles they undertake expand, the more likely people are to work side by side with robots, increasing the probability of damage.
As we all know that everything has two sides, it might affect you positively, or it might be a negative way. It is up to us how effectively we are using these technologies and how we look at it. 
Read more – How Robotic Process Automation works – Case Study
Here are the seven industries where Automation will make the Biggest Impact.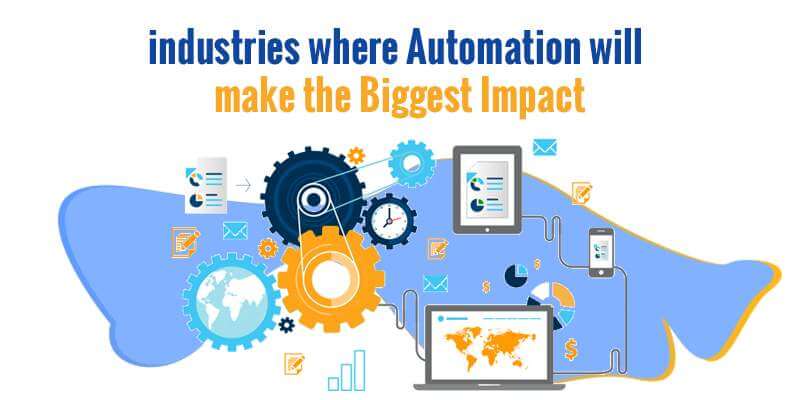 Manufacturing
The manufacturing industry is the one who started the process of automation. Manufacturing is one of the first sectors to use AI robots for product assembly and shipping packaging. Automation has drastically increased as the manufacturing output and is used to assemble more complicated items like electronics, cars, and other home appliances.  Technological up-gradation is bringing costs down for businesses; those that fail to embrace this technology will find themselves losing their competitive edge.
From 2000 to 2010, 5.6 million factory jobs were lost in Canada and the U.S., where a whopping 85% of work losses resulted from automation.
In 2014, the e-commerce business started using machines to roll robots into its stores. Amazon has over 100,000 robots worldwide and intends to add much more to the mix.
Finance
The world of banking and finance is another region where company automation is transforming the landscape. Today the Robotic Process Automation (RPA) in Banking Sector and other financial sectors have an enormous impact on human lives and make their life even more flexible. Nowadays, Robots are used for predictive market data, forecast stock trends, and manage finances, more efficiently than humans. 
Automation is also replacing certain accounting jobs, in which it can be used to record journal entries, conduct ledger accounts reconciliation, and maintain accounting master data. 
The capacity of AI systems to accurately detect fraud is far more capable than humans as robots are specialists in scanning large quantities of information. As this technology evolves,
Health care
In terms of enhanced quality and effectiveness, the implementation of automation to the healthcare sector certainly has many advantages for common people and the people who are very much connected to the healthcare industry. Medical and pharmaceutical companies use AI machines to execute a range of medical processes, such as diagnosis of illnesses, anesthesia, and surgery.
This technology has allowed physicians to shorten diagnostic timeframes, indicating patients can receive therapy much quicker and have a greater chance of survival afterward.AI can even be used to remind patients to take their medicine, answer common medical questions, and call an emergency service.
Telecommunication
Over the previous ten years, the telecommunication industry has become more and more virtualized and now embraces automation. RPA can help to manage network operations, boost efficiencies, and enable real-time functions to occur.RPA also helps to identify breaches of safety, with robots much better equipped to identify and fix any failures than humans. With artificial call center agents making a huge impact on employees of the call center as they can be easily replaced. 
Today, telecommunication has tremendously evolved with time, and everyone is transforming their lives towards it in some way. Be it in our routine life, the way working telecommunications plays an important role in development becomes an integral part of our lives. 
Transportation
Over the next few years, fully automatic vehicles or self-driving cars will hit the roads with some safety control functions without driver inputs. Automation helps to decrease the cost, and it also reduces the error percentage and improves the quality, accuracy, and precision. 
Automated vehicles will save $1.3 trillion annually in the U.S. alone by 2035 to 2050, according to Morgan Stanley.
Nowadays,  we all witness how much traffic we face in our daily lives. It has become essential to simplify the procedure and bring automation intelligence into the automobile industry. 
Media and Journalism 
Automated journalism can make it difficult for journalists to cover routine subjects in the years to come. For quite some time now, print media has faced staggering difficulties. With the emergence of digital media and decreasing in the advertising-income, it has become difficult for the print media to survive, even the need for news reporters is also set to go down. 
7.Education 
Ebooks and coaching apps are quickly replacing supplementary education requirements. As the internet enables learners to be independent, the function and the need of the teacher also decreases with time. In addition, with the increase in online courses and e-classes, the need to go to higher education schools can slow down gradually. Nowadays, most people prefer to study online as they provide them the flexibility to learn from anywhere, anytime whenever they feel alike. 
Read more – Benefits of Robotic Process Automation?
Final Thought 
Automation is now moving forward, and while nobody wants to see people substituted by robots, exciting challenges lie ahead as we learn to work alongside each other. Industry's future depends on how we embrace these changes while maintaining our human edge. Technology believes in replacing and creating. It replaces manual labor and generates fresh opportunities, if you like, new roles. And productivity generates development, creating new forms of job. It's a cycle of virtue.
While America has lost 7 million manufacturing employment in recent decades, it has also added some 53 million jobs, according to an article by Forbes.
Will robots be our friends and assist us with tasks? Or,  are we likely to encounter a war on human existence? Do they become our friends or enemies? Well, how you look at it relies on it.