Apple's iOS is the second most popular mobile operating system globally after Android. This ever-growing operating system presently powers many of the devices like iPhone, iPad, and iPod Touch with constant improvisation. Considering the latest up-gradation of technology, there is an array range of dynamic technology developers are opting for the iOS platform that appears to be quite profitable and a fruitful option.
Just after the release of developer beta 5, Apple revealed its iOS 13 Public Beta 4 update on July 30, 2019.
iOS is known for its distinctive attributes. It was first unveiled in 2007 for iPhone and since then Apple contains more than 2.1 million iOS applications. Its user interface is based upon direct manipulation, using multi-touch gestures. One of the most impressive thing about installing an iOS update is its features. iOS 13 Public Beta 4 update comes with loaded features which we will be discussing in detail.
Without further ado, let's find out more about iOS 13 features.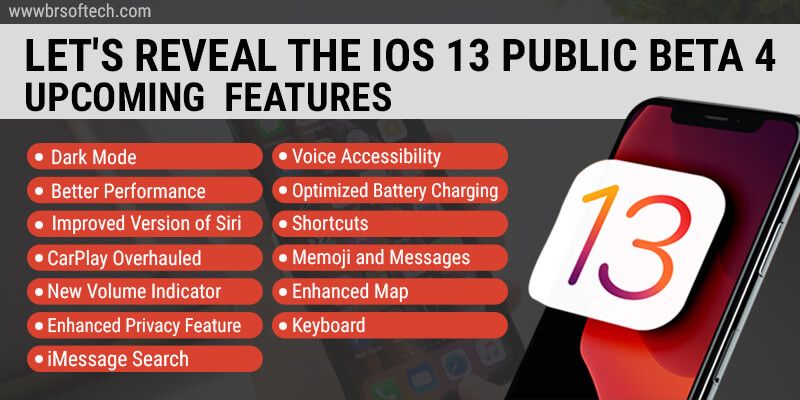 1. Dark Mode: –
iOS 13 is introducing dark mode in Apple's mobile operating system. All the iOS apps are highly appreciatable and now with new dark mode background, notification, and widgets everything from messages to mail will look differently in no time.
Steps to implement dark mode
Open the setting app
Press Display & Brightness
Choose from Available Configuration Light or Dark
Select Dark Mode
Dark Mode will be activated
Not just that, another perk is select Automatic and this option will automatically switch to dark mode between sunrise and sunset.
2. Better Performance: –
iOS offers its users unparalleled performance with better quality and services. Apple's main aim with iOS 12 was to focus on performance and make it much faster. It has continued the same work on iOS 13 it ensures that all the apps to run smooth and fluid without any bugs. With this belief and hard work, iOS is still renowned for its simplicity and goodwill and attained success in the digital market. With iOS 13 Public Beta 4, you will be able to unlock the phone with Face ID, 30 percent faster and download the apps twice as fast as you do right now.
3. Improved Version of Siri: –
With iOS 13 update Siri comes with many remarkable features. Siri has a new voice system that is known as Neural Text to Speech. This new speech provides an instant answer to your questions while offering smarter and smoother Siri. Apple didn't talk much about Siri at WWDC 2019, but with iOS 13 Siri smooths out complex words and sounds a lot more naturally.
With this up-gradation, Siri shortcut will soon be easier to configure and set up for users. It will also allow users to control music services, navigation services while experiencing a whole new Siri with better solutions.
4. CarPlay Overhauled: –
Carplay was first introduced in 2014, four year ago. Aside from gaining the ability to use third-party mapping, there was no major difference. However, in iOS 13 Public Beta 4, it's considered to be the most upgraded feature. Now, it's coming with a multifunctional dashboard which allows you to see a map on one side and useful buttons on the other.
Simplify your life using iOS 13 and make full use of the advanced dashboard. It allows you to control music and simultaneously see messages while getting other important information without hooping around between apps
5. New Volume Indicator: –
After a long wait, finally iOS 13 has redesigned volume HUD. The new volume indicator is much smaller, and slides inform the side of your screen. As you adjust the volume HUD, which is visible, it shrinks down to a discreet line. The new updated allows you to drag it up and down with your finger.
6. Enhanced Privacy Feature: –
Most app development companies allow their devices to be overloaded with a wide range of third-party applications without any security or censorship. Apple apps, on the other hand, with iOS 13 no longer authorize or permit unnecessary and junk applications, which results in iOS user to experience top-notch quality services.
This update will help you keep your personal information safe and minimizes the exposure to unnecessary links or websites you are signed in.
Apples advance security feature doesn't provide your name unless you give permission. If a service requires your email address, you have the option of providing the one associated with your Apple ID. Apple allows you to provide a unique email address which will be created for your temporary use and will be automatically sent to your actual email. It increases the security and allows you to delete the random address wherever you are done with the service.
7. iMessage Search: –
iOS 13 is coming up with revamped search capabilities. This feature was there, but not useful for many reasons, but now with this update, you will be able to find any message simply by searching by a world.
iMessage allows you to add a photo of yourself or an Animoji which helps people to know you even if they don't have your contact number saved. This update has made the iMessage search more functional and has streamlined the complete process.
8. Voice Accessibility: –
iOS 13 is introducing a new way to control your IOS device entirely with your voice and provides with accurate dictation. It helps you find your phone just by your voice and ensures that your data is kept private.
It helps you in multiple ways like:
Add custom words
Rich-text editing
Word and emoji suggestions
Seamless transitions from dictation to commands
Offers comprehensive navigation
9. Optimized Battery Charging: –
iOS 13 Public Beta 4 will help you prolong your battery life. It will help you slow the rate of battery aging by reducing the time your iPhone spends fully charged and will optimize the battery charging problem. If you charge your phone overnight, then this new option will keep your iPhone's battery at 80% for the night and will finish charging it just before your alarm goes off.
To use this feature, Go to Settings> Battery> Battery Health and turn it on.
Read more – iOS App UX/UI Design Trends in 2019
10. Shortcuts: –
The notable difference of this update is even more powerful shortcuts. It enables you to interact with your app conversationally. Now you will get built-in shortcuts and can easily streamline your daily routine by getting a personalized experience. With the automation power, you can set up triggers to run any shortcut automatically.
11. Memoji and Messages: –
iOS 13 Public Beta 4 is introducing a whole ton of customized hairstyles, makeup and accessories make a big impression. This update will allow you to automatically generate sticker packs based on your Memoji and Animoji characters that allow you to express a wide range of emotions in messages. In this updated version, attachments that have been shared are easy to find.
Not just that even before you type a character, you can see recent photos, messages, people, location and links you might be looking for. Any device that can run iOS 13 will get access to these amazing animated Memoji with an A9 processor or something better.
12. Enhanced Map: –
Get more realistic details for all the locations with iOS 13. Its more focused on bringing the new map data by the end of 2019. iOS 13 is bringing advance features with an updated map-like, it provides with a 360-degree view of a place and provides with seamless transitions and help you navigate your way.
This enhanced version is coming up with the favorite option. Using this advanced option, you can create a list of places and use one-tap navigation. It helps you share your estimated time of arrival with family and update about a significant delay. Another amazing update is Junction View which help drives to eliminate the wrong turn. Moreover, it helps you provide with flight status, offer the market, and improve the overall car play experience.
13. Keyboard: –
Apple has updated its keyboard bringing multiple options for users. It has introduced QuickPath, so you can swipe your finger from one letter to the next to enter a word without removing your finger from the keyword. It supports multiple languages like English, French, Italian, Chinese, German, Spanish, and Portuguese.
Know more about :- iphone Game Development Company
Automatic language dictation automatically detects which language user is speaking. This updated keyboard allows you to choose the maximum of four keyboard languages.
Relish the new features after the launch of Apple's iOS 13 update. Though the date has not been announced yet but its hard to wait when there is a lot to come. With the massive success of iOS, we can find millions of people waiting for this launch and make the most of this update.