With the evolution of technology, society has been changed dramatically. Nowadays, there is a wide range of internet facilities that have transformed the world.  Before the arrival of these modern technologies, life was burdensome and time-consuming. Immense opportunities are being provided by technology, which has now become an essential part of human life. Before the arrival of these modern technologies, life was burdensome and time-consuming. But with modern convenience, a lot of burdens have been lifted from our shoulders.  
Nowadays, the media and the entertainment industry is one of the leading sectors of recent times. But, with the fast-paced nature of everyone's life, it has become almost impossible to watch our favorite shows at a particular time daily. That's why most of the companies provide On-Demand Video Streaming App that can be considered a better option for the consumer. Most of the online streaming media services offer easy access to their favorite shows and movies whenever they want. 
The revenue generation through video streaming services, with an annual growth rate of 4.0%, will acquire a market volume of $24,963 million by 2023. – Source
The Business Model for Video Streaming App like Netflix



Video streaming apps are the future of the entertainment industry.  All market players are investing in online video streaming app and want to develop an  App similar to Amazon Prime. With the increasing usage of mobile phones, online video streaming apps are getting all the popularity with enormous media and production houses. 
Most organisations have started to run their businesses online and have become a major disruption to media outlets around the world. Like every other new competitor, if you have some interesting content to show or you have the ability to stand strong with these popular platforms, then people will come looking for it. All other well-known video streaming app co-exist because they have something unique to offer. 
Netflix is one of the most successful business models in the world. They're currently worth more than $100 billion and boast around 118 million subscribers.
Target Audience
It will be beneficial to a target market that includes both males and females and especially the middle age group. Platforms can also target these customers that are mentioned below.
1. Individuals who usually spend their time in the house
2. Teenagers/ College Students
How To Create a Video Streaming App?
 It can be a daunting task to develop a video streaming app. For a long time, it hit the technology world. Technological up-gradation transforms the traditional way of watching TV and replacing it with popular apps for video streaming. Let's understand the steps to create an on-demand video streaming app, as follows:
● Strategize the Plan before building an app
● Determine the scope of the Project
● Make a Business Model and work according to the market needs
● Choose the Right Platforms and Best Companies to Build an app
● Provide user-friendly services to the customer
● Use the Subscription Management tool
● Publish app on iOS and Google Play Store
Learn more about how video streaming app works and what are the development tools used while developing video streaming apps.
Types of Video Streaming Business Models Options
Here are the types of video streaming business models that can be beneficial for you.
1. Subscription VOD model 
As the name suggests, the user needs to take a membership plan on a monthly or yearly basis to watch the videos that are available on those platforms. SVOD users to have unlimited access to all the videos, streaming in HD quality and other value-added services.
2. Transactional VOD model (TVOD)
Some platforms give restricted access to the purchased content, depending on policies, while others allow unlimited access to the purchased content. It is called a pay-per-view who works best for content such as streaming live sports, streaming concerts, etc.
3. Advertisement – (AVOD)
The advertisement model comes under the most common business models. Three Free Advertisement models:
Pre-Roll — Ads before the videos.
Mid-Roll — Ads in the middle of the videos.
Post-Roll — Ads at the end of the videos.
Major Factors that need to be followed before developing an app like Netflix.
1. To do a free-promotion, provide free access to the user to watch free movies and shows online during the free-trial period.
2. Once a user buys a membership card or buys a subscription, then they must provide unlimited content to its user.
3. The app must work on multiple devices like tablets, smartphones, mobiles, and many more.
4. It would be beneficial to provide user-friendly interference with high-quality features to grab customer attention.
5. The app should meet stringent performance and scalability standards.
In the on-demand video streaming space, numerous competitors are there in the market that is giving tough competition to each other, these include-
1. Netflix
2. Amazon Prime
3. TVF
4. Hulu Plus
5. HBO Now
6. Hotstar
Key Features that can make Online Video Streaming App Popular Similar to Netflix
If anyone is thinking of developing their own video streaming app, then they must ensure to add some extra features. Developing an app, one thing every applicant needs to understand that it is not possible to get instant brand recognition.  
It is essential to ensure that the customers must get powerful content that can grab the attention of the audience. Most of the companies provide a ready-made solution to their customers, similar to Hulu Clone Script who do not want to spend much. Here are the key features to kick-start video streaming apps.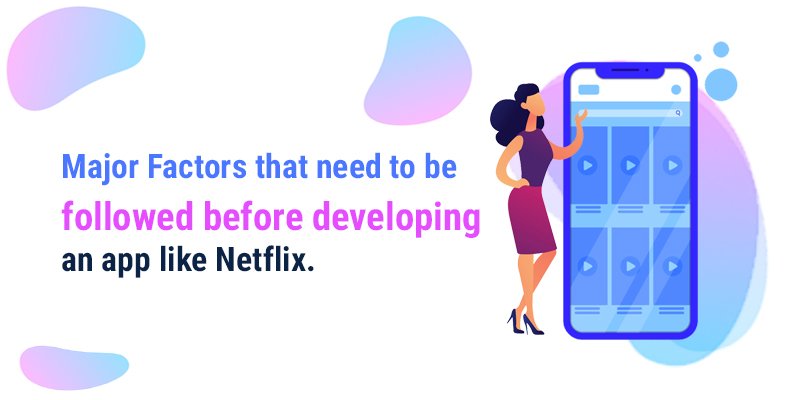 >>>Video Service Provider Comparison: Amazon Prime vs Netflix vs Hulu<<<
1. Portfolio of age and Gender wise
Video streaming platforms are for every age group of people who use online video platforms for entertainment purposes. Nowadays, platforms like Amazon and Netflix are quite famous and commonly accepted platforms. To build an app, it is essential to must-have features of the mix- genre categories like news, movies, and Live Shows. 
2. Social Features
The app must have sharable media content. These social features will make your app sharable and can be achieved by simply making the buzz of the content. The best way to reach new mass audiences is by providing social sharing options and other unique options. The social sharing option provides freedom of expression to the user and helps you to attain a profitable outcome. It raises the visitor's reach to the regular customer of the app.
3. Multilingual Content
 To reach the greater demographics and want to reach worldwide, then you need to expand your business beyond your geographical boundaries. The need for multiple languages is a must in today's time to stand strong with other popular video streaming platforms. The multi-language content can help you to generate more revenue and can easily grab the attention of several people worldwide. 
4. Promote your App
This is a very powerful engine service for brand promotion. To promote any app, it becomes necessary to share videos on popular platforms like Facebook, Twitter, and Instagram to target the right kind of audience. 
5. Subscriptions
To get any favourable outcome for your app, then the best way is to keep the user interested while making money. Users can offer various subscription payment methods of varying levels that would allow them to get the latest and content with high-quality features.
6. Local Storage
The customer widely uses online video streaming apps, and success is likely to depend on network accessibility and the characteristics of apps. It is beneficial to provide the customer with the capacity to store videos on their devices. It allows the user to download films or videos that can be watched later.
7. Push Notification
Push Notifications are specially designed to grab and target the right audience. This feature is a great way to reach out to the mass customers, connect with them, and even turn into the favorable action you are looking for.
8. Unique Design
With a unique design, you can catch the attention of the target audience with unique designs. It helps to make your app stand out on the market while providing distinctive features. It holds excellent efforts if you add some USP to your app to grab customer attention. 
32% of TV households worldwide will be a video on demand subscribers by 2022. With this penetration rate, VOD services would completely replace the TV broadcast, eventually.
Developing an on-demand video streaming app can be a complicated procedure, and the higher the competition, the greater the difficulty. Before developing an app, make sure about the needs of the market. To stand out from other apps, you need to hire a development company that can provide you impressive features at minimum cost. We at BR Softech can shake every nerve to develop an app with a variety of features. We can also offer Netflix clone scripts to those who are looking for ready-made solutions.