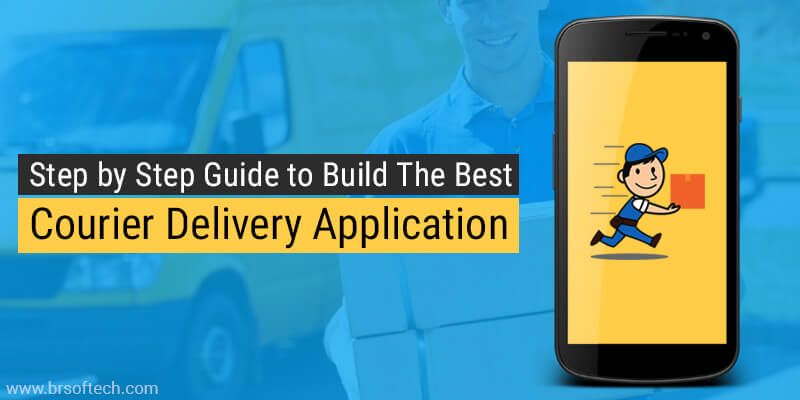 The explosion of technology transforming the courier business rapidly. Nowadays, the internet has made life easy regardless of the day, time, and location courier delivery services give customers with incredible services. The boom in the e-commerce industry, helping Courier App Development, and courier services to grow and cover the market with outstanding services.
The industry is expected to grow at 17% per annum to Rs. 20,000 crores in the next three years. Courier business provide with the complete solution to deliver goods all over the world by helping customers to get an urgent shipment to their desired location. Currently, there are approx 2300 courier companies in India. The Indian courier industry size is estimated at Rs. 14,000 crores.
Total revenue of Global Courier & Delivery Services in 2018 is $272 billion.(Source)
Steps to Build The Best Courier Delivery Application
1. Prepare a Business Model: – Due to the sudden rise in the e-commerce industry, the competition is notably high in courier delivery business. Therefore, one must prepare a well-researched business model of the courier delivery app while the Courier App Development. There are dozens of courier delivery services offering excellent customer service, hence building the one that captures the market attention is unquestionably significant. With the advancement of technology, there are various advance courier delivery options available, offering great service.
2. Define The Targeted Audience: – Before developing the app, it is remarkably essential to know about the demographics of your users. By collecting this requires information you can cater to the needs of your targeted audience and clutter all the complexities effectively. Capture the market slowly and then expand your courier business eventually with ease and effectiveness. It will help you identify the improvement areas and target a specific audience to become a market leader. It will also benefit you to understand the market niche and capture the one and more you think can make your business flourish.
3. Find Service Providers: – To cover the entire geographic area you plan to operate in, one must require a great team of service providers. Service providers are the most prominent part of a courier business. For a successful courier business, it is essential to have a team of service providers to cater to the needs of your customers. It helps you create your own logistic division and helps you concentrate on the core business with fast delivery service. By finding the right service providers you allow yourself to manage your expenses and prioritize your work accordingly. Service providers bring value to your business by bringing reliability and safety in the business.
4. Secure Payment Integration: – Add value to your courier delivery app development by adding secure payment integration. By integrating secure payment, you enable your customers to make the transaction in the most secure way and protect sensitive data. It helps customers to rely on you and allow you to expand your customer base. It adds convenience for end users while protecting your business from fraudulent activities. By integrating payment mode, you allow your customers to pay anytime, anywhere in the most transparent way and leave a positive impact on your overall courier business.
5. Incorporate Features: – Distinguish your app from the crowd and make it extremely lucrative by adding features that make your app stand out. There are numerous features which add value to your app like:
Push Notification

Online Payment

GPS Tracking

Route Management

Digital Signature

Order Details

Work Online and Offline

Instant Cancellation

Search Function

Integrate Live Chat

Social media Login
These features offer efficient delivery management and enable GPS tracking and improve the overall process of finding a location. By integrating live chat you can provide your customers with great customer service and solve their problems instantly. Integrate all the required features to grab the customers attention and provide them with the ultimate customer service.
Related Post: Courier Business in India : How to Start
6. Add Review & Ratings Option: – By adding a rating and review option, you add value to your app. As reviews start to display on the screen, it increases conversion rates rapidly and helps you analyze your app performance with customer reviews. It allows you to interact with them and understand their concern directly.
Direct interaction helps you sustain your market reputation and assist you to maintain the quality service of your app. Majorly customers are influenced by word of mouth and reviews help them to choose the best service provider. By enabling customers to add reviews and rating option you drive more traffic towards your website and support organic search results.
Displaying reviews can increase conversion rates by 270%(Source)
Final Thought
By developing the user-friendly courier delivery application, you allow your business to grow around the world and embrace the positive impact. It helps you generate exceptional revenue while overcoming the challenges smoothly. Become a market leader by owning the ultimate app and reap massive benefits by making a digital presence. It helps you enlarge your network while managing the task effectively and help you grow your courier business across the border.