Courier Industry is one of the fastest-growing markets in India. The rise in the e-commerce industry, helping courier services to grow their business incredibly. Courier business provides with the complete solution to deliver goods in India and across the border. It helps in connecting people from around the world. The emergence of technology, making it easy and convenient for courier businesses to deliver goods or parcel in time.
Learn more about Courier Business in India and how you can start one with BR Softech Pvt. Ltd.  We help you analyze current market courier trends and forecast courier service development status.
Without further ado, let's find out more about the courier business market in India. 
Courier Business Market in India 2019
In 2018, the Global Courier Services Market size was 299100 million US$, and it is expected to reach 464300 million US$ by the end of 2025 with a CAGR of 6.5% during 2019-2025. Currently, there are approx 2300 courier companies in India. The Indian courier industry size is estimated at Rs. 14,000 crores. As a premium segment, the courier industry is a small but significant segment of the logistics industry.
It is one of the fastest-growing segments of the industry. The industry is expected to grow at 17% per annum to Rs. 20,000 crores in the next three years.
Options for Starting a Courier Business in India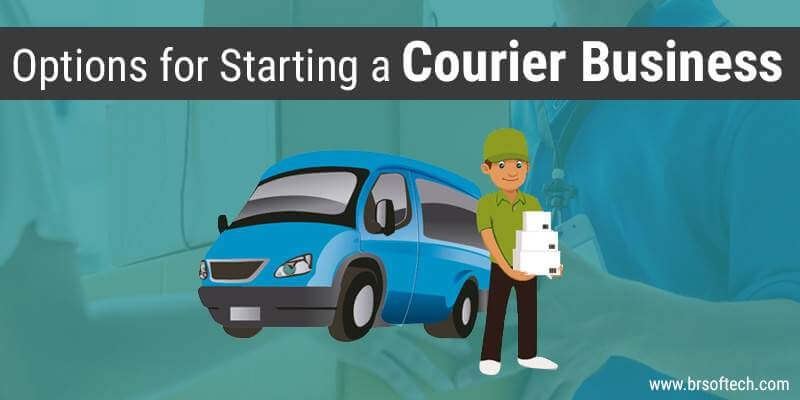 There are Two Options in India to Start a Courier Business
One needs to place his own Logistics and Courier Company

Take a franchise from the reputed and well-established courier company
1. Place your Own Logistics and Courier Company
In case if you are planning to place your own courier company then Raising funds from investors in India is the most prominent part to start the business. One can raise funds from investors at the initial level to set up the network. Reputed foreign companies and are well established in the logistics business in India as compared to a number of players in India which are performing well. You can also get in touch with one of the leading Software Development Company to get your own courier app.
Here we have listed certain points to help you start your own courier business in India in the fastest way possible with beneficial results. 
Get and connect with a reliable source of transportation. 

Invest in the right equipment.

 Find a unique yet engaging name for your own courier business.

Consider the appropriate type of insurance. 

Market your business wisely and mark your presence.

 Track your expenses and income.
Become financially independent considering all these points and kickstart your business with our readymade on-demand courier deliver & tracking app. 
Here are the Top 10 Courier Companies in India, which are well-established players
| | | |
| --- | --- | --- |
| Serial No. | Company Name | Details |
| 1 | Indian Postal Services | Established in 1774 and more than 1.5 lakh post offices |
| 2 | DHL Express India Private Limited | Established in 1969 and has a global presence in more than 200 countries. |
| 3 | Blue Dart Express Limited | Established in 1994 & it is a subsidiary of DHL. |
| 4 | First Flight Courier Limited | Established in 1986 & has around 1200 domestic offices |
| 5 | FedEx India | Established in 1973 & distribution offices in 220 countries |
| 6 | DTDC Courier and Cargo Limited | Established in 1990 & hold a rational market share in courier service in India. |
| 7 | TNT Express | Established in 1974 & have a presence in more than 190 countries |
| 8 | Gati Limited | Established in 1989 & has a strong market presence in South Asia and Asia Pacific region. |
| 9 | Overnight Express Limited | Established in 1987 & Serving more than 2800 location in the country. |
| 10 | The Professional Courier Network Limited | Established in 1987 & has 20 regional offices and over 20000 + serving locations. |
So before beginning your own courier business in India, you can raise funds from investors by allotting the shares of your company.
To develop a courier service app like DHL Investing in a business is remarkably essential for any organization or startup to get ensure returns. Big private companies like Angel encourages startups in funding and grow your business.
In India apart from, above big Logistic companies, there are a lot of Indian Startups like Delivery which started from scratch and today it is India's well established E-Commerce Logistics Player.
Related Post: Guide to Build The Best Courier Delivery Application
You can also learn from the Fred Smith which is the Founder of the Leading courier company FedEx.
A checklist to Starting your Own Courier Company or Business in India
Find investors from different sources and keep enough money in hand.

Legalize your company as a Private Limited Company in India.

Application for the registration of Service Tax.

Build a Team and Invest in Service Quality & Trainings.

Invest in people by providing training and service quality

Build a Great Network.
We provide with top-notch mobile application development services. You can have your own courier service mobile app which will help the customer find courier status and other details online. A company like BR Softech has a wonderful app solution for those planning to start a courier business.
Take a Franchise from reputed and well established Courier Company
India is one of the leading and actively growing courier service app providers. There are many top franchise business opportunities in India. Before starting your own business, you can take the franchise and learn more about the industry. From flexibility with reliability, efficiency, and timeliness you will learn about everything. By opting for this option you will be exposed to the well-developed wide network and an optimized route.

Things to contemplate while applying for the Courier Business Franchise in India
A Legal Entity Setup with the Proper Tax Registration & License

A decent Space for the opening your Franchise with the Agreement.

Capital investment (It may vary depending on the organization)

Financial Credentials like a bank statement or bank passbook

Approval Letter from the Courier Head office.

Logistics Agreement between the Franchise and Company
Here You Go with Some Well-Established Franchise of Established Courier Companies in India
Indian Speed Post office Franchise Opportunity – Here you can apply for the Indian Speed Post office Franchise.

DHL Express Franchise

DTDC Franchise

First Flight
Start a Courier Service Following Simple Steps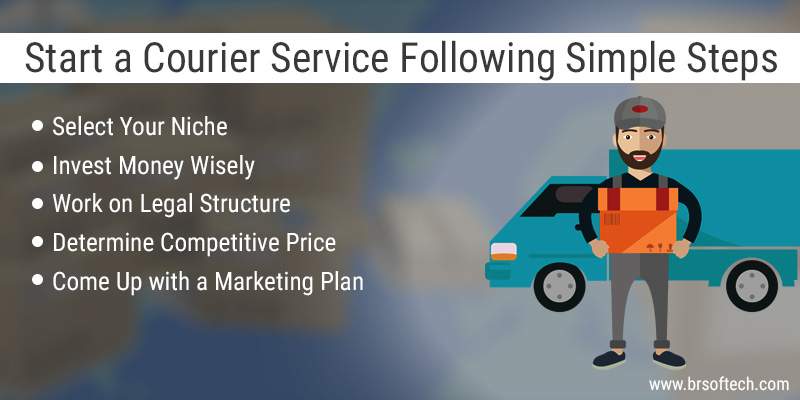 With the increasing number of online users, the demand for advance courier service is high. It may sound difficult at first to start a courier service but, by following certain steps, you can master the art of running a successful courier business. 
1. Select Your Niche: – Give your business a kick-start by establishing the niche you wish to work upon. It helps in reaching the required customer base while grabbing the attention of the targeted audience. Once you determine the niche, you can plan and make the business strategy for further steps.
2. Invest Money Wisely: – Starting a courier business is a daunting task and requires a lot of investment. One must develop a comprehensive courier service plan and act accordingly. Avoid spending money on unnecessary things and invest in getting important things for your business. Organize storage space, get reliable vehicles, and purchase equipment, materials that are essential for your business. 
3. Work on Legal Structure: – Before starting a courier service, one must legalize the business. The legal structure of any business plays a very crucial role and make significant changes in the work process. By following a legalized structure, you allow people to rely on your services and help your courier services to grow. 
4. Determine Competitive Price: – Being new in the business, you won't have longevity and credibility as compared to other established courier businesses. Therefore, you must have competitive rates to grab the audience's attention. 
5. Come Up with a Marketing Plan: – For any business to succeed, one must invest in the marketing. Post regularly on social media, advertise your business in newspapers, on radio and in the shop windows for better results. It helps in branding business presence and broadens the horizon of business. Not just that, it allows you to increase your customer base with profitable results.
There are numerous other things one must take care of while starting the successful courier business. People want no exception in delivering goods or parcel in time. Courier services provider with the complete solution to deliver goods in India and across the border. If you are planning to start this business, then it must have a courier tracking app.
Why Do You Need to Have a Courier Tracking App For Courier Business?
Courier tracking app brings convenience for people they look for. 

Eliminates vague delivery estimates by providing with accurate delivery time.

Get seamless tracking ability with other relevant details and shows the exact details for faster and reliable user experience.

It streamlines the complete process and ensures proper management and customer satisfaction. 

On-demand delivery app development takes care of interactive engagement.

It helps the users to get real-time information with ease and reflect efficient management.  
The Final Thought:
Set your own Courier Business in India with BR Softech Pvt. Ltd. It will help you with the basic requirements and give you the details. From planning to execution, vehicles, equipment, and a name for your own business consider everything. Do not forget about the insurance, consider opting for the relevant type of insurance and protect your business.
We at BR Softech provides On-Demand Delivery App Development services. It's a lucrative opportunity with practical considerations. With a little time and efforts, you can start your own courier business. Reliable transportation is the key to set up successful Courier Business. Spend your time focusing on growing your business and making it stronger.
More Article:
Develop Your Own Courier App for Courier Delivery & Tracking Services 
FAQ
Question 1. How do I start my own courier business?
Answer:- Start your own Courier Business following certain steps:
Select your niche

Invest money wisely

Work on the legal structure 

Determine competitive price 

Come up with a marketing plan 

Build a great network 
Question 2. How do I get a courier license?
Answer:- Get a courier license by creating a  name for your small courier business.  Contact the local municipal government office to get the courier license form. Fill the application form with accurate information and submit it to the license bureau. 
Question 3. Is a courier franchise profitable?
Answer:- Yes, Taking a franchise from the reputed and well-established courier company can be really beneficial. By starting our franchise you can spend your time focusing on growing your business and making it stronger and learn more about efficiency, and timeliness. 
Question 4. How do courier companies make money?
Courier business works on a vast network. It makes most of the money through the network of delivery service. It works on a business model wherein receives a fee for each item delivered. Some of the courier companies hire self-employed drivers instead of investing in their own vehicle to make more money. 
Question 5. How much money do I need to start a courier business?
To start a courier business, consider a few options like you want to start your own logistics and courier company or you want to take a franchise from the reputed courier company. If you wish to start your own courier business with minimum investment then you only need $500 or more depending on your business requirements.