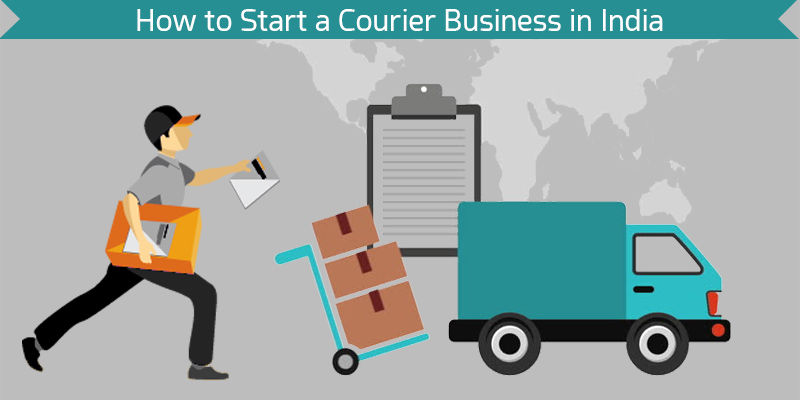 Courier Industry is one of the fastest growing markets in India. The rise in the e-commerce industry, helping courier services to grow their business incredibly. Courier business provide with the complete solution to deliver goods in India and across the border. It helps in connecting people from around the world. The emergence of technology, making it easy and convenient for customers to deliver goods or parcel in time. Learn more about Courier Business in India and how to start Courier Business in India.
Courier Business Market in India 2018
Currently, there are approx 2300 courier companies in India. The Indian courier industry size is estimated at Rs. 14,000 crores. As a premium segment, the courier industry is a small but significant segment of the logistics industry.
It is one of the fastest growing segments of the industry. The industry is expected to grow at 17% per annum to Rs. 20,000 crores in the next three years.
Options for Starting a Courier Business in India
There are Two Options in India to Start a Courier Business
One needs to place his own Logistics and Courier Company

Take a franchise from the reputed and well-established courier company
1. Place your Own Logistic and Courier Company
In case if you are planning to place your own courier company then Raising funds from investors in India is the most prominent part to start the business. One can raise funds from investors at the initial level to set up the network. Reputed foreign companies and are well established in the logistics business in India as compared to a number of players in India which are performing well. You can also get in touch with one of the leading Software Development Company to get your own courier app.
Here are the Top 10 Courier Companies in India, which are well-established players
| | | |
| --- | --- | --- |
| Serial No. | Company Name | Details |
| 1 | Indian Postal Services | Established in 1774 and more than 1.5 lakh post offices |
| 2 | DHL Express India Private Limited | Established in 1969 and has a global presence in more than 200 countries. |
| 3 | Blue Dart Express Limited | Established in 1994 & it is a subsidiary of DHL. |
| 4 | First Flight Courier Limited | Established in 1986 & has around 1200 domestic offices |
| 5 | FedEx India | Established in 1973 & distribution offices in 220 countries |
| 6 | DTDC Courier and Cargo Limited | Established in 1990 & hold a rational market share in courier service in India. |
| 7 | TNT Express | Established in 1974 & have a presence in more than 190 countries |
| 8 | Gati Limited | Established in 1989 & has a strong market presence in South Asia and Asia Pacific region. |
| 9 | Overnight Express Limited | Established in 1987 & Serving more than 2800 location in the country. |
| 10 | The Professional Courier Network Limited | Established in 1987 & has 20 regional offices and over 20000 + serving locations. |
So before beginning your own courier business in India, you can raise funds from investors by allotting the shares of your company.
To develop a courier service app like DHL Investing in a business is remarkably essential for any organization or startup to get ensure returns. Big private companies like Angel encourages startups in funding and grow your business.
In India apart from, above big Logistic companies, there are a lot of Indian Startups like Delivery which started from scratch and today it is India's well established E-Commerce Logistics Player.
Related Post: Guide to Build The Best Courier Delivery Application
You can also learn from the Fred Smith which is the Founder of the Leading courier company FedEx.
A checklist to Starting your Own Courier Company or Business in India
Find investors from different sources and keep enough Money in hand.

Legalize your company as a Private Limited Company in India.

Application for the registration of Service Tax.

Build a Team and Invest in the Service Quality & Trainings.

Invest in people by providing training and service quality

Build a Great Network.
We provide with top-notch mobile application development services. You can have your own courier service mobile app which will help the customer find courier status and other details online. A company like BR Softech has a wonderful app solution for those planning to start a courier business.
2. Take a Franchise from reputed and well established Courier Company
India is one of the leading and actively growing courier service app providers. There are many top franchise business opportunities in India. Before starting your own business, you can take the franchise and learn more about the industry. From flexibility with reliability, efficiency, and timeliness you will learn about everything. By opting for this option you will be exposed to the well-developed wide network and an optimized route.

Things to contemplate while applying for the Courier Business Franchise in India
A Legal Entity Setup with the Proper Tax Registration & License

A decent Space for the opening your Franchise with the Agreement.

Capital investment (It may vary depending on the organization)

Financial Credentials like a bank statement or bank passbook

Approval Letter from the Courier Head office.

Logistics Agreement between the Franchise and Company
Here You Go with Some Well-Established Franchise of Established Courier Companies in India
Indian Speed Post office Franchise Opportunity – Here you can apply for the Indian Speed Post office Franchise.

DHL Express Franchise

DTDC Franchise

First Flight
The Final Thought:
Set your own Courier Business in India with the help of this article. It will help you with the basic requirements and give you with the details. From planning to execution, vehicles, equipment, and a name for your own business consider everything. Do not forget about the insurance, consider opting for the relevant type of insurance and protect your business.
We at BR Softech provides with On Demand Delivery App Development services. It's a lucrative opportunity with practical considerations. With a little time and efforts, you can start your own courier business. Reliable transportation is the key to set up successful Courier Business. Spend your time focusing on growing your business and making it stronger.
More Article:
Develop Your Own Courier App for Courier Delivery & Tracking Services