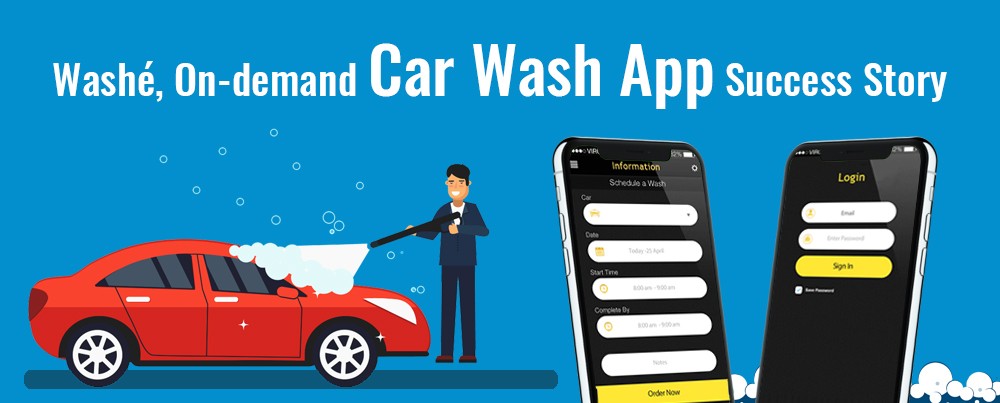 Rapid growth and advanced technology development have changed our lives to the core. It's extending its hands for smooth completion of day to day tasks. Now doing the regular chores with busy life has become quite difficult; therefore people look for solutions. On-demand car wash app development is one of the ultimate solutions to our car wash daily problem. 
Washe is a well known on-demand car wash app. It connects all the users to professional mobile car washes for on-demand service at any location where the business resides like Arizona, New Jersey, Florida and a lot more. It has performed roughly 100,000+ car washes to date in South Florida with constant growth.  
According to Techcrunch, Washé raises $3.5 million for its on-demand car washing service and biz platform. 
This on-demand car wash and mobile detailing app has captured the market following the customer-centric approach. To use Washe service, one must download the washe app to their phone and choose the desired package as per requirement. There are four packages available from the range of $25 to $140.  
They also provide people with the opportunity to become a washer:
1. Be your Own Boss 
Operate your own business through Washé. You have the freedom to decide where, when, and how much you work. 
2. Choose your Own Hours 
Washé will share the job request when you are online, and your schedule is your call. 
3. Get Paid Fast
All payments are automatically submitted through the app and deposited into your bank account, including tips. 
>>>Features & Cost of Car Wash App Development<<<
 4. Earn $1000+ Per Week
Washé receives frequent car wash requests if you wish to work, there is always an opportunity. 
Washé believes that matching supply and demand help car wash business to succeed. They believe in paying attention to details which makes them stand out in business. Let find out more about Washé in the most intrigued way.

To download Infograhpics – Click here
Are you willing to develop car wash app similar to Washé?  
In the last 15 years, a 69% increase in car owners using car wash facilities rather than washing their car themselves have occurred.
It clearly shows the popularity of the car wash business. BR Softech is one of the leading On-Demand Car Wash App Development Company. We help you provide with readymade mobile car wash app maximizing your business efficiency and increasing productivity. It focuses on customer satisfaction and provides with an innovative platform to both business and customers.
For more details on On-demand Car Wash App Clone Script, you can watch our detailed video.
Our fully functional on-demand car wash solution comes with lucrative features keeping market trends and technology upgrade in mind like:
Read more –  How to Become Successful in Car wash Business?
Online Payment 

Discount and Offers 

Subscription Packages 

Push Notification 

Track Service

Quality Assurance

SMS Alert
Automate your car wash facility using BR Mobile Car Wash App. It's fully functional, offers high performance, and helps you boost your business following go-to-market strategy. Its super fast service, easy to use user panel, user-friendly features, and facility to select 24/7* service is commendable.
Expand your business with the scalable business solution and experience tremendous growth using this futuristic car wash app.