Over the years we all experience that the trend of utilizing on-demand services is offered in various industrial sectors, such as food, healthcare, automotive, and electronic equipment has become very popular due to the increasingly vital role of mobile developers.
Regardless of what sort of service you are looking for, some, or the other mobile application is always available to enable the end-user to access it. With the evolution of mobile app development companies, it was observed that a significant amount of tasks was carried out by every smartphone user other than the usual everyday tasks.
In today's time, everyone knows the importance of advanced technologies like smartphones. The widely prevalent industry sectors have started taking advantage of the growing popularity of mobile applications. 
The U.S. National Restaurant Association of the U.S. has recently conducted a survey, and they have found that 37% of the restaurants offer online ordering, while 32% accept mobile payment. 
Online food ordering has become a standard for restaurants offering delivery orders. Food Ordering App Development services are specifically designed to be cost-effective yet an efficient system to meet the requirements of restaurants. The system is intended for ultimate efficiency and flexibility. Customers will be able to access the websites of the company and browse through their menu and pick and place their orders according to whatever they want.
List of Online Food Ordering Websites in India
UberEats

Zomato

Food Panda

Swiggy

UbranPiper
Food ordering and delivery is not a new online business idea; it has evolved with time. Lots of startups have emerged in this technological era, some are doing quite well, and some are struggling for their existence. The best on-demand meal delivery app enables the customer to order days beforehand, and the system will execute the order at the specified time. 
>>>Key Features for On-Demand Food Ordering App<<<
The app has been built to handle a large amount of traffic simultaneously to prevent system overload. You are getting the food from your favorite restaurant during your busy schedules. The food delivery companies in India surely fills the gaps between professionals and delicious food from the nearby restaurant. 
E-commerce is exploding in India. The industry is expected to grow more than 34x from ₹19,900 crore in 2013 to ₹689,200 crore by 2020. Analysts anticipate that online food delivery services will grow exponentially.
Requirements for Food Delivery Startups
A lot of research is required to make any business move through success. If anyone wants to start their own food delivery business in India, a lot of research would be needed to ensure that it would be a successful business venture.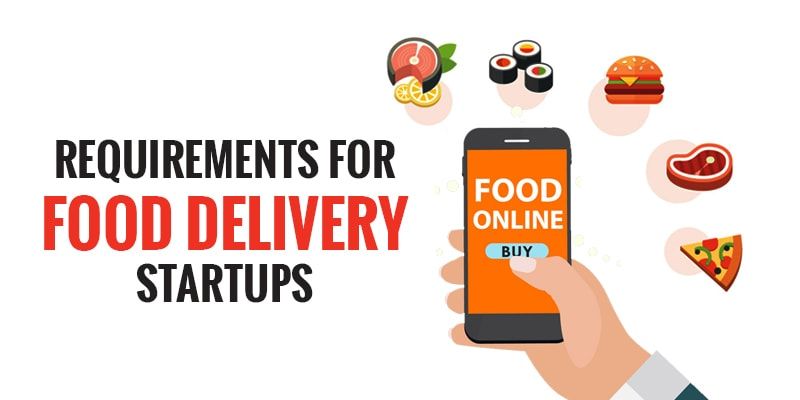 The food delivery business model needs to consider before starting an online restaurant ordering system in India. Here are some great tips to start the home food delivery business in India. 
Plan Your Budget
To begin an online order business, like food, wine, etc., that can be of any kind. So first you have to settle your mind in choosing the best choice you need to begin with. You need to do a lot of market research and market demand research on products that are being sold online at a considerable rate, and then you need to set your budget as it is not feasible to concentrate on starting any business online without having any budget.
Plan for your activity
It is essential to analyze and examine the best options for the business. While creating a business plan, it is necessary to understand the needs of the market. Creating a layout will make you focus on the goal you want to achieve. 
Choose Locality and City
You need to choose a specific place and location while planning. While making any decision, it is important to believe that your business is going to gain more earnings and attentive clients from the online market. 
Mobile App Compatibility
The rise of mobile phone users all over the world is the biggest reason to connect with customers. It has been found that nowadays the maximum order is placed through mobile phones. Mobile phones are considered to be the most flexible medium to get things done easily. So starting an online ordering system, it is important to follow the path and develop an app similar to Zomato.
SEO Opportunities
It is important to check to get traffic to your website. It is only possible to hire an SEO for your online business and can help you listing in the Google rankings to make your site come first in search of your respective business. The more customers you can attract to your website, the more revenue you earn. 
Marketing
It is important to adopt both the traditional and modern approaches while promoting the business. You can consider conventional advertising campaigns with local papers, radio stations, and magazines. Nowadays promoting products on social media and other platforms is a great way to promote the product. Tell local and social media about the outlets you are offering that can help you attract customers. 
Social media networks;

Inbound marketing;

Affiliate marketing;

Experiential marketing
Read more : – How to Promote Food Delivery Business?
Easy Payment Options
Gateways are the main thing you must have and allow the user to select for your internet ordering system, as no internet ordering business has been effected without intelligent payment gateways. It is important to provide your online clients with a diverse range of choices to pay for any order they place. By enabling them with their payment choices by using their Credit / Debit cards and COD, as well as offering the best payment gateway choices that function well in the place where your business works. You can also provide cashback and discount options by grabbing customer attention. 
Branding
The main and foremost thing is branding your brand. To achieve this, you need some good marketing choices and also a combination of social media and SEO. 
Easy Order Placement 
Users no longer have to wait and stand in the queue. The user needs to look, click, select, and place an order from your mobile phone. Enable the customer to edit or delete the food items or delivery address before choosing the payment method. The more comfortable and happy customers, the more will be the chances of profit. 
Real-time Tracking
Send customer notification of confirmation of food order. Also, provide information on the expected arrival at his / her place of the ordered food. Real-time monitoring keeps the user updated on the delivery boy's real-time location.
11.Customer Support
The customer support panel is designed to help with guest queries and help the client select the right item at the right time. In addition to phone and email interaction, the platforms need to incorporate 24 * 7 internet chat choices. The primary objective of developing the online platform is to identify and attempt to address their client needs.
Business Model Canvas for Online Food Delivering Apps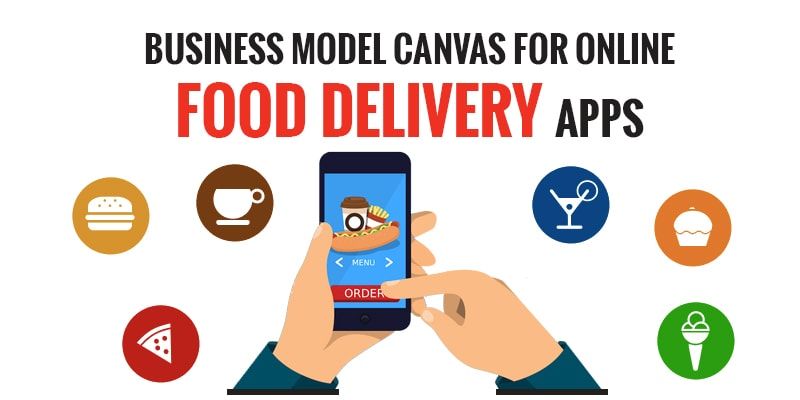 Food delivery applications are no longer new but to operate a successful company, they are definitely impactful and money-making platforms. Entrepreneurs still have an opportunity, even though countless on-demand food delivery applications make billions and raise millions of funds. You need to understand what the present market weakness is and how to overcome it to make your app lead the market. Here is a list of Features that need to be understood. 
Steps To Follow to Start an Online Food Delivery Business
Use an eye-catchy name for your business.

Approach and pitch restaurants to generate extra income from home delivery orders. Tie up with the good brands that have the potential to make good revenue.

Choose to go on a fixed commission basis

Promote the product on both social media and print media. 
Key Activities
Collaborating with the hotel's restaurant and food joints.

Processing orders

Delivery meals

Managing Payments

Call Centre Operations
Customer Relationship
Promotions and Offers

Referral Progress

Gift Coupons

Feedback and Review

Social Media 

Email

SMS
Cost Structure
Cost of Operation

Cost of Physical Resources

Employee Salaries

Training Cost

Legal Expenses

Promotion Cost

Maintenance Cost
Custom Features
Customize Design with Impressive features

List prices, delivery duration, order status 

Easy sharing

Loyalty awards

Secure Payment options

Provide Maintenance services

Follow Trends

Customer Reviews
Conclusion
Online food delivery market growth is gradually increasing worldwide. Online ordering systems increase efficiency and cost-effectiveness. Online ordering is easy and convenient and facilitates ordering customer information that could be tracked easily. If you wish to enter into the online food delivery industry with your startup idea, then it is important to raise some questions like how to start an online food business in India, who are your competitors or what types of services it required. 
It is important to take help from the experts before building your own food delivery app.  It is advisable to identify the goals before startups are the main ladder that you need to cross. For the online food delivery app, the three main things are Order, Cook, and Deliver along with hygiene and taste. 
UberEats clone app features and scripts come with the concept of an online food ordering system with a delivery option. If you are looking for On-Demand Food Delivery App Clone, then we as a BR Softech provide user-friendly services to their clients that can be reinforced in both Android and iOS. We are developing a sophisticated and engaging app with the latest impressive features that will provide reliable and relevant features to the target audience.