The emergence of technology has made a significant impact on our lives. The advancement of technology has led to multiple discoveries, better luxuries, and numerous facilities. It's bringing convenience to our lives and transforming the way we commute on a daily basis. Now, that the world has grown and modernization is taking place booking a taxi has become easy.
Traditional ways of hailing a cab have been transformed completely with the latest trends and technologies. Many entrepreneurs and industries are taking an interest in taxi booking solution seeing the rapid growth of taxi booking services.
According to Statista, There are more than 2.53 billion smartphone users worldwide who perform around 63% searches on the app store to find out an application these numbers clearly shows the growth of car rental services due to the growth in a number of users (expected 87.2 million by 2022). (Source)
The enormous success of this revolutionized on-demand taxi service is bringing business opportunities and inspiring the younger generation to go beyond imagination.
Looking for a Taxi app solution similar to Uber, Ola then you can look out BR Taxi Apps Ready-made Solution.
We provide our customers with a ready-made taxi app solution using advanced technologies and keeping the recent trends in mind.
Uber currently has 75 million riders and 3 million drivers globally, which clearly shows the demand for taxi services all over the world.
Without further ado, let's know more about taxi booking solutions from a business point of view.
How Taxi Booking App Development Creates Business Opportunities?
The taxi market is segmented by booking type like online and offline. It is running in full swing and making the most of this opportunity. This business is beneficial for many as now people can avoid the drive and can book a cab directly. The rapid growth of this industry can't be neglected, hence, developing the app has become extremely significant and beneficial for many reasons.
Increases Visibility: –

Developing an app is an effective way to create to connect with your targeted audience. It helps in attracting the customers and providing them with the utmost ease.

Instant Feedback: –

Customer feedback is everything to run a business successfully. It helps you define your business and allows you to continuously improve the business while giving you a chance to perform better.

Real-time Tracking: – Developments the app

enables you to track the cabs accurate locations and help the driver to find a passenger accurate location and reach there in the shortest time possible. It helps you increase efficiency and reduces the cost of operations.

Creates Brand Value:

–

To grow it's really essential to build the brand value by creating the app. It helps in building brand reputation and increasing business operations across the globe.

Monitor Driver Efficiency: –

For any business to run smoothly, it's essential for the operator to work on monitoring driver efficiency as they improve the success of your business and represent your brand.

Generate Greater Revenue: –

Mobile apps help you increase your business visibility while bringing customer ease and convenience. Not just that, If you create your own app, it will increase profit margins and help you grow your business.
Online Cab Booking App Business Challenges
The inception of smartphones with advanced apps has transformed our lives completely. There are millions of applications in the market, which is being developed using a customer-centric approach. Larger the customer base, the greater the challenges therefore here we have listed some of the common challenges taxi industry phases.
Develop Robust Taxi App Solution: –

Replace the traditional way of commuting by bringing ease to the customer. There are many popular names in the taxi booking solutions who are a great competitor for you. Therefore, developing the robust taxi app solution to provide the customer with ease is really essential.

Build Customer Trust: –

For any building service provider, customer trust is really important. It is one of the biggest aspects of customer expectations. In the midst of all given choices, it's really important to build customer trust and incorporate with various real-time situations.

Immense Competition: –

With several taxi service providers, there is a huge competition in the industry. Everyone is competing with each other to perform better and providing customers with better services. To build your brand one must cross all the barriers while focusing on the targeted audience.

Lack of Proficient Drivers: –

To establish a successful taxi business one must consider hiring an efficient driver. Good service always provides with greater returns and it still is a challenge to find proficient drivers. To overcome this challenge one must consider providing drivers extra wedges for their good work to keep them motivated.

Ready-made Taxi App Solution: –

Ready-made taxi app solution is the answer to build an outstanding app which comes in budget and allows you to customize it in your own way. BR Softech ready-made Uber clone script allows you to develop the same app as ever while allowing you to make all the required changes.
These are some of the basic challenges taxi booking business is facing and trying to overcome.
Taxi Booking App Module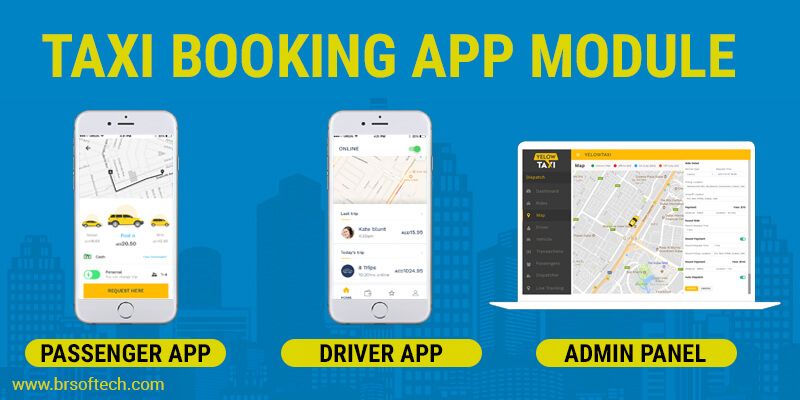 The taxi booking app has become an integral part to run a successful taxi business. It provides different features and lucrative offers to serve the customer better and help the business to enhance visibility. Let's know more about the taxi booking app module to overcome certain challenges and redefine the customer experience.
It mainly works on:
Passenger App

Driver App

Admin Panel
These three run simultaneously to provide the user with an application that allows them to book the cab with ease and serve them better. It may look easy, but requires precise planning, developing, designing, testing, and understanding the recent trends. To build a successful Online taxi booking application, one must be guaranteed to add certain features which are listed below.
Features of Passenger App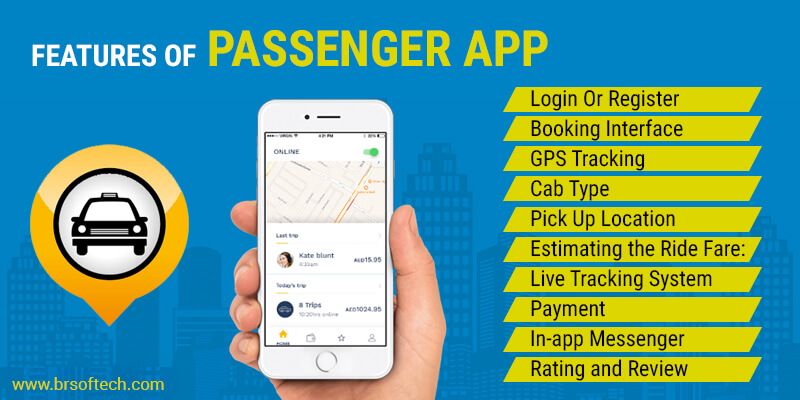 Login Or Register

Booking Interface

GPS Tracking

Cab Type

Pick Up Location

Estimating the Ride Fare:

Live Tracking System

Payment

In-app Messenger

Rating and Review
Features of Driver App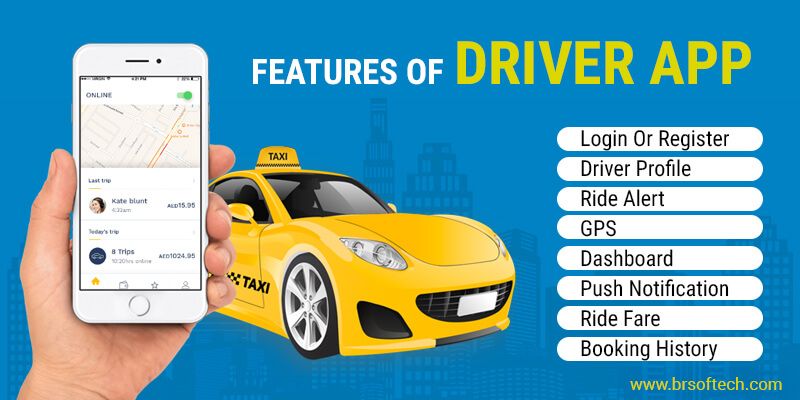 Login Or Register

Driver Profile

Ride Alert

GPS

Dashboard

Push Notification

Ride Fare

Booking History
Admin Panel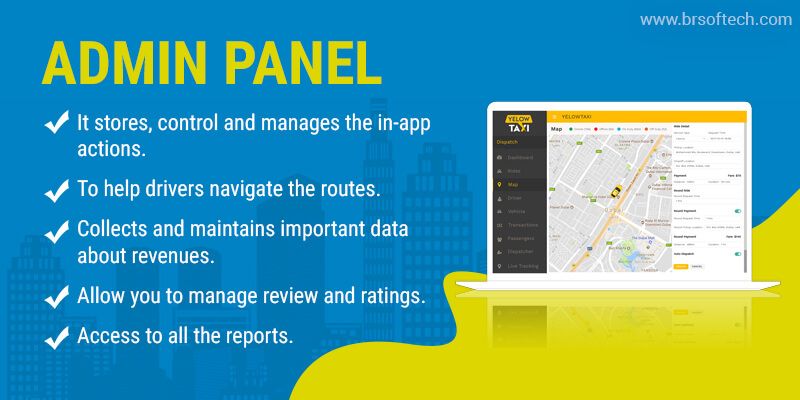 It stores, control and manages the in-app actions.

To help drivers navigate the routes.

Collects and maintains important data about revenues.

Allow you to manage review and ratings.

Access to all the reports.
It's difficult to manage the complete process and control a large amount of data without these hence, It's extremely important to add these features for better results. All three features are important to run a successful taxi booking app. These features work intermittently, therefore, some features interchange between the applications. All these features present in all three apps and serve the same purpose invariably.
To know more about these features and admin panel, read our detailed blog.
 How to Create a Taxi Booking App like – Ola, Uber
This blog will help you understand the complete development process and provide with in-depth details of Taxi Booking app Development.
How Taxi Booking App Works?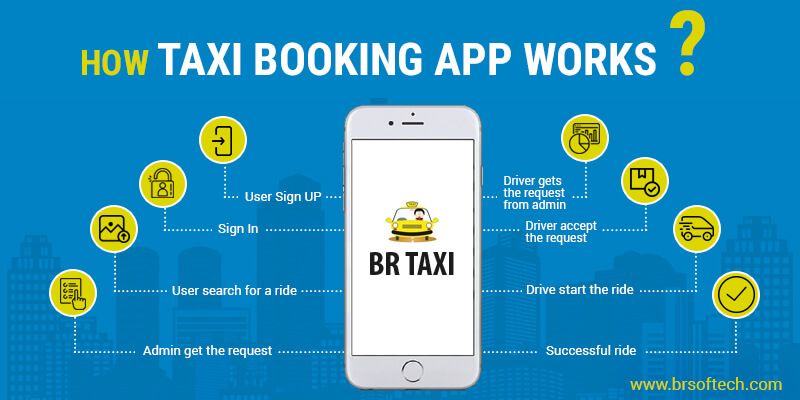 The taxi booking app helps you manage the interaction between multiple users to perform complex computations, cost calculation, and a lot more while providing customers with great facility. It uses the GPS functionality in mobile which, helps the server to identify the rider's exact location and then notifies the taxi drivers who are available at the nearest location of the rider.
It is really important for you to know the driver's exact location. The taxi booking app server automatically finds out the customers exact location and updates the nearest available driver about the ride. It maintains numerous geographically distributed servers to optimize response times. The servers eliminate failures and provide with constant service availability.
Advantages of Taxi Booking App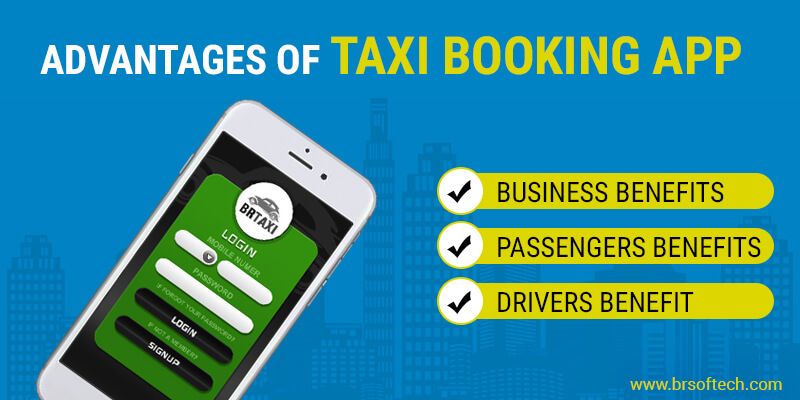 Online Cab Booking App brings outstanding benefits while helping you generate greater returns. It brings ease and convenience in people's lives while contributing to the business, drivers, and passengers.
Without further ado, let's find out the advantages of taxi booking app.
Business Benefits
The taxi booking app helps you grow by increasing your customer base.
Allows you to keep track of each cab using GPS location
Helps you build a brand reputation while generating greater revenue.
Provided with complete access to transactions and help you get a better analytic view.
Allow the business to expand its reach while grabbing the market attention.
Passengers Benefits
Book the cab instantly using taxi booking application.
Can get an accurate location of the cab and their estimated arrival time.
Passengers do not need to worry about carrying cash or changes while riding with us.
The passenger can take a ride without any cash as the app offers many cashless ways to make payment.
Passengers can rate the ride which increases transparency in the system.
Drivers Benefit
GPS helps the drivers to search passengers in no time.
Payment can be made in cashless ways, so drivers do not need to need to carry a huge amount of cash.
The exact location of the passengers helps drivers to save time.
The driver can get better reviews of their services and get the opportunity to earn better.
Check the booking history, including the status of each trip.
It has a lot of earning potential for drivers.
Revenue Model of the Taxi Booking App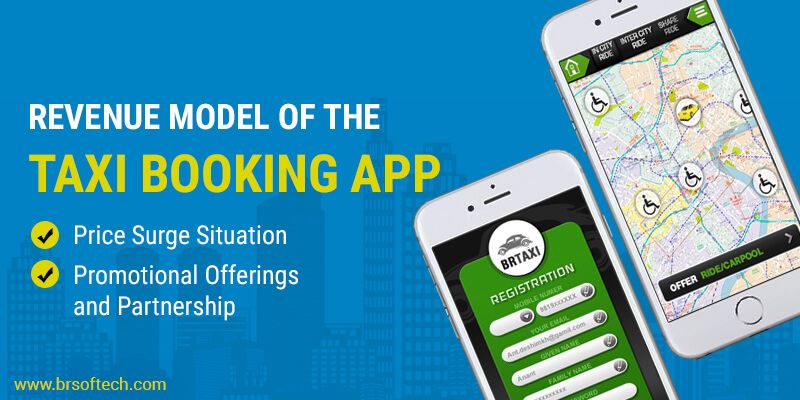 The revenue model of taxi booking app works in two ways.
Through Taxi Fares that are charged for passengers.

Through promotional offerings and partnership involving a third party.
By associating with drivers and owners, taxi operators fixes a minimum charge at which they operate. On each booking, they earn a commission, that commission can range between 20-25% of the total amount charged for the ride.
Price Surge Situation
Online Cab Booking App informs the riders clearly beforehand prior to booking about price surge. Usually during heavy rains, bad weather or on public holidays the demand for cab rides increases and that's when the price surge situation increases.
Promotional Offerings and Partnership
This is another way of generating revenue from the commission. Any taxi booking app can earn money via promotional offerings or with the partnership with the brands which can benefit them to earn more. It creates a beneficial situation for both the parties like:
Brands get exposure and a greater customer base.

Taxi booking apps generate more money.

The customer gets the benefits of the marketing campaign.
BR Softech is from one of the leading Software Development Companies. We help you provide with our ready-made Uber clone script and also provide you with customized solutions. If you wish to develop a rich functional app then you can Hire App Developer who will help you throughout the process.
Taxi Booking App Development Cost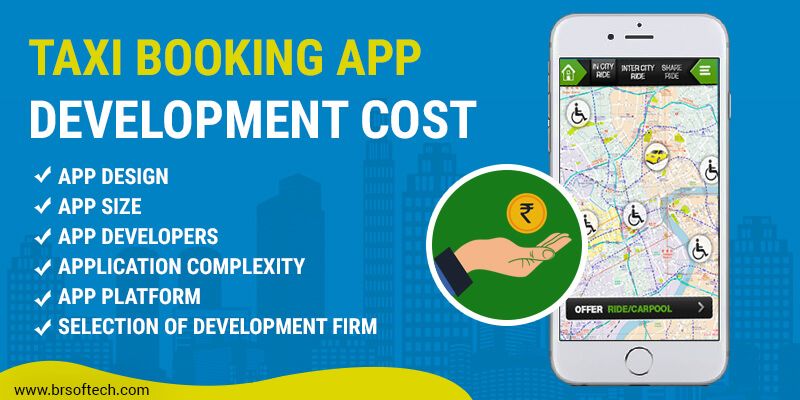 The cost of a taxi booking app is approx $20,000 to $40,000. It can be more depending on the feature and functionality. Here we have listed some of the major factors that help you determine the cost of online marketplace app development. But before the development start, one must conduct market research and identify the scope of the project to get the estimated amount.
App Design: –

To provide users with the most engaging experience, it's essential to choose the app design which attracts the users. It plays a vital role in the complete development process. The more engaging the app design is, the more it will cost as it's essential to bring something unique yet user-friendly UI/UX designs to grab the audience attention. It can be simple, attractive and rich as per the budget and desirability.

App Size: –

App size is decided by its features and functionalities which decides the cost of the app. It's the key element which greatly impacts the cost and allows admin to choose features and functionalities. By selecting it wisely cost can be managed to get a beneficial result.

App Developers: –

The overall development cost depends on the app developers as, app developers geographic location, their experience, and expertise can impact the total cost.

Application Complexity: –

The complexity of the app is another factor that impacts the overall development cost. Android apps are harder to build due to googles mobile app development platform and cost higher.

App Platform: –

Selecting the app platform decides the development cost and directly influences it. For developing an Android app one require a well-planned budget as compared to iOS as iOS is more affordable as compared to Android.

Selection of Development Firm: –

There are huge app development firms and moderate development organization they both cost application development differently. Choose the development firm wisely and keeping the budget in mind.
Apart from that, there are other things which influence the cost of development depending upon the complexity of an app. It mostly depends on the options you choose.
Well-known Players In Taxi Booking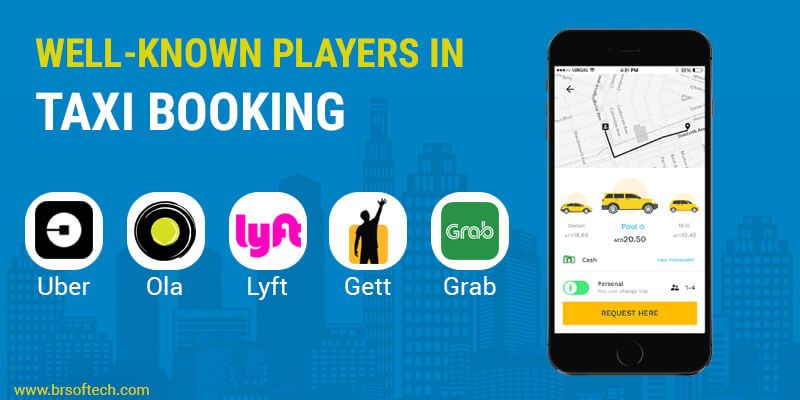 Uber: –

Uber is available in more than 800 cities across 173 countries. It was launched in 2009 and since than grabbing the attention of passengers and providing them with exceptional services. Recently it has launched Uber Air Flying taxi services, that trial will take place in Melbourne. Read our recent blog to know more about it.
Uber Air Announces Flying Taxi Services – Trial Takes Place in Melbourne
Ola: –

Ola was launched in 2010 and since then it has more than 150 million customers globally. It has over 1 million drivers with approx 450,000 vehicles. These numbers are enough to talk about these companies success. Its an Indian origin online transportation network company developed by ANI Technologies Pvt. Ltd. Currently, as of 2019 its worth about $6.2 billion.

Lyft: –

Lyft has captured the North American Market by its tremendous services. Its service is available in approx 350 US Cities, including Toronto and Ottawa in Canada. After its launch in 2012, it generates great yearly revenue and offers car rides, Bicycle sharing system and scooters. It provides more than 1 million rides per day and offers great wedges to its drivers.

Gett: –

Popularly known as GetTaxi, is an Israeli on-demand versatile company that connects customers with transportation, goods, and services. It was launched in November 2010 and available in 120 cities. It works on the idea if you treat drivers better, they will treat riders better which makes it more popular among people.

Grab: –

Grab Holdings Inc. was launched in 2012 and known as Singaporean transportation network company offering services that include peer-to-peer ridesharing, ride service hailing, and a bicycle-sharing system. Its Southeast Asia's leading ride-hailing platform. It has approximately 36 million passengers, in every second average number of bookings they get is 7.
These popular companies have marked their fingerprints of success all over the world and still bringing opportunities and better growth options for people who are interested in starting their own taxi business. Contact us or Hire App Developer to bring your imagination to reality while ruling the world with the next big business idea.