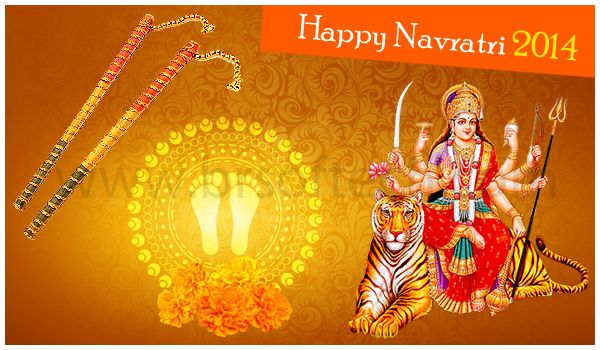 Navratri (નવરાત્રી) is continuing celebrated in 9 days & nights every year with joy. In 2014, navaratri will start on this Thursday 25 September to 3 October. Navratri is use two words "Nava" & "Ratri". Nava means nine and ratri means nights so, navratri means nine nights.
First 3 days (1st to 3rd day of navaratri) is Goddess of power and dedicated to goddess Durga. Second three days (4th to 6th day of navaratri) is dedicated to goddess laxmi, the Goddess of wealth and property. Last three days (7th to 9th day of navaratri) is dedicated to Goddess saraswati, the goddess of knowledge and learning.
The nine forums of goddess durga worshiped during navratri, 1st day is goddess shailputri, 2nd day is brahmacharini, 3rd day is Chandraghanta, 4th day is kushmanda, 5th day is skanda mata, 6th day is katayni, 7th day is goddess kaalratri, 8th is goddess maha gauri and 9th is goddess siddhidatri.
Navratri end with mahanavami and also done kanya puja (nine girls representing nine forms of durga) in mahanavmi. Navratri 10th day is celebrated as a Vijayadasham, also known as Dusshera. A normal greeting during this occasion is Happy Navratri and it is Hindu festival celebrated in all over India.
Many Hindu celebrate navratri in Gujarat and also perform a special dance that is known as garba. Garba traditionally dance is performing around an earthen lamp, images and also status of goddess durga.
Save