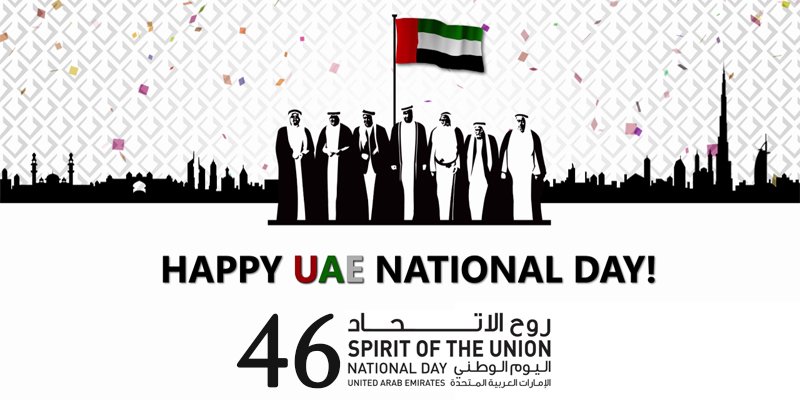 "7 Gulf Countries national day, In UAE this happens to be the same week as the birth-date of Prophet Mohammad (PBUH) and the Anniversary day (Yawm al Watani) on 2 December, making this a four day long weekend An occasion of immense pride for the locals, it offers breathtaking shows, celebrations and memorable experiences for tourists".
According to 45th National Day celebration in UAE, this time again we will celebrated as National Day in the Emirates (seven Gulf Countries) with a fantastic round of celebrations lasting for two to three days. National Day of UAE celebration is as much patriotism, Cultural program function, Military parades, flag hoisting and exhibitions in the government office and another office with the loyalty of country.
UAE (United Arab Emirates) flag color indicate a story Arabian Unity is inspired by an "Arabic Poem" these type of significant
A vertical strap of RED color: hardiness, bravery, strength, and courage.

Green Color: Green represents hope, joy, optimism, and love. It can also symbolize the country's prosperity.

White Color: White represents peace and honesty. White is the purest color and is interpreted by some to symbolize cleanliness.

Black Color: Contrary to popular belief, the black band does not represent oil. It stands for the defeat of enemies, and also the strength of mind.
On this 46th National day the country celebrate the flag hoisting is performed by army helicopters. Its are celebrate flagging and color design flagging in the air show with help of helicopter which is visible to people 20-23 kilometer away. In the school time, the student celebrates "National Holiday" with dress up cultural dress "thoub and kandoora" type and perform the "youlah & folkloric" dance.
Closing thought of UAE National Day
The National Day of UAE is announced in 1971 by Abu Dhabi, Dubai, Sharjah, Ajman, Fujairah, and Umm al-Quwain agreement of unit and consensus of the rules. At this time one flag is flagging in Dubai which is known as "House of the union", that's the reason that on this day everyone member of Gulf countries is celebrating national day, not independence day.